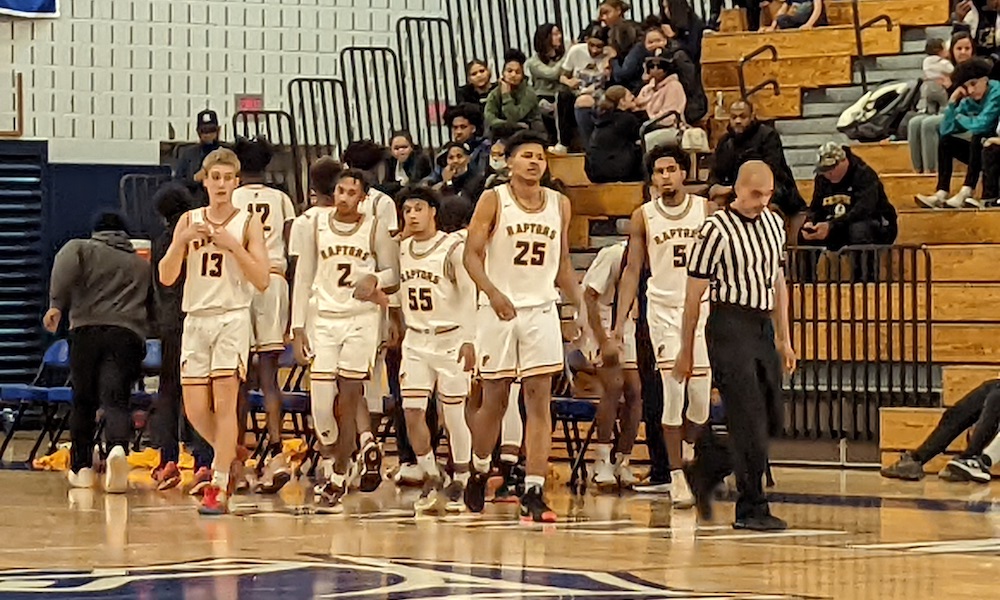 Executive Education Academy defeated Palmerton 65-27 in their semifinal game, boarded the bus and headed home not knowing their exact fate. With Notre Dame Green Pond and Dock Mennonite matched in the other semifinal game, a win by Dock – who are not in District 11 – would give the Raptors the District 11 championship, but a win by the Crusaders would mean a matchup between the two teams in the finals. Notre Dame and Green Pond needed double overtime to decide their contest, which ended with the Crusaders on the short end of a 78-75 score. The timing meant that the Raptors were crowned District 11 champions during their bus ride home, making for a rowdy ride.
In their win, Executive Academy rolled from start to finish, scoring the first 16 points of the game. Their advantage in size and experience over Palmerton played a significant role in the win as they used both to their advantage. Early in the game, Executive used shots from the perimeter to draw out the Palmerton defense who were focusing on shutting down the lane. Once some holes opened, the Raptors went into attack mode and the second half resembled something of a dunk contest as Executive put their size to use.
"Usually, we play inside and then move out from there," said senior Jalil Schneck. "Tonight, they were doing a good job down low, so we started shooting from outside of their coverage and tried to draw them out and it worked for us."
Schneck hit two of the team's five three-pointers in the first quarter and turned in one of the finer looking dunks of the night in the third quarter and finished with 11 points. In all, Executive hit 10 threes in the game and used three impressive dunks in the third quarter to top their scoring.
"This was actually a good experience for us because our young guys have to learn to play in games like this where you are facing a bigger opponent," said Palmerton coach Ken Termini. "In some ways, it's easier on a team to lose a game like this than it is to lose by two or three points, so I think we will be okay. Our guys will come back and fight for their spot in states."
Florida State commit Jeremiah Bembry scored a game-high 16 points for Executive and Palmerton's Brayden Hosier finished with 12 to lead Palmerton. Bembry did not start the game due to some soreness in his wrist, which he injured in practice Tuesday when he dunked a ball. He was also called for a technical during the game when he attempted a dunk that bounded away and while hanging on the rim, pulled the ball out of the air and dropped it in the basket. While it was in impressive play, it was ruled interference and Hosier hit the two free throws his team was awarded.
Bembry did execute what was the most exciting legal play of the night when he stole the ball at midcourt and raced down to the hoop for an impressive dunk that put Executive up 39-17 in the third quarter.
"Sometimes, we get a little carried away," said Executive coach Ray Barbosa. "These guys have some talents, and they play the game hard, and they are aggressive. As hard as they play, they also like to have some fun out there because they love the game."
Executive will face Dock Mennonite in the finals to determine which of the teams go into the PIAA playoffs as the higher seed out of the district. That game will be played Saturday afternoon at Easton, while Palmerton and Notre Dame will play Saturday at Southern Lehigh with the winner also advancing to states.
After 1@PalmertonHigh 3@EEACSBasketball 24@Times_News @D11Sports pic.twitter.com/PcFEHjBIDR

— Chuck Hixson (@ChuckinSports) March 3, 2022
HALFTIME@PalmertonHigh 13@EEACSBasketball 35
Scoring: PHS – Matt Machalik 7; EE – Jeremiah Bembry 10@D11Sports @Times_News pic.twitter.com/hhtmRYSPuF

— Chuck Hixson (@ChuckinSports) March 3, 2022