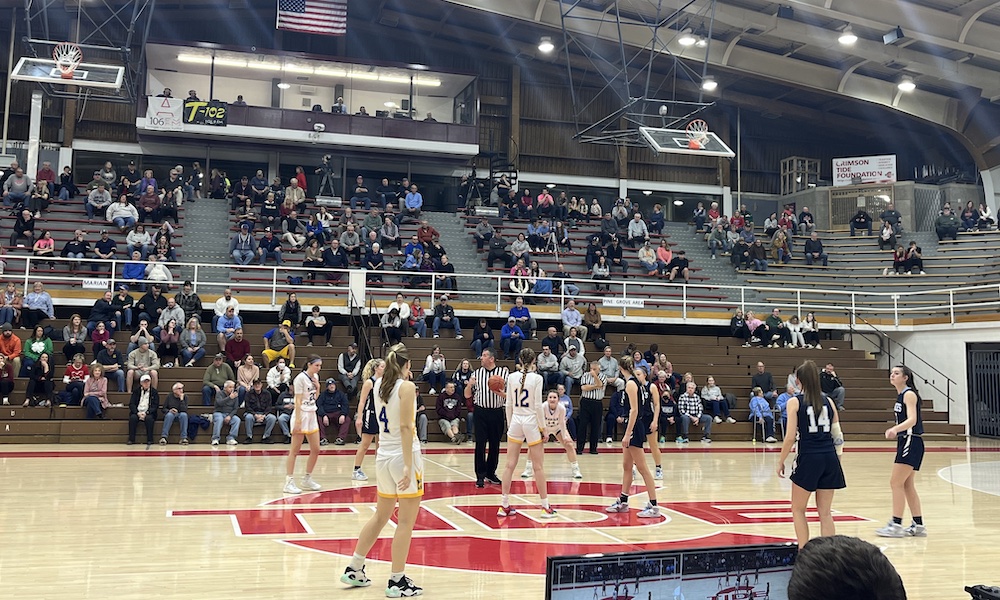 Entering the Schuylkill League Semi Final game both the Marian Catholic Fillies and Blue Mountain Eagles carried a successful season under their belts. On February 14th, 2023 the girls basketball teams of Marian Catholic and Blue Mountain met in Martz Hall of Pottsville to play for a spot in the Schuylkill League Girls Basketball Championship. A close game was anticipated as there were only four losses cumulatively between the teams. The Fillies held a 21-1 record and had just one loss this season to Allentown Central Catholic. Similarly Blue Mountain experienced a successful season with a 20-3 record, two of the losses belonging to North Schuylkill and the other to Northwestern Lehigh.
The game tipped off and possession went to the Fillies. In the early minutes of the first quarter it was clear that it would be an extremely competitive match-up. The Eagles and Fillies played back and forth throughout the first quarter, but Marian was able to take the lead with a score of 10-7. During the second quarter, things began to ramp up. The crowd got excited and the girls on the court began to show up. Blue Mountain fought back against the Fillies in order to tie up the game 13-13. Marian was quickly able to regain their lead. The score at the end of the half was Marian 18- Blue Mountain 17.
To begin the third quarter Marian knew they would have to keep up the pressure and play strong defense. In the middle of the quarter the Fillies were able to pull away from the Eagles by 10 points for a period of time. Blue Mountain responded by putting up several points before the end of the third. Marian was able to maintain their position over the Eagles with a 35-31 score after the third quarter. In the final quarter Marian made their run to victory. After a hot streak of scoring in the fourth the Fillies created a large gain over Blue Mountain. The intense and competitive game came to a final score of Marian 52- Blue Mountain 41.
Marian improves their record to 22-1 after their victory over Blue Mountain. The Fillies will move onto the Schuylkill League Championship game on Friday February 17, 2023 at Martz Hall. Here they will face the Spartans of North Schuylkill at 6:00 pm.