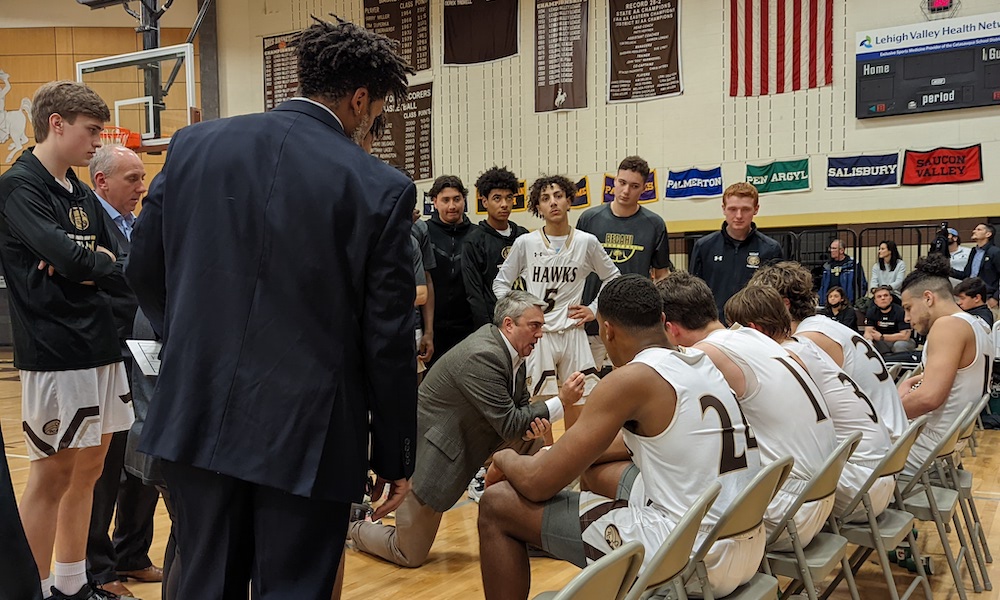 Catasauqua High School played host to a pair of District 11 quarterfinal games Friday night. In the opener, the Lady Raptors from Executive Education Academy came in as the fifth seed and knocked off number four Notre Dame Green Pond 47-32 to advance to a semifinal game against Palmerton Tuesday night back at Catasauqua. In the nightcap, a boys' quarterfinal matchup between third seeded Bethlehem Catholic and sixth-seed Northwestern Lehigh went back and forth before the Golden Hawks locked up a 50-45 win to give them a ride into the semifinal round where they will face Allentown Central Catholic.
The Raptors had three scorers in double figures, with senior Shaylynn Waiters leading the way with 15 points while classmate T'nyah Riggins had 10. Sophomore Aubrey Pollard scored 12 for Executive Education to help them to win their first ever District 11 playoff game.
"We had a lot of adrenaline pumping before we came here, just listening to music being excited together and we just had to come out fast to beat them," said Waiters of the quick start made by her team. "We were hungry for the whole week leading up to the game and all week at practice we were just hungry, hungry, hungry. We knew what we wanted when we got here."
Yaya Carey led the Lady Raptors (15-7) early by picking up five first quarter points and staking her team to a 14-6 edge by the end of the first quarter. Notre Dame (14-9) put together an 11-0 run stretching from late in the first quarter and well into the second and took their first lead of the game when Julia Pohl scored her only basket of the game with 5:24 left in the opening half to put the Lady Crusaders up 15-14. The lead would have a very short shelf life though as Waiters broke the scoreless streak with a three-pointer to regain the lead and Pollard followed with a little dribble drive to the hoop to put Executive up 19-15.
"We just stayed positive and didn't give in to our emotions," said Waiters of turning things around after the Crusaders took their first lead. "We were giving each other high-fives and were just staying uplifting."
The Lady Raptors defense was daunting throughout the game and really started to hit their groove by late in the first half. On back-to-back plays, Executive got steals that were quickly turned into baskets when Waiters swiped the ball and opened a fast break to the basket and immediately following that play, Riggins stole the inbound pass and put it up to give Executive Education a 33-21 lead, their largest edge of the game at that point.
"I thought the tempo of the game was our style of basketball. We controlled the tempo throughout and played really solid defense and communicated well on defense," said coach Maurice Moore. "Very unselfish with the basketball tonight. Nobody was looking for just their points tonight. I didn't see too many forced shots tonight and that was the difference."
Executive stretched their lead to a game-high of 19 points when Riggins hit a little jumper to put the Raptors up 47-28 with 2:40 left in the game. Carly Campbell, who finished with 14 points to lead Notre Dame, scored the final four points of the game to narrow the gap, including a buzzer beater as time expired.
With COVID raging through last season, the districts were open to any team that wanted to play in them, but it was Moore who decided to delay the school's first appearance in the postseason. "Everybody qualified because of COVID, but my rule is clear. We need to earn our right into playoffs," explained Moore. "Just because it was a COVID year and anybody could go, my philosophy is you don't put the work into it, you're not going. We were 8-10 last year, that's not 50-percent, so we were not going. This year, we qualified and that means more to me than it did last year."
In the boys' game, every time that Bethlehem Catholic (17-6) appeared poised to run away with the game, Northwestern Lehigh (12-12) would battle their way back into the contest. The Golden Hawks led for the entire first half, going up by as many as seven points early in the second quarter only to see the Tigers cut the lead down to just two when Gavin Nelson dropped in a couple free throws with :47 left. Northwestern cut the lead to one until Edixon Gomez showed off a nifty reverse layup to make it 24-21 at the midway point of the third quarter. The Tigers then put together an 8-2 run that saw them grab their first lead of the game on an Ethan Lazarus jumper and stretch the lead to 27-24 when Dylan Witkowski also hit on a jumper from near the foul line.
Because of a season filled with injuries, the starting five of seniors Gomez, Ryan Glassmacher, Jared Richardson, and Steven Recchio along with junior Alex Cercado, had their first practice together on the eve of the game. "It really was the first time in two years that they were all together, but they really had a good practice and they felt good coming into the game tonight," said coach Scott McClary.
Not wanting to allow Northwestern Lehigh to gain any more momentum, Beca continued to battle, and junior Alex Cercado drained a shot to bring the Hawks within one and then Gomez closed out the third quarter by just beating the buzzer with a three-pointer from the corner to make it 31-29 in favor of the Golden Hawks to open the final quarter.
Gomez, who is playing with a torn meniscus in his knee that will require offseason surgery, repeated the performance on the Hawks' first possession of the fourth and Glassmacher followed with a basket of his own to establish a 36-29 advantage for Bethlehem Catholic. Nelson hit on a turnaround jumper and then nailed a three-pointer to give Northwestern Lehigh their final lead, a short-lived one at that, when they went up 45-44 with 1:38 left to play. From there, Bethlehem Catholic hit on four of their final five foul shots and won the game 49-45.
"It was a big game, but we didn't play well," admitted Gomez following the game. "We need to clean some stuff up for Tuesday (against Central Catholic). It is a big game, and it is the game that all of us wanted and were working toward all the summer and all the winter."
The Golden Hawks will face Allentown Central Catholic (20-4) Tuesday in a semifinal game at Northampton High School.
HALFTIME@NWBoysHoops 16@BecaBasketball 20
Scoring: NWL – Gavin Nelson 5; BC – Ryan Glassmacher 6, Steven Recchio 6@Times_News @LVPressSports @D11Sports pic.twitter.com/5EJHXBTNIL

— Chuck Hixson (@ChuckinSports) February 26, 2022
FINAL@EEACSBasketball 47@ND_Crusaders 32
The Raptors will play @PalmertonHigh Tuesday in the @PIAADistrictXI semis.@D11Sports pic.twitter.com/nSwm8FfQpz

— Chuck Hixson (@ChuckinSports) February 26, 2022
HALFTIME
Executive Education 25
Notre Dame 19@D11Sports pic.twitter.com/LoT1Ad4quz

— Chuck Hixson (@ChuckinSports) February 25, 2022