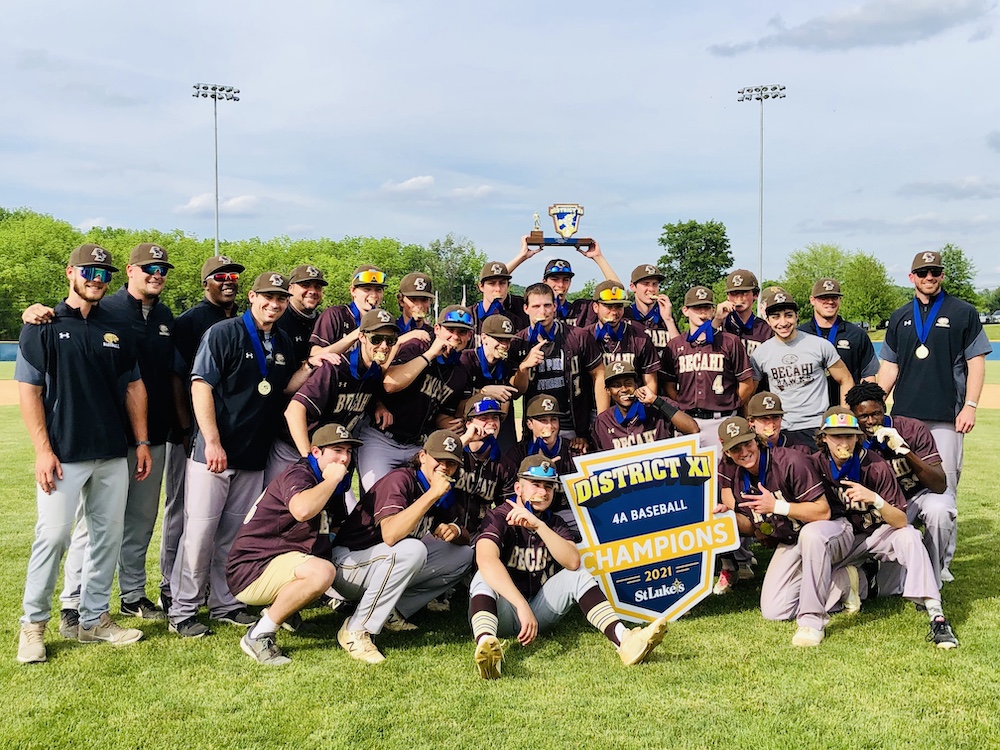 CENTER VALLEY – Name by name, first-year head coach Matt Corsi rattled off the some of the top pitchers in District 11.
Ace after ace, Bethlehem Catholic had seen some of the best of the best.
Not all of those meetings resulted in wins, but the Golden Hawks always kept the same mindset.
Tuesday was no different.
Bethlehem Catholic delivered at the plate on the biggest stage, knocking off Northwestern 5-3 to capture the Class 4A title and secure a berth in the state tournament.
"They kept coming and coming and coming," Corsi said of the pitching his team has faced this season. "And these guys kept battling and battling and battling. And they were ready for today, because of everything, and the close games we played all year.
"We didn't blow a team out. We got blown out, Liberty and Easton and Freedom took care of us. But these guys didn't go down. They stayed even, and every game we won we fought for. And that came up huge today."
The Golden Hawks (16-8) were outhit by the top-seeded Tigers, 11-7.
But when the No. 2 seed put the ball in play against Northwestern (19-5) starter and University of Delaware commit Carter Welch, who entered with a sub 1.00 ERA in over 44 innings pitched this season, it was loud.
Matt Martinez got the Golden Hawks on the board with a one-out two-run blast to leftfield in the top of the first inning.
"I told my guys in the beginning we have to get Carter out," said Martinez, who was 2-for-3 with three RBIs, a run scored and a walk. "I've known Carter since I was like seven. He's a really good pitcher and a really talented guy, and we needed to get him out of the game.
"We needed to strike early, and show that we're here and we're here to stay. That's what we did. It was more of an attack mode than it was a selective mode."
Bethlehem Catholic increased its lead to 3-0 in the second inning when No. 9 hitter Gavin Kirsch delivered an RBI single to score Anthony Martinez.
The advantage swelled to 5-0 when Chaise Albus blasted an RBI triple to centerfield and Matt Martinez singled in another run in the top of the fourth. The Golden Hawks loaded the bases but Rafe Perich, who came on in relief after the Martinez single, worked out of trouble with a strikeout.
"Their five runs were legit," said Northwestern head coach Duran Porrino. "They hit the ball/ Talking to their coach before the game, and he's a great coach, and he said we saw more or less every team's No. 1 pitcher this year. And when he said that, and then I saw how their approach was with Carter in the first inning, you could sort of tell early on that they were on him a little bit.
"It's not how we drew it up. We sort of anticipated Carter starting the game and finishing the game. But at the same time, Bethlehem Catholic scored those five runs, there's no doubt about it."
The Tigers started to chip away at the deficit in the bottom of the fourth inning. Dylan Witkowski led off with a double and later scored on a single by Ryan Kensinger.
RJ Zack followed and brought in Ben Boyer, who singled, to trim Becahi's lead to 5-2.
Northwestern threatened again in the bottom of the fifth when Perich and Justin Holmes collected back-to-back hits, but a double play ended the inning.
After a leadoff double by Nick Henry in the bottom of the sixth, Kensinger collected his second RBI to cut the deficit to 5-3 on a single before being thrown out going to second.
The inning ended when Zack was called out at first on batter interference.
Designated hitter Tanner Romig was hit by a pitch to open the bottom of the seventh.
Sophomore Beckham McNally closed the door with a fly out and the Golden Hawks' third inning-ending double play to seal the win.
"They played well," said Porrino. "They had their shortstop positioned up the middle and the ball found him every single time. And their starter was effective, I'm not sure if he had any walks.
"As a coach, you know the season is going to end at some point. But I just did not expect it to happen today."
NO FREE PASSES … Albus, who scattered 11 hits over six innings, and McNally, did not issue a walk in the contest.
Albus finished with four strikeouts.
ON THE BUMP … Perich struck out five in 3 2/3 innings of relief, allowing just one hit and one o the team's five walks.
HITTERS … Perich, Justin Holmes, Henry and Kensinger all had two hits apiece for the Tigers.
UP NEXT … Bethlehem Catholic will face District 1 champion Holy Ghost Prep in the PIAA Tournament next Monday.
Bethlehem Catholic 210 200 0 – 5 7 0
Northwestern 000 201 0 – 3 11 2
Albus, McNally (7) and Matt Martinez; Welch, Perich (4) and Kensinger. W – Albus. L – Welch. S – McNally. HR: Bethlehem Catholic – Matt Martinez (1st, one on).