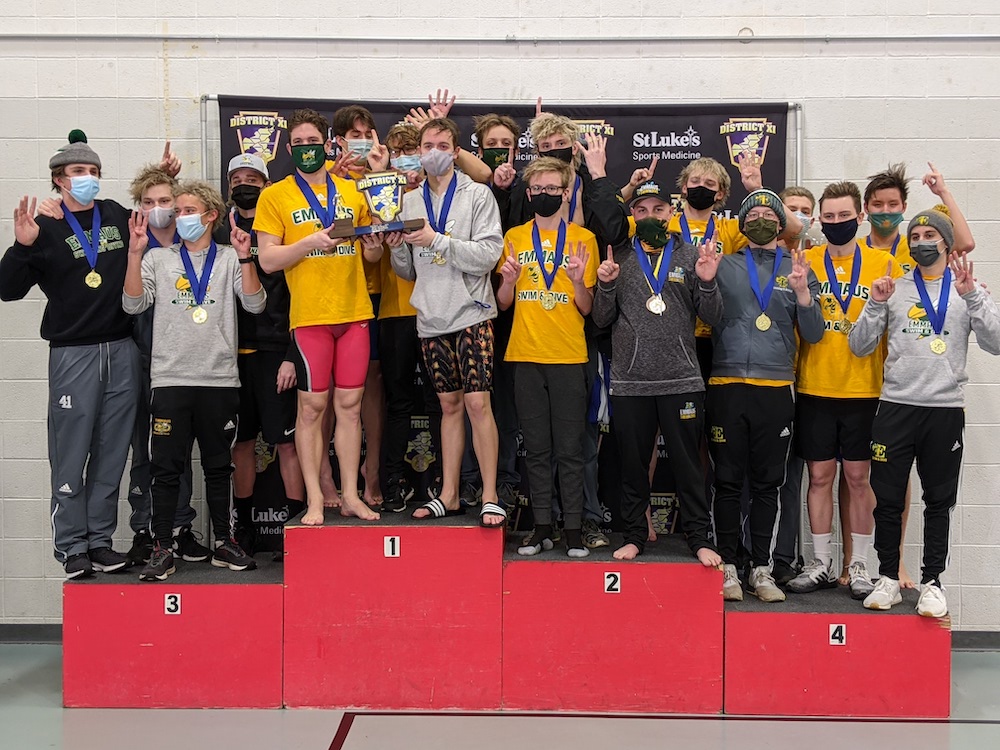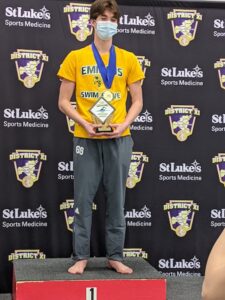 The Emmaus Green Hornets swimming and diving team swam to their 14th straight District 11 championship Saturday at Parkland High School. Emmaus won gold in eight of the 11 events that were contested Saturday to easily win the team competition with 576 points. Parkland finished second with 358 points.
Two Emmaus seniors – Michael Iacobelli and Luke Rautzhan – both left the Natatorium with four medals, the most possible in districts. Rautzhan also was named the winner of the coveted Dennis A. McGinley Award, which is given to the best swimmer of the meet based on a points system. Meanwhile, Iacobelli was honored as the EPC Swimmer of the Year.
Prior to the meet, Iacobelli was faced with an interesting decision on what events to swim. Even though the senior swimmer is the three-time defending district champ in the 200-IM, he knew that he would be the fourth seed in that event this year. He could have decided three was enough and swam in the 100-butterfly where he would have held the top time coming into districts and would be the favorite.
"It was a tough decision between myself, my coaches and my parents," admitted Iacobelli. "I knew if I swam the IM I would have a chance at a fourth straight and I really wanted it. I had that confidence going in and I wasn't going to let anybody take it away from me."
Liberty junior Patrick Gilhool was also able to pull off a couple of upsets including coming in as the fourth seed in the 100-backstroke and downing defending champion Nick Soares of Emmaus, besting him by :00.47 in the event. In the 100-butterfly, Gilhool not only came from the number-two seed to win gold, but established a new District 11 record time of :50.58, besting the old record of :50.66 set two years ago. Gilhool nearly had a third gold as a member of the Liberty 200-yard medley relay team where he swam the butterfly portion of the event in just :22.23, helping Liberty to place second in the opening event.
"That 22.2 in the fly pretty much set the tone for the rest of the meet for me. I kind of went with it after that," said Gilhool, who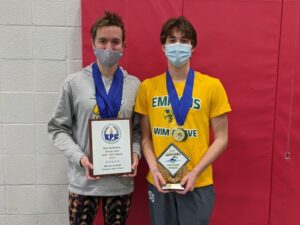 didn't even realize at first that he had set a new record in the 100-butterfly. "It was a really clean swim and I was relieved when I won. They announced the district record, but I didn't even hear it and I didn't even know until my coach told me. It was a nice little bonus."
In addition to Gilhool taking two gold medals, the only other event that Emmaus didn't capture was the 500-yard freestyle where Parkland's John Fahrney over 5.5-seconds ahead of Andrew Taylor of Emmaus, his closest competition. Fahrney came in as the favorite and bested his qualifying time by one-second exactly.
Because of new COVID precautions, only the top finisher in each event gets an invitation to swim in states in two weeks. That wrinkle, plus swimming with competitors in lanes right next to each other was all different for swimmers this season and both kind of spurred swimmers.
FINAL TEAM STANDINGS – Results
1. Emmaus – 576
2. Parkland – 358
3. Nazareth – 212
4. Liberty – 209
5. Southern Lehigh – 184
6. Northampton – 155
7. Pocono Mtn. West – 104
8. Easton – 98
9. Whitehall – 92
10. Freedom – 86
11. Dieruff – 43
12. Stroudsburg – 35
13. Pocono Mtn. East – 34
13. East Stroudsburg South – 34
15. Wm. Allen – 18
Michael Iacobelli getting his fourth gold medal, finishing off the 400-freestyle relay with Emmaus winning.