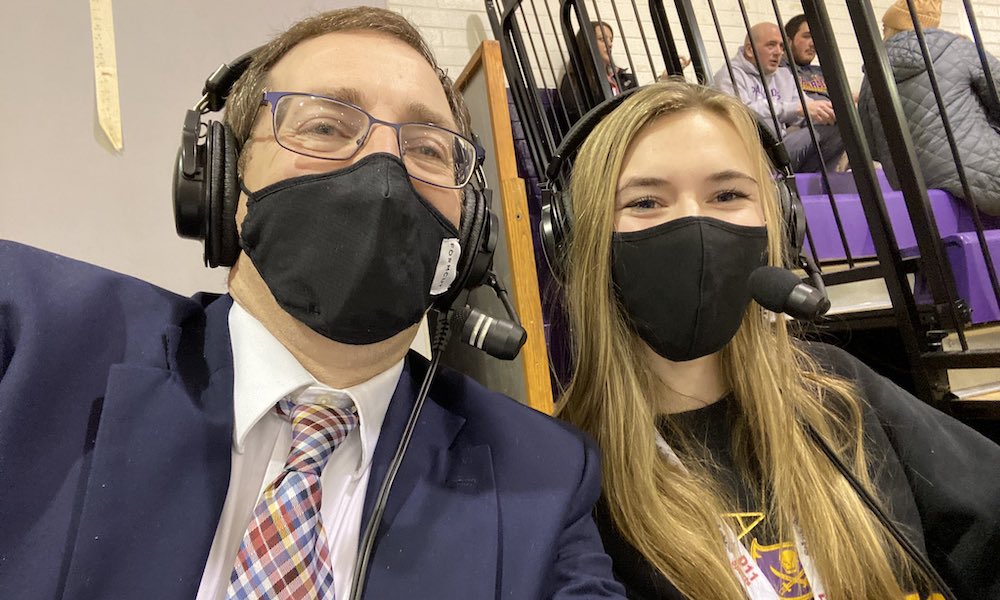 Monday, September 24, 2018. I received an email from Brian Gilbert, my school's athletic director, asking if anyone was interested in announcing a fall sport. This was a new initiative by Palisades that would grow from a simple YouTube broadcast with one camera to a full-fledged program with graphics, multiple cameras, and a number of students involved. As soon as I opened the email, I knew that I was going to volunteer.
My first broadcast was the senior night football game and I announced it with my sister who was a senior. As a freshman, this was my first experience broadcasting and I fell in love. Even though I was terrified to be on air, I knew that I would be volunteering to be a part of as many live streams as I could.
Now, over four years later, I am a second semester senior and I have broadcasted every year since. While beginning with football, the program allowed me to expand to multiple other sports including girls and boys soccer, basketball, wrestling, and more. Whenever I received an email from Al Di Carlo with each team's lineups, I knew that I was going to have a good week.
Tuesday, February 8, 2022. It was senior night at Palisades for the boys basketball team and I headed into the gym with the same excitement that every live stream gives me. I loved the thrill of a home crowd and the exhilaration that in sports anything could happen. But this game was different. As the seniors on the team were saying goodbye to playing basketball, I was saying goodbye to something too.
The game began as usual. I arrived an hour early to prepare by interviewing Palisades' Head Coach Phil Ham and Saucon Valley's Head Coach Avery Wright. Then came the live open where Al and I discussed players to watch out for and soon the game was underway.
Although they began the night with a season record of 4-16, the Pirates put on a show. The team worked together to score basket after basket after being kept silent by the Panthers' tough defense in the opening quarter. After announcing over 15 games in four years, this was one of the best.
Into the second half, the game became a battle of the three pointers. Palisades seniors Mike Wallbillich and Liam Carey seemed to be having a competition as to who could shoot the most. The Pirates defeated the Panthers 70-33 and set a school record for the most threes in a game with 14. Additionally, Carey tied the record for the most threes in a game putting up seven, and Wallbillich was not far behind with five.
The final moments of the live stream were bittersweet. Although I had just witnessed one of the best games I've seen, I also took off my headset for the last time. I learned so much through announcing with Al and gained valuable experience starting as a freshman. It furthered my love for sports broadcasting and I can't wait to the next step in my broadcasting career.
Now, with just one high school sport's season ahead of me, I have a small PSA to anyone scared to take the first step. Take it! If I had never opened that email and been brave enough to volunteer, I would have missed out on some of the best moments of my high school career. Breaking out of your comfort zone is scary. But stepping outside of it is where the magic happens.