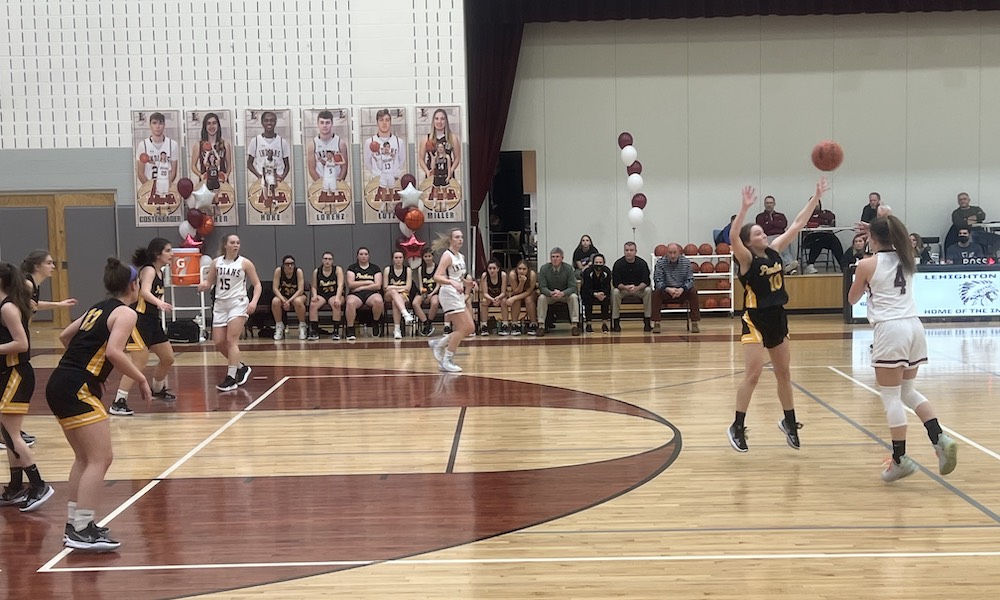 The Lehighton Indians Girls Basketball team welcomed the Panther Valley Panthers for Senior Night on Wednesday, February 9th. Lehighton entered the event with a record of 9-11. Panther Valley came into the game with a record of 2-18.
Panther Valley had the edge over Lehighton at the end of the first quarter by a score of 11-10. Lehighton rallied back to head into the locker room with a 27-23 lead.
Lehighton was able to gain a big lead heading into the fourth quarter, 53-33, by holding Panther Valley to ten points in the third quarter. A big second half from Charli Mchugh who scored 13 of her 15 points, along with Taylor Bowman and Gracie Williams each contributing eight points in the second half led Lehighton to a 69-41 win over Panther Valley.
"It was really tough at first," Mchugh said, "but we ended up playing with really good teamwork and we just pulled away in the second half and got the win tonight."
All seniors for Lehighton got on the board: Aaliyah Fisher (8), Williams (8), and Hailey Miller (6).
Lehighton improves to 10-11 on the year, while Panther Valley falls to 2-19.
TOP SCORERS: Mchugh led the Indians with 15 points. Bowman also finished with 15. Maddison Maynard led the Panthers with 19 points. Sera Robin chipped in 12 for the Panthers.
WIN AND IN… Lehighton can clinch a district playoff spot with a win against Pocono Mountain East at home on Friday, February 11th with a start time of 7:00 PM.
"We just have to go out there and play tough defense and a good offense," added Mchugh.
Panther Valley will now travel to Kutztown on Saturday, February 12th. The game will tip-off at 12:00 PM.