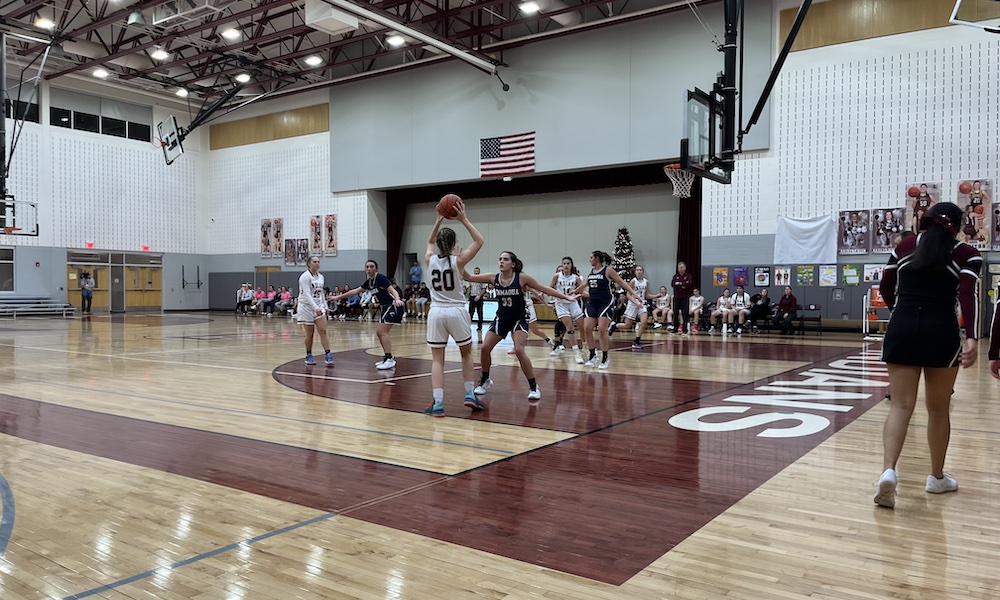 The scene was set for the Lady Indians and Lady Raiders on Friday evening, December 16th, as the neighboring schools, Tamaqua and Lehighton, faced off for the annual boys and girls double header. The match up took place at the Lehighton Elementary Center at 6:00 pm. After a hard fought game by both teams, the Indians were able to take a victory over the Raiders with the final score being 43-18.
This was a special game for both the Lehighton and Tamaqua coaches. Coach Joe Berezwick spent 13 years coaching at Tamaqua before making the switch to coach the Indians. The Lady Raiders coach, Erika Barron, played for Berezwick throughout her high school career and was a 2,000 point scorer.
Lehighton was fairly confident going into the game and recognized their improvement from the beginning of the season. Tip-off began and the game quickly started rolling.
During the first quarter, the Lady Indians were able to finish over the Lady Raiders with an 11 to 8 score. Lehighton was able to put up ten points in the second quarter, but the Raiders kept the pressure on them. After the end of the second, the score remained in favor of the Indians, 21-15. The Indians hoped to have a bigger lead but time would not be in their favor.
Returning for the second half, the Lady Indians were ready to play their game. The third quarter set Lehighton apart from Tamaqua and secured the game. Tamaqua was not allowed a single basket, while the Lady Indians put up another ten points.
At the end of the third quarter, Lehighton led 31-15. The Lady Raiders did not give up their fight in the fourth and continued to work hard. The final score of the game was Lehighton 43 and Tamaqua 18. The Indians record is 3-4. Lehighton's Megan Hauser was the D11 Player of the Game with a game high of 12 points.
After an exciting game between the Raider and Indians, the Indians pulled through for their third victory of the season. Next week, Tamaqua will play on Tuesday the 20th at home against the Jim Thorpe Olympians. Lehighton also steps back on the court on Tuesday to face Pottsville away. The teams will meet back up on January 23rd for a home game for Tamaqua.