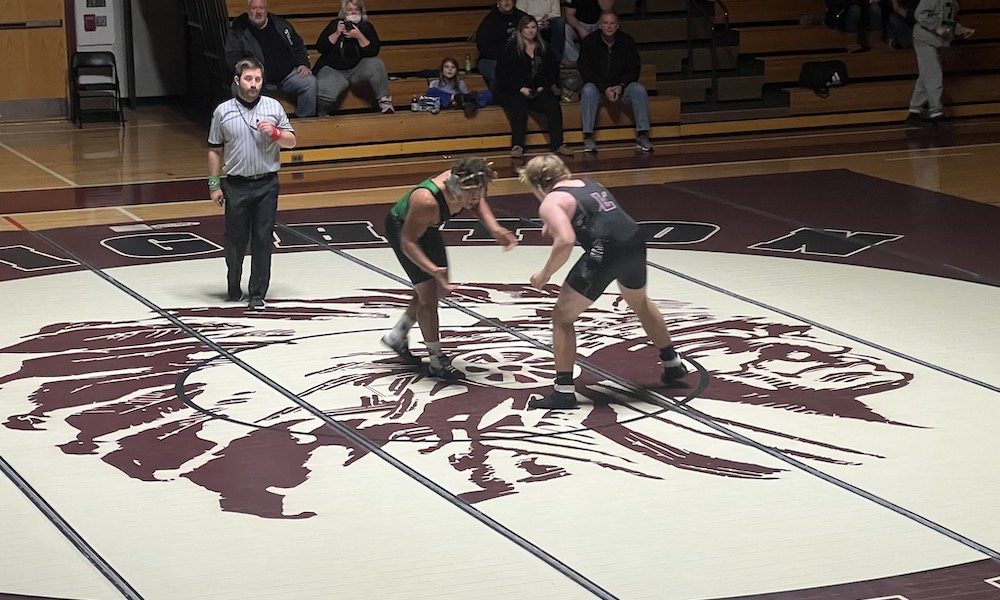 The Lehighton Indians welcomed the Pen Argyl Green Knights for a varsity wrestling match. Lehighton entered the match with a team record of 3-0, while Pen Argyl entered the match with a record of 1-3.
WEIGHTS:
126 – Lehighton's Aidan Gruber defeated Pen Argyl's Madacyn Rivera by pinfall in 27 seconds. (6-0)
132 – Lehighton's Nicholas Ziegenfuss defeated Pen Argyl's Hunter Beers by pinfall (1:48). (12-0)
138 – Green Knight's Alex Moser defeated Indian's Marcellous McCants by pinfall (1:30). (12-6)
145 – Lehighton's Jacob Ferguson won by pinfall (3:24) over Pen Argyl's Vincent Reto. (18-6)
152 – Indian's Lukas Ferguson won by pinfall (1:49) over Green Knight's Nuallan King. (24-6)
160 – Indian's Ethan Buchert defeated Green Knight's Shane Moser by pinfall (3:58). (30-6)
172 – Pen Argyl's Cole Dorshimer won by pinfall (1:25) over Lehighton's Nolan Stein. (30-12)
189 – Pen Argyl's Gian Greggo won by pinfall (3:09) over Lehighton's Deven Armbruster. (30-18)
215 – Indian's Wyatt Scherer defeated Green Knight's Michael Culver by pinfall (3:03). (36-18)
Heavyweight – Green Knight's Dakota Graham won by pinfall in 30 seconds over Indian's Ricky Houser. (36-24)
106 – Lehighton's Jacob Hall defeated Pen Argyl's Connor Bartholomew by pinfall in 19 seconds. (42-24)
113 – Pen Argyl's Aidan Knorr won by pinfall (5:09) over Lehigthon's Andrew Versuk. (42-30)
120 – Lehighton's Reese Scaturro won by forfeit giving Lehighton the 48-30 victory over Pen Argyl.
"I thought we wrestled well tonight. We got pins where we needed to and earned bonus points", said Lehighton head coach Floyd Brown. "I think we have been wrestling pretty well but we have a lot of room to improve. Our goal is to keep improving with each practice." Lehighton remains undefeated on the season at 4-0, while Pen Argyl drops to 1-4 on the year.
Up next, Lehighton will host multiple opponents in the Indian Duals Tournament on Saturday, January 8th at 8:00 AM. Pen Argyl will travel to Salisbury on Tuesday, January 11th at 7:00 PM.