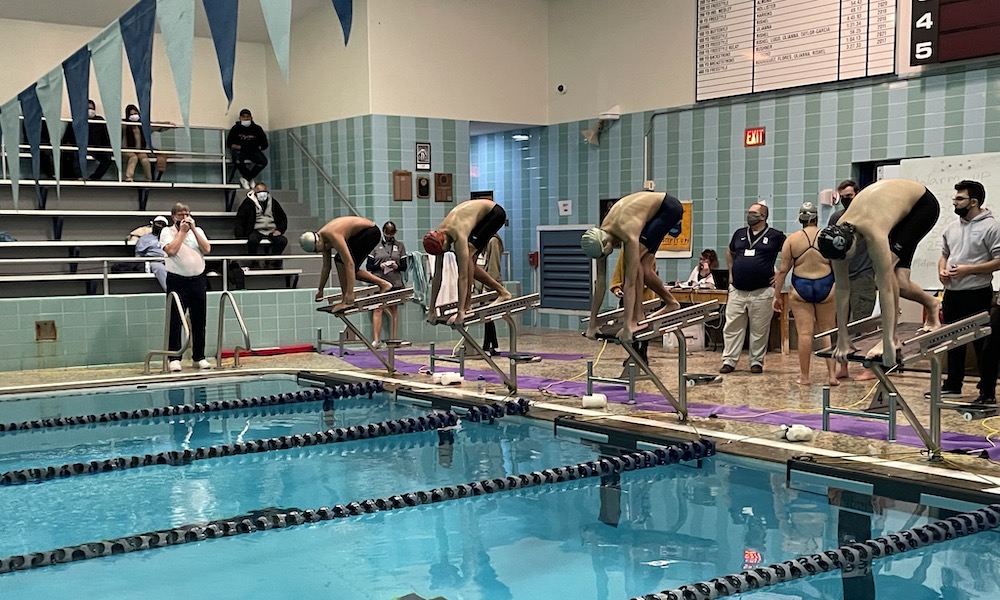 The New Year started with wins for both Parkland Swim and Dive teams. Parkland girls advanced to 4-0 with a 60-16 win over Dieruff and will continue their journey to compete for their 25th district title in February. The Parkland boys won 60-22 over the Huskies to improve to 3-1 on the season. This was a great meet to get back in the water after a solid two weeks of holiday training and see where everyone was at.
To kick off the meet, both of the Parkland girls and boys medley relays won. Freshman Julianne Zaffiro won both of her individual events (200 free-100 back) while junior teammate Sydney Platt finished first in both of her individual events as well (100 free-100 breast). Sophomore Sada Fleischaker won the 200 IM, junior Ashley Settle won the 100 fly, and junior Natasha Goldman won the 500 free to contribute to the final score of the meet. On the boys side, senior Harrison Kim won both his individuals (200 IM-100 fly). Sophomore Eric Linchuk placed first in the 200 free, junior Anshul Dadayyapally placed first in 50 free, and freshman Jack Chu placed first in the 500 free to put points on the board for the boys side.
The next meet for Parkland is the New Years Challenge Meet at Bucknell University on Saturday starting at 10am. This will be a great opportunity for each individual to have competitive races, time drops, and up their seed places for Districts. The Parkland divers will also be there ready to compete with their 11 dive lists. The next Parkland dual meet will be held at Parkland on Tuesday, January 11th at 4:00 against Whitehall. Good luck teams.