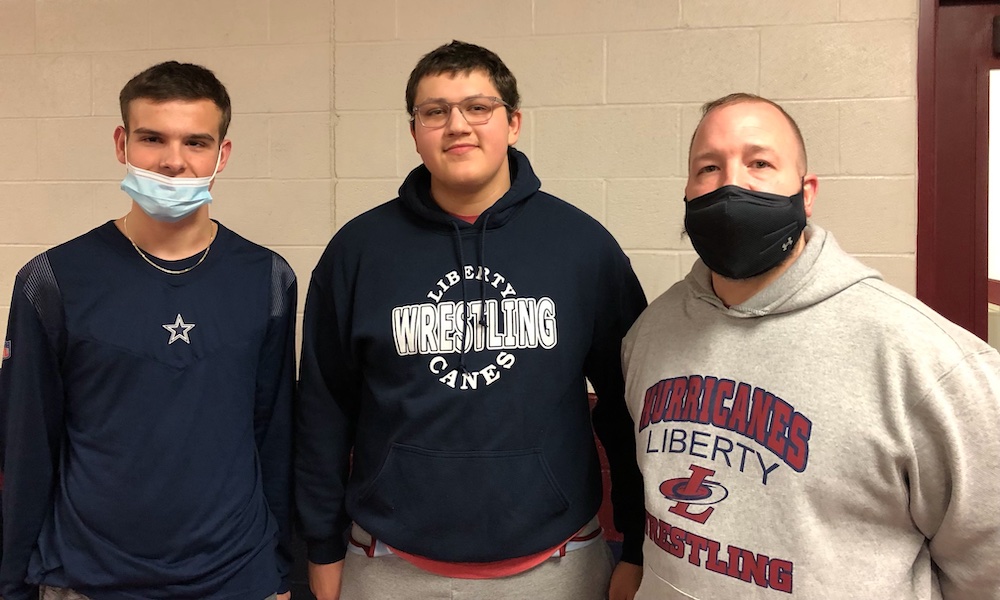 Liberty High School's wrestling team has been well known in terms of success in recent years. There was something more special, however, about this season than any trophy or championship. This was the return of senior John Notchey.
Notchey, who started wrestling when he was six years old, was just trying to get involved in an activity. Little did he know 12 years later how different his life would be. Notchey was diagnosed with Stage Two Hodgkin's Lymphoma in 2020. This came as a shock to him, his family, and the Liberty community. Notchey immediately started to ask, "Why me?" Notchey didn't put himself down too much and realized others might have a worse situation. Notchey said, "I slowly grew out of the 'why me' phase when I realized others had it worse." Notchey also spoke about how this impacted his career on the mat and his athleticism, saying, "I couldn't really do anything. I shouldn't participate in physical activity." This is something no wrestler ever wants to hear or experience, especially when you are starting to approach arguably your most important high school season.
Notchey shared about the mental challenges he's faced through treatment, and not being able to wrestle. Notchey said, "Seeing peers wrestle… it was hard to watch them… and I can't."
The feeling of not being able to play the sport you love really took a toll on Notchey, but he focused more on his return than not being able to wrestle. Notchey tried to focus on the positive aspects of returning to the mat. Chemo treatment takes a toll on everyone's stamina and their physical well being. Notchey also realized just how much chemo treatments changed him. Notchey shared, "I struggled with athleticism. My stamina has decreased, but hard work will make it better."
During a time of struggle everyone always looks to someone to make it better, whether that's a family member, coach, or a friend… someone is always there. For Notchey, that was his wrestling coach Brandon Hall. Notchey shared how Hall helped him, saying "Coach Hall… he would check in on me and see how I'm doing, encouraging me to get back in the room." For Hall, the news of Notchey not being able to wrestle was a tough pill to swallow. Hall shared, "You're sad for him because it's an opportunity he's been robbed of. You see a hard working kid and now he has the sport he loves taken away from him and you just feel for him."
Hall was asked about how the team found out about Notchey's diagnosis and what their initial reaction was. Hall was emotional when he shared, "When I got the news, we were in the Covid stage. We (the wrestling team) created text chains which allowed us to communicate with him. Those groups turned into a waterfall of messages. He's (Notchey) a motivator for the team. Everyone saw what happened and how he has come back. He truly inspires everyone."
For Notchey who now is back in the wrestling room, and on the mat, he is thrilled about the opportunity! Notchey spoke about what it means to be back, saying with a smile, "It feels really good to participate in practices and be back with the team, and eventually competing again." For Coach Hall, he was even more excited for Notchey's return (also sharing with a smile), "I ran into the room one day and just started yelling and screaming 'This guy is back, baby!' The entire room cheered, and was so happy to have him back."
Many sports teams call themselves a family and teammates call each other their brothers saying they formed a brotherhood. At Liberty High School that is certainly the case in the wrestling room, in regards to their teammate and motivator John Notchey. Notchey is now working towards getting back to the physical fitness of where he was in 2020 and was tested on the mat Thursday evening. Notchey battled for the first time since his diagnosis, and was able to defeat his opponent from Pocono Mountain West 9-4. The match was an emotional one and while battling on the mat Notchey recalled hearing everyone yelling, "Notchey! Notchey!" He admits it was tiring, but he pushed through and got the win. While Notchey's return was in a JV contest, the important part Coach Hall reiterated was that he did return. Hall said, "I know it's only JV, but you're still going out on the mat and having fun. It's senior night, your family is here, and you are back. Have some fun!" Notchey took in the moment and later on defeated his opposition, to give him his first win in over two years. He has battled cancer and won. Only good things lie ahead for John Notchey.