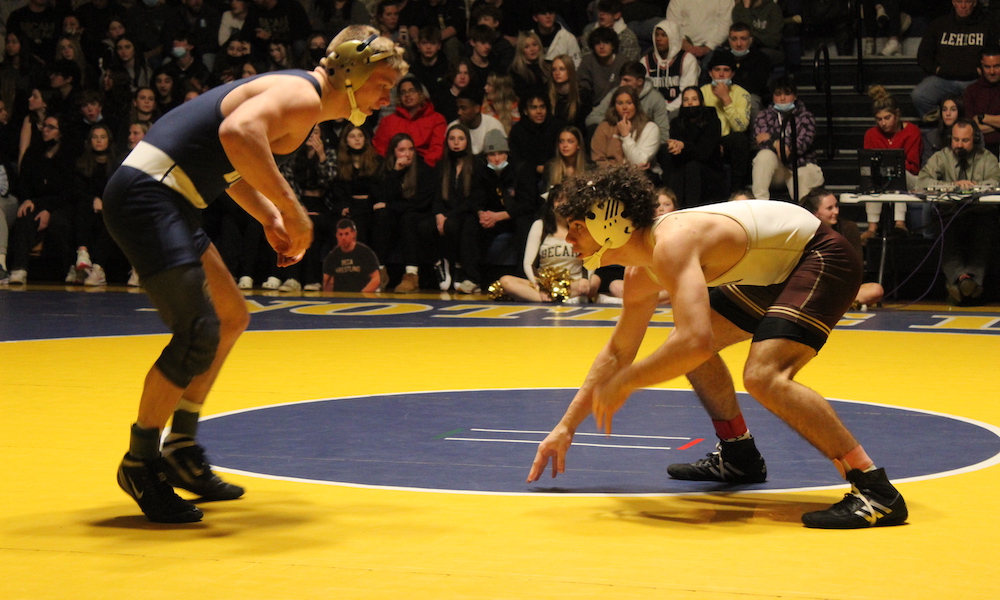 The number three AAA wrestling team in the state, Bethlehem Catholic, traveled to the number one AA wrestling team in the state, Notre Dame Green Pond, Saturday night in what was dubbed "The Holy War". It was already a special night for the Crusaders as Notre Dame held their Senior Night festivities to honor the following seniors: Brandan Chletsos, Evan Maag, Adam Schweitzer, and Jacob Wehr. The Crusader gymnasium was filled with fans from both teams in what was truly an intense battle in an electric atmosphere.
The evening started out at weight class 106 when Bethlehem Catholic's Nathan Desmond defeated Notre Dame's Ayden Smith by decision.
At 113, Bethlehem Catholic's Cole Campbell defeated Notre Dame's Cooper Feltmann by fall.
At 120, Notre Dame's Adam Schweitzer defeated Bethlehem Catholic's Cael McIntyre by decision.
At 126, Bethlehem Catholic's Dante Frinzi defeated Notre Dame's Jacob Wehr by fall.
At 132, ND's Brandan Chletsos defeated BC's Kollin Rath by decision.
At 138, BC's Tyler Kasak defeated ND's Nino Morici by fall.
At 145, Bethlehem Catholic's Charlie Scanan defeated Notre Dame's Bryson Vaughn by decision.
At 152, Notre Dame's Evan Maag defeated Bethlehem Catholic's Andrew Harmon by decision.
At 160, ND's Holden Garcia defeated BC's Jake Dailey by decision.
At 172, ND's Garrett Tettemer defeated BC's Landon Muth by decision.
At 189, Bethlehem Catholic's Luke Thomas defeated ND's Joey LaPenna by decision in OT. Thomas's success helped secure the win for the Golden Hawks with his five point move in sudden death.
Then at 215, Notre Dame's Jared Blobe defeated BC's Auggie Warke by decision.
The final matchup of the night was at 289 in which Bethlehem Catholic's Elijah Thompson defeated ND's Mason Ludlow in OT.
The Golden Hawks captured the match win over the Crusaders with a final score of 30-18. Both teams continue their seasons on Wednesday the 26th with Notre Dame at Wilson and the Golden Hawks at Parkland.
Photo Credit to D11 Sports Student Photographer, Alex Cruz