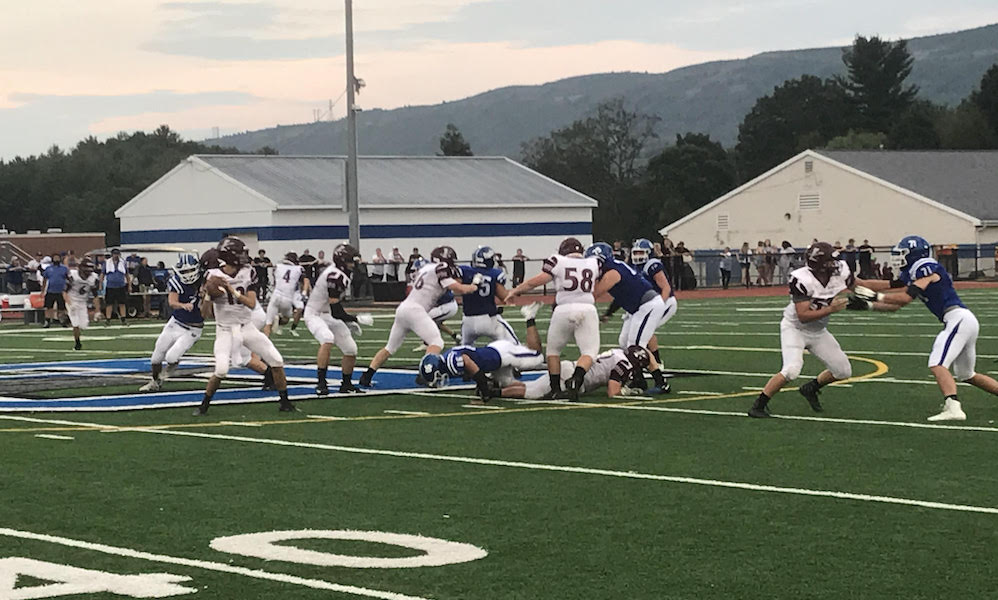 The Palmerton Blue Bombers hosted the Lehighton Indians for their first football match of the season.
Palmerton set the tone early, scoring on the first play of the game on a 74-yard touchdown pass from sophomore quarterback Matt Machalik to wide receiver James Denicola to take the lead early 6-0 after a missed extra point. Palmerton's defense held strong stopping Lehighton's drive on fourth down to take over on their own 47 yard line. After forcing a stop, Palmerton would increase their lead as Machalik would scamper 16 yards to the end zone for his second touchdown of the game. After an unsuccessful two-point try, Palmerton led 12-0. Machalik proved he was a force to be reckoned with on defense as well, picking off Lehighton quarterback Brady O' Donnell, taking it 45 yards for a pick six. A successful two-point attempt gave Palmerton the lead after one quarter of play.
Just when Lehighton got things going, down in the red zone, a mishandled snap by Lehighton led to a Palmerton recovery on their own 18. After forcing a punt by Palmerton, Lehighton scored their first points of the game on a screen pass from O' Donnell to senior wide receiver Hunter Crum for the 62-yard score.
With just 1:24 left in the half, Machalik scored his fourth touchdown of the game on a four-yard run. A successful two-point conversion increased Palmerton's lead to 28-7. Just before halftime, Palmerton cornerback Dalton Drake, picked off O' Donnell giving Palmerton the ball on Lehighton's 38. Unable to capitalize, Palmerton led Lehighton 28-7 at the half.
Due to lightning strikes in the area, there was a 30-minute rain delay after halftime. Lehighton chipped away at Palmerton's lead after a fumble, giving Lehighton the ball on Palmerton's ten-yard line. Running Back Zach Miller scored a ten-yard touchdown, closing in on Palmerton 28-13. Machalik scored another rushing touchdown for Palmerton to increase their lead 34-13. Stephen Jones added another touchdown for Palmerton on a pass from Machalik. Palmerton led 40-13 at the end of the third over Lehighton. Palmerton added another touchdown, this time on a one-yard run by Ty Sander. Machalik's big night gave Palmerton the win 46-13 over Lehighton.
Machalik finished the night with a total of 342 yards and six touchdowns, throwing for 220 and rushing for 122 along with two passing touchdowns, three rushing, and one pick six. Palmerton will look to keep their winning streak alive as they travel to Jim Thorpe to take on the Olympians. The game kicks off this Friday, September 3rd at 7:00PM. Lehighton will look to bounce back for their home opener as they welcome the Tamaqua Blue Raiders on Friday, September 3rd at 7:00PM.