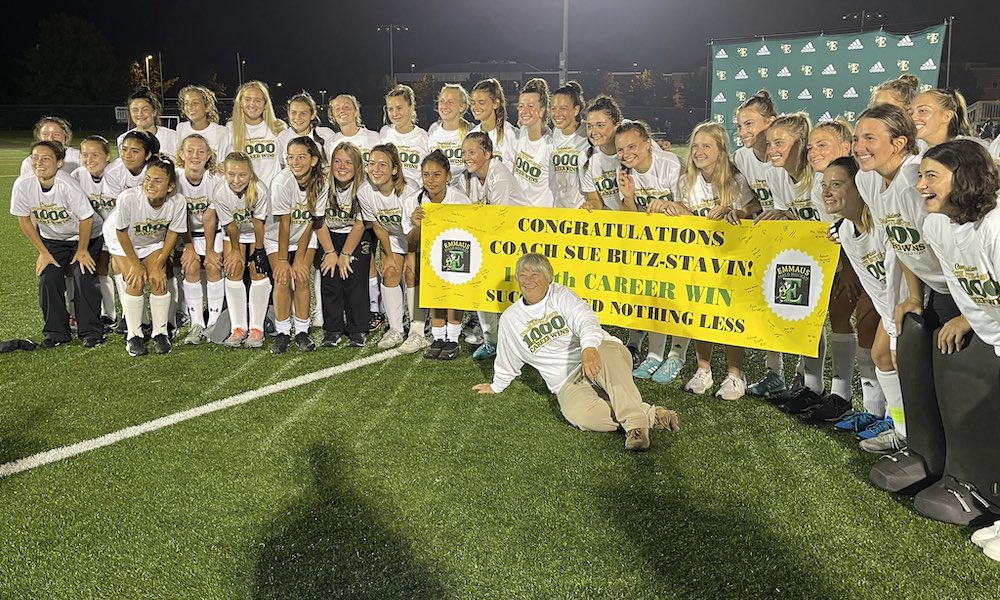 Coming into their game with East Stroudsburg North on Tuesday night, the Emmaus Field Hockey team were the heavy favorite and they proved just that posting the convincing 12-0 win.
But it wasn't just a win- it was a win that will go down in the history books. When the horn sounded on this day, Head Coach Sue Butz-Stavin celebrated her 1000th career win. She enjoyed the milestone moment with her players along with fans of all ages that have seen her put together an amazing career on the sidelines.
A Gatorade bath was in order on this day but Butz-Stavin did her part to escape the path of her players and avoided the splash. The Green Hornets scored early and often to put this game in the books right away but it was the final horn that everyone was waiting for. Ava Zerfass and Rachel Herbine both found the back of the cage three times.
For Butz-Stavin, it has been simply an amazing career. To go along with here 1000 wins, come just 82 losses, and 35 ties. But that is the start of some great stats. In 46 years on the sidelines, Butz-Stavin teams have won 13 state championships, including their latest a year ago in 2020. They have also won 38 conference titles and 35 District Xi titles which includes 32 in a row.
The win not only improved the Green Hornets record to 13-0 on the season but also Emmaus has held their opponents to just two goals the entire year while scoring 118.
A night to remember for not only the legendary coach but for everyone that was in attendance.
NIGHT TO REMEMBER- Here's a look back at history as @StavinButz captured career win number 1000 as @EHSFHockey shutout @ESASDNORTHATH 12-0. Thanks to @D11Sports Student Reporter @joeydra1 for capturing all the sights and sounds. @_EHSAthletics @EHS_Hornets @PIAADistrictXI pic.twitter.com/ngIZXpo010

— D11Sports (@D11Sports) October 6, 2021