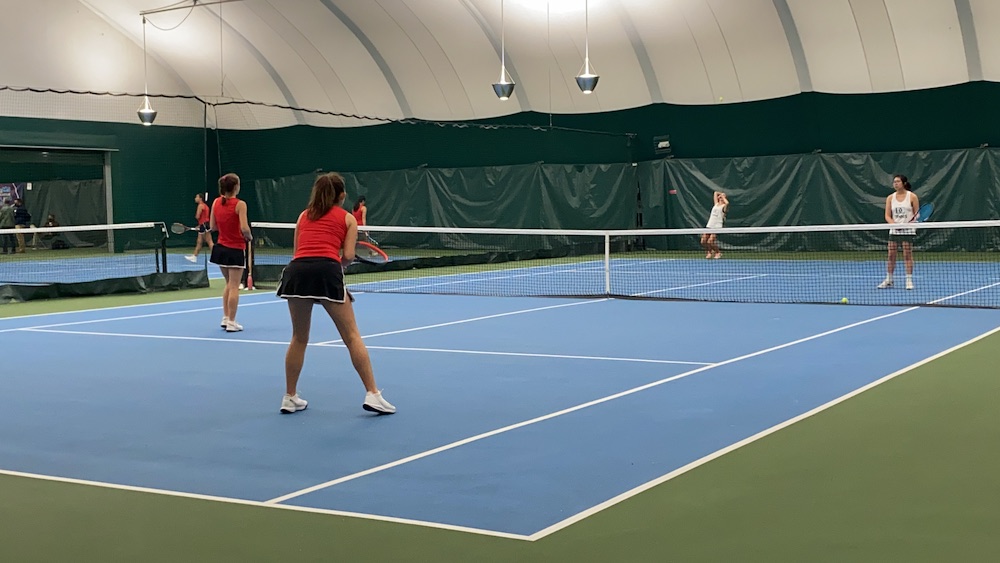 Winning Touch in Allentown the site on Monday afternoon for the opening round of the PIAA 2A Team Tennis Tournament. The Moravian Academy Girls battled with District 1 Champion Delaware County Christian and in the end, the District XI champions proved to be too much, winning 3-1.
Moravian lost at number one singles with Isabella Bartolacci falling to Brette Foutch 6-0-6-0. The Lady Lions returned the favor with Chessie Bartolacci beating Caroline Van Dixhoorn 6-1 6-2 at number 2 singles.
From there, the Moravian Academy Doubles took over. Grace Wright and Sophia Brands with a statement win at number 2 doubles. They beat Hannah Yang and Lillianna Dempsey 6-0 6-0. The team match was decided at number 1 doubles. Dedee Hoffman and Yan Yu beat Ashley Van Dixhoorn and Ersy Neal 6-4 7-5.
Jamilie Atiyeh won the first set over Sarah Stahl 7-6 and the two players were tied at 5-5 in the second set, before their match was halted, once the team match was decided.
Next up for Moravian Academy, will be Conrad Weiser, the District 3 Champions. That match is scheduled to take place on Wednesday. Meanwhile in the 3A class, Southern Lehigh will have a quarterfinal round matchup against State College, the District 6 champions. That will take place at Mansion Park in Altoona at 2pm.
#1 Singles Brette Foutch (DELCO) defeated Isabella Bartolacci (MA) 6-0,6-0
#2 Singles Francesca Bartolacci (MA) defeated Caroline VanDixhoom (DELCO) 6-1,6-2
#3 Singles Jamilie Atiyeh (MA) 7-6,5-5 Sarah Stahl (DELCO) DNF
#1 Doubles DeDee Hoffman and Yan Yu (MA) defeated Ashley VanDixhoom and Ersy Neal (DELCO) 6-4,7-5
#2 Doubles Grace Wright and Sophia Brands (MA) defeated Hannah Yaz and Lillianna Dempsey (DELCO) 6-0,6-0
MOVING ON— Head Coach Rick Brown along with Yan Yu & Dedee Hoffman of @MoravianAcademy talk about their 3-1 win over Delaware County Christian in the opening round of the @PIAASports 2A Team Tennis Tournament. @Colonial_League @PIAADistrictXI pic.twitter.com/oSso3AwIm8

— D11Sports (@D11Sports) October 27, 2020