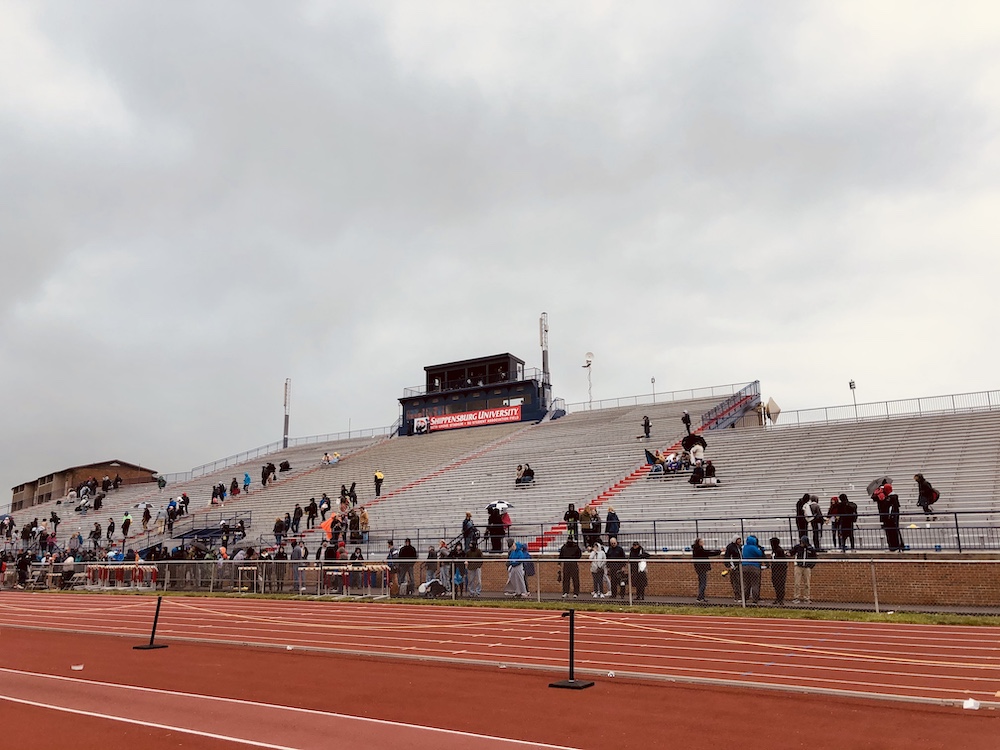 SHIPPENSBURG – Nazareth's Collin Burkhart and Pottsville's Payton Kleckner have checked every box all season long. They put a final stamp on a pair of remarkable seasons – and high school careers – Saturday.
Burkhart stood atop the podium at Shippensburg University's Seth Grove Stadium after launching the javelin 208-6 to win the Class 3A title at the PIAA Championships, while Kleckner soared to gold in the high jump after clearing 5-5.
Burkhart, a District 11 and Eastern Pennsylvania Conference champion in the event, beat out top seed Matt Prebola of Tunkhannock for the title. Prebola threw 195-5.
"It feels great, it really does," said Burkhart. "I'm super grateful for all those that supported me throughout this. My parents, my coaches, and God. He's really blessed me with all these abilities so I'm very thankful.
"It hasn't quite sunken in yet and I'm glad it hasn't."
Once Burkhart let go of his winning throw, he knew it was something special. "I felt pretty good about it," he said. "Once I released it I knew it was pretty far. It was a good feeling, it really was.
"I just wanted to control what I could control. That was my goal. The weather wasn't quite ideal, but we made it work and still had some pretty good throws. There's still more work to do, always. But I'm very happy with the result. I really am."
Burkhart will be continuing his academic and track and field careers at Penn State. He was more than happy to finish his high school career with a bang.
"The training has been going great this week and that really helped me throughout the event," said Burkhart. "Before that my best for this meet was in the second round; I threw 195-feet. So it was climbing from my first attempt. But I was still searching for that big one and finally hit it. It felt good. It allowed me to relax."
Tristan Schmidt was third in the javelin with a throw of 191-8.
"My preliminary throws were fine," said Schmidt. "On my second throw, which was my farthest, I felt like I could throw farther. But it just wasn't quite coming together. I didn't have the angle quite right.
"I still have nationals so I'm going to say my season's not technically over. As of right now, I'm not happy with it. But if I get the school record then I will be happy with it."
Burkhart was also eighth in the discus, with a throw of 165-5. North Schuylkill's Tristan Bolinsky was fourth with a throw of 170-07.
Kleckner had to adjust on the fly in the high jump after her event was moved indoors because of poor weather.
"In the beginning I was very very nervous," said Kleckner, who ended up jumping in her sneakers. "Doing my run throughs in the beginning I thought I was going to slip or something was going to go wrong. Eventually I got used to it.
Kleckner, who has never jumped inside before, cleared her winning height on her second attempt.
"It was very nerve racking," she said. "Inside, I was just thankful it wasn't cold out. But not jumping with cleats really took me off guard because it was pretty slippy in there."
Already a Schuylkill League and District 11 champion in the event this season, took a big step up from her fourth place finish at states her sophomore season.
"It feels amazing," said Kleckner. "I tried my best and I really pulled through."
Blue Mountain's Olivia Haas ran to a pair of medals. The junior was second in the 1600 with a time of 4:54.83 behind Moon's Mia Cochran (4:51.01).
Haas was third in the 800, running a 2:14.48. Easton's Sophie Emin was fourth in the 800 at 2:15.09.
In the 800, Haas won her heat and waited to see where her time fell after the second heat.
"I wasn't expecting those girls to be up with me, so they definitely pushed me and helped me," said Haas. "I definitely wish I was in the last heat, but those girls are tough.
"I am happy with how I did today, but in that last race I could really feel my legs from the mile earlier. I'm still happy with how I did."
Jim Thorpe's A.J. Bailor uncorked two personal bests to place third in the shot, with his best mark 58-4.
"I'm extremely happy with how today went," said Bailor. "Coming into this week, I had an amazing week of training and I just got in the circle and I just felt really good today, just got after it and ended up finishing third, which is more than what I wanted. I'm so happy.
"I was talking to my coach the whole time, and we were right on the verge of getting that throw. We were just missing one thing. Everything came together, I felt good and when I released it it felt perfect. I l looked back and everybody was hyped. They yelled the mark and I was ecstatic. It just felt great."
Bailor, who will continue his career at Monmouth University, ended his career at Jim Thorpe on a high note.
"Coming into today my best was 56-9.25," he said. "My third throw was 57-0 and my last throw was 58-4. Two PRs in one day, and to PR on my last high school throw ever, felt amazing."
Nazareth's Cody Breidenbach was seventh with a throw of 52-7.
Nazareth's Jordan Wicker earned a pair of medals Saturday, placing third in the triple jump (45-10.25) and fifth in the long jump (22-0).
East Stroudsburg South's Jasir Parker was seventh in the triple jump with a leap of 44-11.
Southern Lehigh's Madison Trout ran to a third place finish in the 100 with a time of 12.23, while Nazareth's Alexis Doherty finished fourth in the 400 (57.76).
Wilson's Damon Simpson was also fourth in the 100, running a 10.76.
The Warriors finished sixth in the 400 relay with a time of 42.94.
After placing 19th in the discus earlier in the day, Lehighton's Abby Meckes bounced back to finish fifth in the javelin with a throw of 129-6.
It wasn't easy.
"I went in 12th, and then I went into finals as like sixth," said Meckes. "And then on my last throw, I was actually ninth so I knew I needed to throw better in order to get it. And I just really tried to hype myself up beforehand, and I was able to pull it out."
Northampton's Ben Henry ran to a fifth place finish in the 200 with a time of 22.01.
Nazareth's Kelly Leszcynski (127-9) was sixth in the javelin, while Stroudsburg's Emily Strunk placed sixth in the shot put (39-03).
Bethlehem Catholic's Cailey Spanitz was seventh in the pole vault after clearing 11-6, another event contested indoors due to weather conditions.
"Vaulting indoors is actually an advantage compared to vaulting outdoors today because it's really chilly and windy," said Spanitz.
"But I vaulted for an indoor season this year so it was OK. I enjoyed it. I was very happy we were indoors."
Jim Thorpe's Lydia Wallace ended her career with a second state medal, placing eighth in the 300 hurdles in 46.73
Wallace was sixth in the Class 2A event as a sophomore.
"It feels awesome," said Wallace. "I'm not the happiest with my performance but to end my race with a state medal, I couldn't ask for anything better."
Liberty's Emily Jobes ran a big PR to place eighth in the 3200. Jobes was seeded with a time of 11:28.98 but dropped a 10:55.91 to medal.
Jobes did it through the wind and the rain.
"It was definitely interesting conditions but I think the wind and the rain almost makes it a fun game just picking off runner by runner. And I personally run better in the colder weather versus the hot weather."
Jobes worked to put herself in medal contention.
"My plan going in knowing there would be 27 girls on the start line is a lot so I knew I was going to start a little farther back and not get in the jockeying and shoving and just work my way up each lap and just focus on that lap and close with everything I had.
"I saw (my time at) the mile mark but after that it was more just focusing on each lap and closing a little bit and I stopped paying attention to the clock at that point."