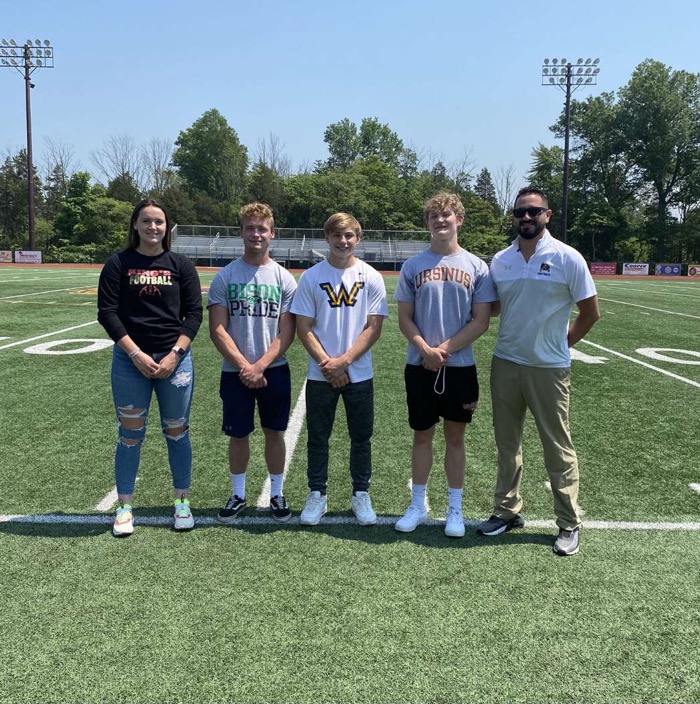 May 26th was signing day at Palisades High School, and 12 student athletes gathered on the football field to celebrate their achievements with their friends and family. Each athlete walked onto the field and were called up to the podium one-by-one. Once called, they spoke about where they would be attending college next fall, and thanked those who supported them throughout their many years of hard work. Their head coaches also spoke about each player's dedication and how it was an honor to be able to coach them. Below are those who were honored.
Logan Boushell, Men's Soccer
Boushell is an overall athlete who is committed to Delaware Valley University for men's soccer as a part of the class of 2025. He will be majoring in media and communications, and hopes to eventually narrow this profession down to sports marketing. When asked about his experience on signing day, Boushell said, "It was nice getting a group of not only athletes, but musicians together" and that the day was super fun. He believes that, "everyone should be recognized for whatever it is that they do". Boushell additionally stated that it was hard work to talk to colleges and coaches to find the right fit, but in the end, it was worth it. He is very excited to be on the Delaware Valley men's soccer team and is ready for the fall.
Delaney Hilferty, Football and Track and Field
Hilferty is a multi-sport athlete who will be playing both football and track and field at King's College in Wilkes-Barre, Pennsylvania next year. She is excited to be studying towards becoming an athletic trainer while still playing her two favorite sports. When asked about signing day, Hilferty was honored to be a part of the experience. She said that "everyone had very nice things said about them to show their accomplishments."
Trinity Williams, Women's Basketball
Williams will be furthering her education and playing basketball at the New Jersey Institute of Technology (NJIT) as a part of the class of 2025. She verbally committed back in February 2020 and officially signed in November 2020. Williams is a multi-sport athlete, as she additionally plays soccer and participates in track and field. This past week, Williams tied for fourth in states, competing in the girl's high jump with an amazing jump of 5 feet, 2 inches. She is very committed to any sport that she plays and is super excited to go D1!
Drew Camp, Women's Soccer
Camp will be attending Mount St. Mary's University in Emmitsburg, Maryland. She plans to study health sciences and continue playing women's soccer for the program. She committed back in November 2020.
Jake Benner
Benner is committed to Monmouth University and will continue to participate in track and field. His favorite event is the triple jump. He plans to major in marine biology and walk on the Monmouth jumping team.
Ben Haubert
Haubert is another multi-sport athlete. He will be continuing his academic and athletic career at The Citadel. He will be wrestling for the military college in South Carolina. He thought that Palisades' signing day was "a really cool and unique experience" and that it was "awesome to share the podium with my peers." Haubert additionally gave thanks to Palisades' Athletic Director, Mr. Gilbert, and the entire Palisades administration for the great set up. He plans to major in either criminal justice or business management.
Brandon Moan
Moan signed with Keystone College to play men's basketball. He is planning on majoring in business at the college. When asked about signing day, he thought that it "was great because it gave everyone a chance to celebrate all of the hard work and dedication that every athlete put in day in and day out."
Aidan Blaikie
Blaikie is attending Nichols College in the fall and will be participating in their amazing football program. He plans on majoring in business and minoring in economics.
Mason Smeland
Smeland is committed to Wilkes University in Wilkes-Barre, Pennsylvania for football and is excited to be one of the team's running backs. He thought that Palisades' signing day was "a nice event" where he could celebrate his accomplishments with his friends, family, and coaches.
In addition to the athletes listed above, Matthew Santos, Zachary Smith, and Brandon Fox were honored at the ceremony as well. Santos will be attending Friends University in Kansas and will play football there. Smith is committed to Ursinus College in Collegeville, Pennsylvania to play football. Fox is headed to Immaculata University to play Men's basketball.
Congratulations to everyone honored at Palisades' signing day, and good luck to all student athletes of the Class of 2021!