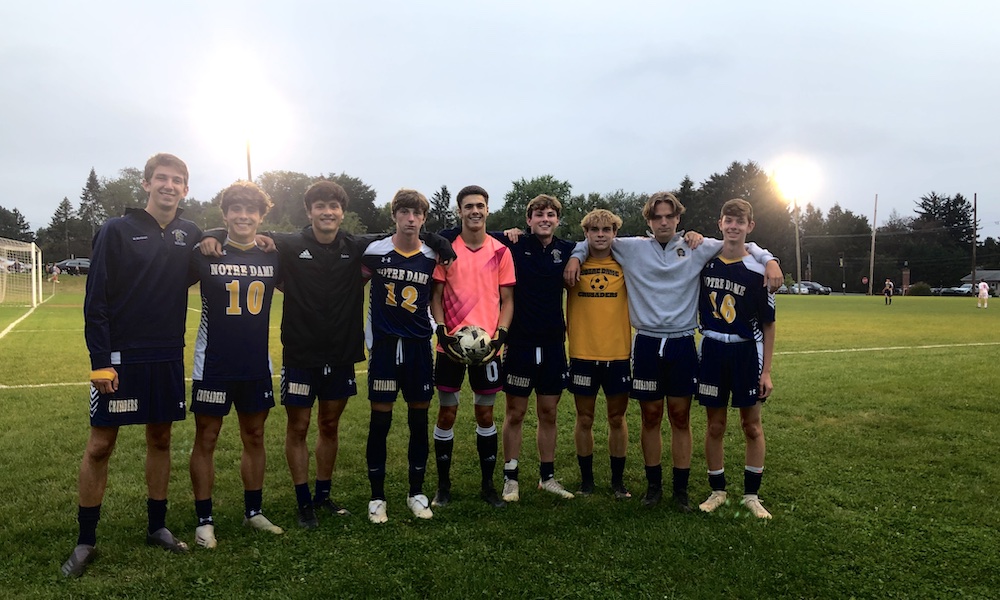 Seniors Left to Right: Leo McMenimen, Francesco D'Avella, Fulvio D'Avella, Ryan Miller, John DeMelia, Brendan Boyle, Matthew Benolken, Quinn Troisi, and Cory Burgess
The Crusaders' Boys Soccer team took on the panthers of Saucon Valley on a misty Tuesday Night. The Crusaders were also celebrating the seniors on the team, as it was their last home game under the lights in Easton.
The game started out strong when Senior Brendan Boyle scored in under ten minutes from the start, giving the Crusaders the lead 1-0. The Panthers quickly responded, scored, and tied the game 1-1 with 15 minutes left to go in the first half. The Crusaders' crowd was energized as it was a competitive matchup.
The second half started out slow until half way through. Brendan Boyle scored helping the Crusaders to lead 2-1. Notre Dame's Ryan Miller quickly got his shot to score and was successful extending the Crusader lead over the Panthers 3-1. With ten minutes left to go in the game, Brendan Boyle got the hat trick which helped the Crusaders lead 4-1. Francesco D'Avella solidified the Crusader win with a little under three minutes left to go in the game when he took it to the goal and scored the Crusaders fifth point. The final score of the game — Notre Dame Crusaders (5) – Saucon Valley Panthers (1).
Coach Wrigglesworth of Notre Dame said, "The boys played their best game of the season tonight both offensively and defensively." Coach also noted that he was, "proud of the boys" on this special senior night.