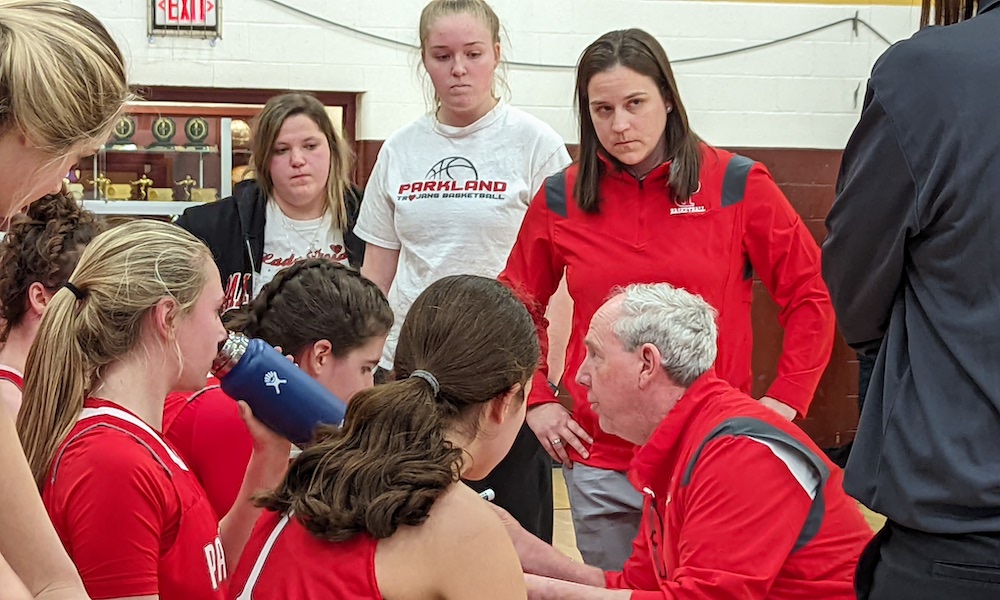 The finals of the girls' 6A District 11 playoffs are set. Parkland and Northampton will meet for the fourth time this season to determine this year's champion. Meanwhile, Easton and Nazareth will battle for the third and fourth spots in district, with all four teams making a trip to states.
In the opening game of the night, Northampton (22-5) trailed through the first quarter of the game before taking their first lead of the night early in quarter number two. From there, the Blue Eagles stretched their lead as high as 15 points. The two teams see-sawed through the first three minutes of the game before Nazareth (17-8) got a three-pointer from Kelly Leszcynski, who would hit two foul shots on the next possession to put the Lady Eagles up 12-7 for what would be their largest lead of the night. After shaking off some early weak play, Northampton pulled to within a point when Devyn Demchak drained a bucket with :19 left in the opening quarter.
"We all knew we were kind of sucking a little bit in the first quarter and coach maybe yelled at us a little to pick it up and we did, and we finally got the defense how we wanted it and the turnaround like we wanted," said Northampton senior Grace Lesko, who finished the night with 14 points.
"I told them our defense was pathetic early on," admitted coach Jeff Jacksits. "We gave up two back door cuts off pick and rolls, which we should not do. We gave them a wide open three, which we're not supposed to do that, and I laid into them, and we played a solid 10 or 12 minutes of defense."
Lesko connected on Northampton's first trip down the court in the second half to put her team up 18-17, but Leszcynski came right back with a three-pointer to make the lead short-lived. Senior Taylor Kranzley led an 11-0 run for the Konkrete Ladies, scoring six of the points in the stretch to give Northampton a 29-20 edge. Samantha Baker cut the lead to 29-22 with :10 left before halftime.
Northampton rattled off the first eight points of the second half to make it a 15-point game and then relied on defense and timely foul shooting the rest of the way to give them a trip to the District 11 finals.
Northampton defeated Parkland in the EPC semifinals to put themselves into the finals where they fell to Bethlehem Catholic.
For Nazareth, Leszcynski finished with a game-high 20 points, draining four three-pointers on the night.
Northampton's opponent was decided in the second game that saw top seed Easton (24-2) struggle slightly early on before a three-pointer from Sara Tamoun put them up 26-14 with a minute left in the first half. Tamoun hit four three-pointers on the night and finished with 12 points to lead the Red Rovers, who fell to Parkland (17-8) by a 44-40 score.
Trailing by 10 at halftime, Parkland came out firing in the second half and made it a 26-23 game with 3:50 left in the third quarter. All their work was erased though when Easton scored the next nine points to again hold a 12-point edge with just under two minutes left in the quarter.
"I have to credit Mo (senior Mo Olenwine) and Zoe (Wilkinson) with keeping our young players under control when we were trailing," said coach Ed Ohlson. "They provide the leadership for us, and the players saw that they were not panicking, and they kept their composure and pulled us back into the game."
Momentum came back to the Parkland side of the court and just two minutes into the fourth quarter, the Lady Trojans had made it a 37-33 game. Madi Siggins hit a couple foul shots and Zoe Wilkinson would get a close-range jumper to make it a one-point lead for Easton at 38-37 with 3:47 left to play. Parkland continued to take advantage of Easton miscues and Siggins pulled down an offensive rebound and put it back up and in to put her team up for the first time since the first quarter with a 39-38 lead. Easton tried to use fouls to derail Parkland, but sophomore Talia Zurinskas hit four key foul shots down the stretch to put the game into the win column for the Trojans.
"I've been in pressure situations before and situations like this before and I just really need to step up for my team, so that's what I did," said Zurinskas. "I had to step up, we all did, because Easton is tough."
The win gives Parkland a return trip to the district finals where they lost to Nazareth last season.
"I said early in the year that we would be a very different team as the season went on and we continued to develop our young players," said coach Ohlson. "I said all along we would be there at the end and here we are going to the district finals."
Zurinskas led all scorers with 13 points, while Siggins (12) and Wilkinson (11) were also in double figures for the Lady Trojans. Tamoun was joined by junior Anye' Staton (10) in double figures for Easton.
All four semifinal teams gain a trip to states with the district champion playing closer to home to open the PIAA tournament, which gets underway next week.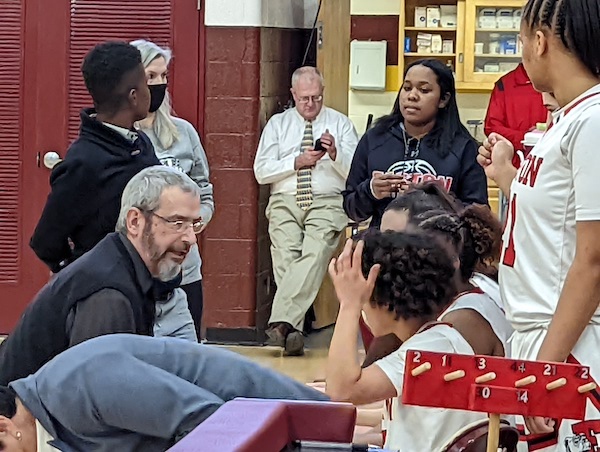 Getting close to game time. @NazGirlsSoccer vs @KonkreteKids in the @PIAADistrictXI semifinals.@D11Sports pic.twitter.com/B2ks9EIn2t

— Chuck Hixson (@ChuckinSports) March 1, 2022
HALFTIME@NazGBball 22@KonkreteKids 30
Scoring: NAZ – Kelly Leszcynski 11; NOR – Grace Lesko 12.@D11Sports pic.twitter.com/Q3iho0oBvy

— Chuck Hixson (@ChuckinSports) March 1, 2022
AFTER 3@NazGBball 26@KonkreteKids 38@D11Sports pic.twitter.com/1FOB0e7Oyp

— Chuck Hixson (@ChuckinSports) March 2, 2022
Up next… pic.twitter.com/1HL87zrip4

— Chuck Hixson (@ChuckinSports) March 2, 2022
AFTER 1@ladytrojanhoopz 8@GoRedRovers 10@D11Sports @LVPressSports pic.twitter.com/yC8T3b2VdX

— Chuck Hixson (@ChuckinSports) March 2, 2022
HALFTIME@ladytrojanhoopz 16@GoRedRovers 26
Scoring: PHS – Talia Zurinskas 5, Zoe Wilkinson 5; EAS – Sara Tamoun 9@LVPressSports @D11Sports pic.twitter.com/QbOO6aIMir

— Chuck Hixson (@ChuckinSports) March 2, 2022
HALFTIME@ladytrojanhoopz 16@GoRedRovers 26
Scoring: PHS – Talia Zurinskas 5, Zoe Wilkinson 5; EAS – Sara Tamoun 9@LVPressSports @D11Sports pic.twitter.com/QbOO6aIMir

— Chuck Hixson (@ChuckinSports) March 2, 2022
HALFTIME@ladytrojanhoopz 16@GoRedRovers 26
Scoring: PHS – Talia Zurinskas 5, Zoe Wilkinson 5; EAS – Sara Tamoun 9@LVPressSports @D11Sports pic.twitter.com/QbOO6aIMir

— Chuck Hixson (@ChuckinSports) March 2, 2022
FINAL@GoRedRovers 40@ladytrojanhoopz 44@D11Sports @LVPressSports pic.twitter.com/Fnz9CpqeQv

— Chuck Hixson (@ChuckinSports) March 2, 2022