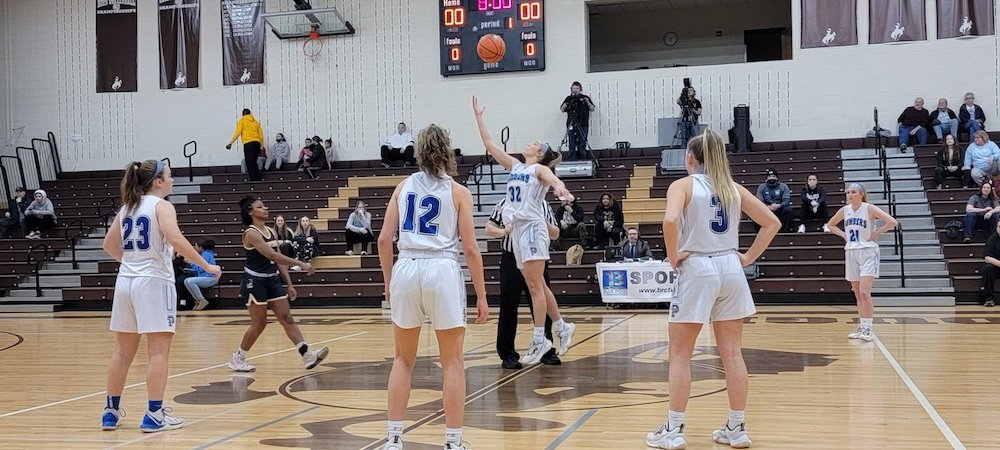 First District Championship in a quarter century.
CATASAUQUA- Denied the opportunity to win the Colonial League championship after falling to Northwestern Lehigh 40-38, the Palmerton Blue Bomber girls basketball squad set their sites on a District XI title. On Tuesday night, after trailing for much of the contest, the team put together a strong fourth quarter rally in a thrilling 48-46 win over Executive Education Charter. This, combined with a Pine Grove loss to MaST Community Charter of District 12, means the Blue Bombers claimed their first district championship in 25 years.
Palmerton trailed only 21-18 at intermission despite going nearly eight minutes being held without a point. The Raptors took a 21-12 lead with just under two minutes left in the half, but Bethie Morgan scored three straight times inside the paint to cut into the deficit. Morgan finished with a team high of 16 points.
The Bombers grabbed the lead early in the fourth quarter on a three-point bucket by Raegan Nemeth, who tallied 15 points on the night all beyond the three point arc. Her scoring incuded two consecutive from the corner to extend the lead to 45-38 with two minutes left to play.
Tiana Carey of Executive Education pulled her team to 45-41 on a three of her own, but Morgan then made one of two free throws to get the lead back to 46-41 with just 1:15 left. Brianna Moore, who also chipped in 15 points for Palmerton made one of two from the charity stripe with nine seconds left to keep it a two possession game at 48-43. Shaylynn Waiters then connected on three to make it 48-46, she had a game high 17 points.
"This is my senior year and to get our first district championship feels amazing," Raegan Nemeth stated afterward.
Palmerton (22-2) will face MaST Community Charter Friday at a site and time TBD. Executive Education will play Pine Grove for third place on Friday as well.