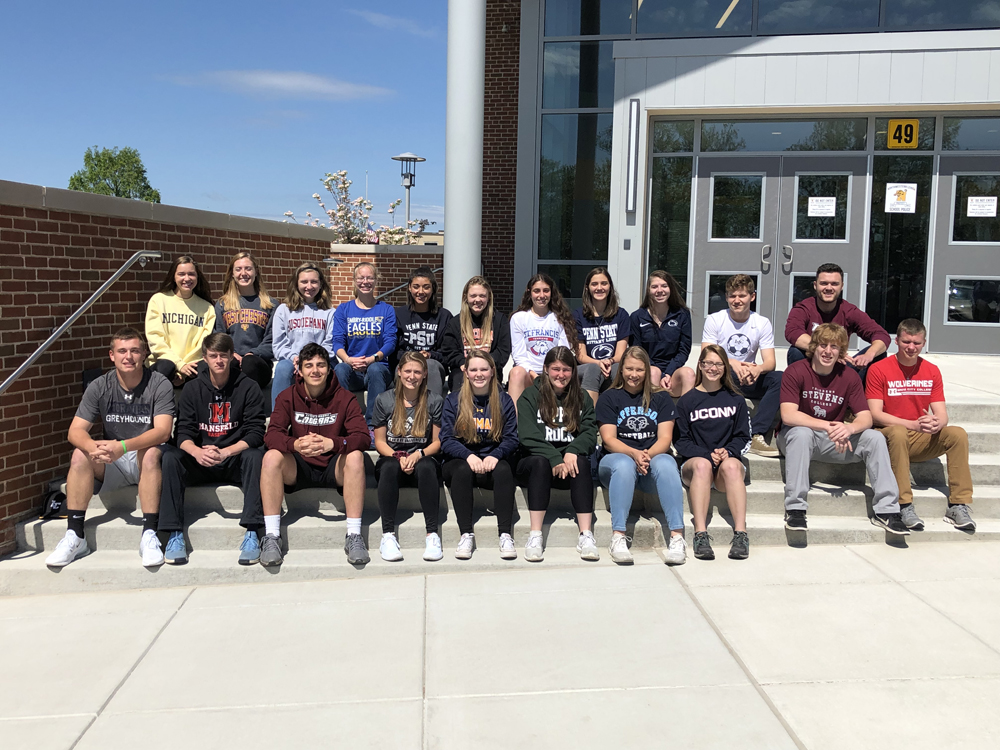 It was a special day for more than 20 student-athletes as they came together for a special event to announce their future plans. Wednesday morning marked Northwestern's 2019 Senior Student-Athlete College Commitment Ceremony which was held in the gymnasium.
Nine sports were represented in all with Soccer-leading the way with five students moving to the next level followed by Track and Field, Baseball, and Field Hockey.
Below is a complete list of where these Tigers will be headed to in the fall to continue their academic and athletic careers.
| | | |
| --- | --- | --- |
| NAME | SPORT | ATTENDING |
| Hagadus, Colten | Baseball | Lehigh Carbon Community College |
| Holmes, Derek | Baseball | Moravian College |
| Mengel, Brandon | Baseball | Mansfield University |
| Vance, Erin | Bowling | Tusculum University |
| Koerner, Rachel | Field Hockey | Neumann University |
| Page, Taylor | Field Hockey | Slippery Rock University |
| Smargiassi, Alena | Field Hockey | University of Connecticut |
| Derr, Sydney | Field Hockey / Track & Field | Bloomsburg University |
| Gornicz, Josh | Football | Grove City College |
| Slifer, Tyler | Football | Thaddeus Stevens College |
| Creighton, Zachary | Soccer | Lebanon Valley College |
| Danner, Caleb | Soccer | Lehigh Carbon Community College |
| Hathaway, Sara | Soccer | Penn State University – Berks |
| Motolese, Margaret | Soccer | Saint Francis College |
| Smith, Jaymi | Soccer | Penn State University – Berks |
| Akelaitis, Emily | Softball | Thomas Jefferson University |
| Consuelos, Madeline | Track & Field (Triathlon) | Michigan University |
| McDonald, Meghan | Track & Field | Susquehanna University |
| Supplee, Sarah | Track & Field and Cross Country | West Chester University |
| Zack, Alyssa | Track & Field and Cross Country | Embry-Riddle Aeronautical University |
| Duminie, Shante | Volleyball | Penn State University – Berks |