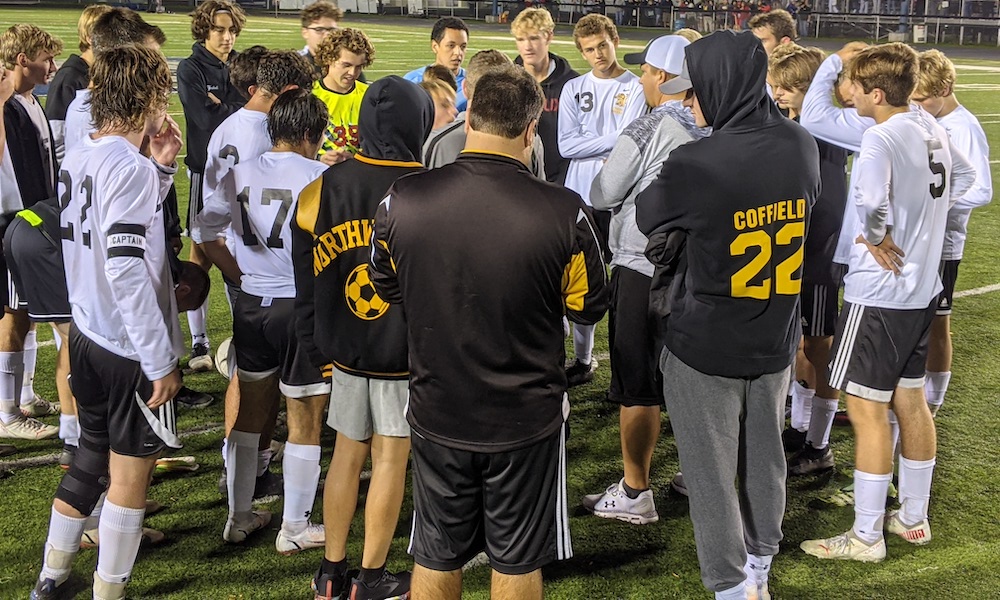 It took just two minutes for a goal to be scored in Thursday night's Colonial League semifinal game between Northwestern Lehigh and Moravian Academy. The next goal would have to wait for another 67 minutes as the two teams battled back and forth. The bad news for Moravian Academy was that both goals were scored by the Tigers, who advanced to the finals with a 2-0 win over the top-seeded Lions.
Matt Johnson found himself in front of the net with the ball coming right at him and he relied on instincts to give the Tigers a quick lead. With an impressive spin move, Johnson put a laser shot past goalkeeper Vinny Lamberti with 38:00 left in the opening half.
"I saw the ball coming and just made a move to get a foot on it and was able to kick it with my left foot for the goal," said Johnson of the acrobatic move.
An early goal is always a good thing for a team, but coach Nate Hunsicker felt that it caused his team to become a little complacent rather than look to build quickly on their early lead.
"It was a great goal and it was big to get the early lead, but it turned out to be a blessing and a curse because we kind of rested on that goal," Hunsicker explained. "We didn't feel one goal was going to be enough and it would have been nice to get a second early one to make things more comfortable."
Both teams increased in their intensity as the game went on with several players being warned. With 28:00 left in regulation, Northwestern Lehigh's Dylan Moss was given a yellow card and sent to the sidelines. The pushing and shoving continued and as Moravian Academy looked to capitalize on an opportunity, Crocco made an impressive save and was leveled by Gennaro Mazzella, who was given a yellow card with 14:59 left in the game.
For much of the second half, it was Moravian Academy threatening to tie the game, but Crocco and the defensive back line for Northwestern Lehigh were able to hold off the attack.
"We made a change and moved Mason [Brensinger] to help contain number 17 [Mazzella] and it worked really well for us. I don't think he ever really had much of a look for a good shot," said Hunsicker. "Our three guys in the back really did a hell of a job tonight and Crocco was excellent, too. To shut out a team like this, you really have to be playing good defensively."
As the tension continued to build, Northwestern Lehigh put pressure on the Moravian Academy defense and it eventually paid off when Josh Zellner fired a shot that glanced off Lamberti and rolled into the net for an insurance goal for the Tigers. The goal seemed to be the nail in the coffin for the Lions, who were unable to pull themselves back into the game.
"Their guys played a great game as well," said Hunsicker, who was a goalie back in his playing days. "I feel for their guy [Lamberti] because he really made a nice play on the ball that Josh hit but it bounced away from him and there wasn't anything he could do to stop it from going in."
Northwestern Lehigh will now face Southern Lehigh on Saturday for the Colonial League championship, which will be played at Catasauqua's Alumni Field.
"We're really confident right now and we have Mason [Brensinger] and Colin [Coffield] back, so I think we're going to be in good shape for that game," said Johnson of the upcoming championship. "We're really pumped and we'll have a lot of confidence going into that game."
Mason Crocco with a save. @nwlehighboyssoc 1, @MoravianAcademy 0 with 19:00 left in the first half. @Times_News @D11Sports @LVPressSports pic.twitter.com/NaapYaqYBv

— Chuck Hixson (@ChuckinSports) October 21, 2021
>/center>