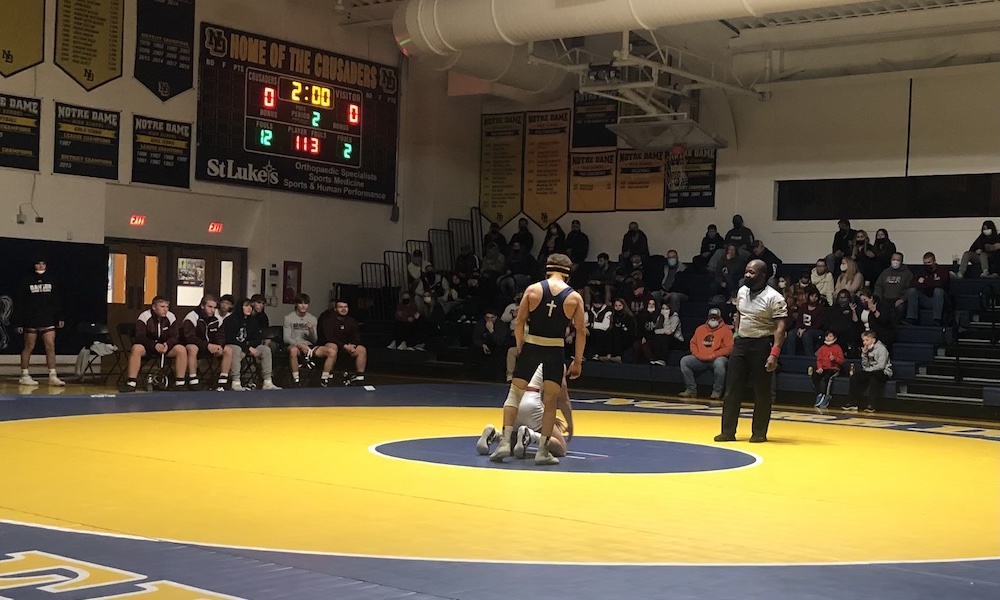 The Notre Dame (Green Pond) High School wrestling team played host to Bangor High School Wednesday night in what was a dominant win for the Crusaders.
The match started at weight class106 when sophomore Ayden Smith defeated Bangor's Jace LaBar by tech fall. Then, at 120, the Crusaders' Adam Schweitzer defeated Slater's Aiden McNulty by fall.
At 126, Notre Dame's Jacob Wehr defeated Bangor's Landon Uhler by decision.
At 132, Crusaders' Brandon Chletsos won by forfeit. At 138, Notre Dame's Bryson Vaughn defeated Slater's David Sipley by fall. At 146, Crusaders' Keegan Ramsay won by forfeit. At 152, Notre Dame's Evan Maag defeated Bangor's Noah Hillis by fall.
At 160, Notre Dame's Holden Garcia defeated Slater's Alex Klaver by fall. At 172, Crusaders' Garrett Tettemer defeated Bangor's Riley Stapp by fall.
At 189, Notre Dame's Joey LaPenna defeated Bangor's Gabe Woolverton by fall.
At 215, Crusaders' Jared Blobe defeated Slater's Sam Woolverton by tech fall.
Finally, at 285, Notre Dame's Mason Ludlow defeated Slater's Jose Fuentes-Maldonado by fall.
The gym at Notre Dame was filled with fans from both teams, which made it a fun atmosphere to wrestle in. The Crusaders continue their season as they wrestle Blair Academy on Friday, January 7th at 7pm at Notre Dame.