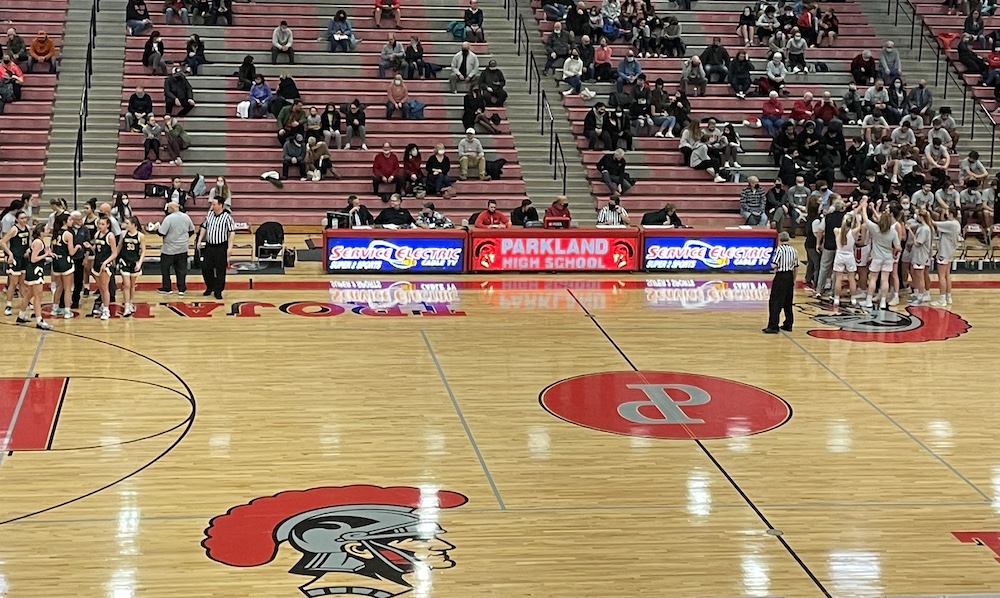 Parkland boys and girls took on Central Catholic in basketball last night at Parkland High School. The girls played first last night with the Vikings coming in at 13-2, riding a ten game win streak. Parkland, on the other hand, has an 8-7 record.
The game started off slowly for each team with the score being 3-2 Vikettes after the first quarter. There was a little more scoring in the second quarter with the Lady Trojans up 9-8 heading to the break.
The second half started and both teams were fighting hard, lots of physicality and defense with the score tied at 13 headed to the fourth. It seemed as if every rebound was going the Lady Trojans way. The defense led by Sophomore Forward Madie Siggins, D11 Sports Player of the Game, took over and they secured the win to end the Vikettes ten-game win streak.
It was now time for the highly anticipated matchup between the Central and Parkland boys. The Trojans were looking for revenge from their last meeting a few weeks back, after losing by two at Rockne Hall. With Central unbeaten in the EPC, Parkland wanted to end it.
The game got underway with the Trojans scoring the first eight points of the game in about two minutes. Central scored four later in the quarter to make the score 8-4 headed to the second. The Trojans started to heat up in the second which forced an early timeout up 17-6. The Trojans took a sizable lead headed to the break.
The second half began and the boys were just getting started. Shots started falling for the Vikings, but Parkland held their ground holding onto a 27-19 lead headed to the fourth. With about two minutes remaining, the Vikings started mounting a comeback, three point shots started dropping with them down six with not much time left. The Vikings ran out of gas. The Trojans couldn't miss a free throw and held onto a 45-39 win.
After the game, I got a chance to talk to D11 Sports Player of the Game Nick Coval, who put up 20 in the revenge win against the Vikings. He said that it felt great to get revenge and gave lots of props to his guys not missing free throws.