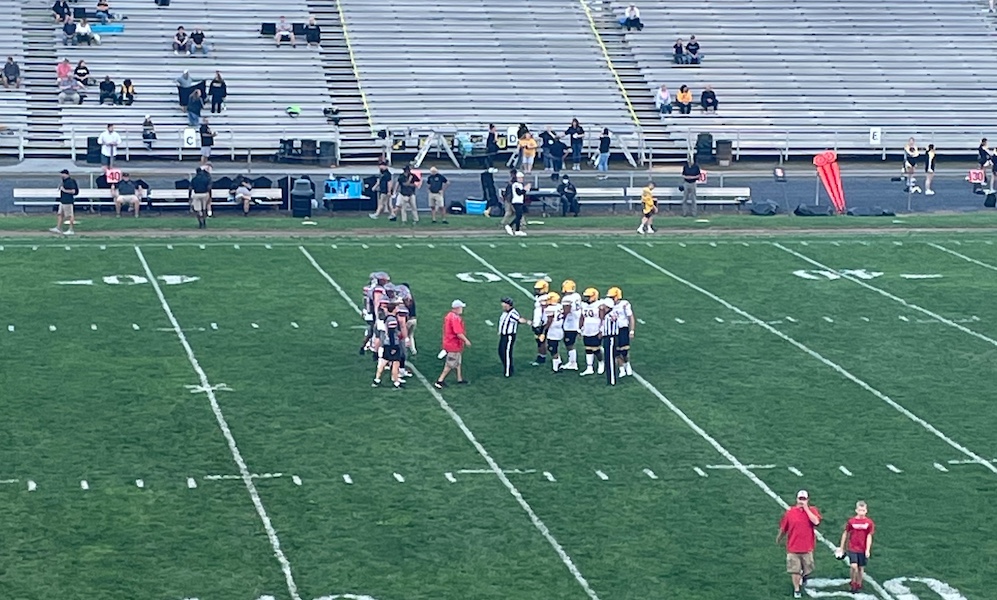 Undefeated Parkland faced Freedom Friday night at Orefield Middle School for a chance to go 3-0. Parkland, who pulled off a comeback win against Nazareth, lost Senior QB Ty Tremba to a broken collarbone and had to start Sophomore Lucas Spang. Freedom, led by Senior QB Brain Taylor, took down Easton last week in outstanding fashion. They came into the game at 2-1.
The game started with a big kickoff return by Freedom and then kicking a field goal to go up 3-0 early. Parkland's three-and-out led to a Brian Taylor TD pass to Owen Johnson. A missed PAT made it 9-0. Parkland drove all the way down the field for a Dahlir Adams TD run to make it 7-9. The second quarter was off to a slow start until Lucas Spang threw a TD pass to Trey Tremba to give the Trojans the lead. Another missed PAT made it 13-9 going to halftime.
The second half also got off to a slow start until Deonté Crawford's TD run gave the Patriots a 15-13 lead after a blocked PAT. In the fourth quarter, Parkland got the ball and drove down the field to get a 40-yard FG to take the 16-15 lead with 7:40 left.
After a quick punt from Freedom, the Trojans made another 40-yard FG to go up 19-15 with 4:40 left. The Patriots had one more drive to get a TD but a bad snap led to a fumble recovered by the Trojans. A few plays later, Dahlir Adams iced the game with a first down. Parkland came away with a 19-15 win.
Parkland moves to 3-0 on the campaign. They will take on the Central Catholic Vikings on Saturday. Meanwhile for the Patriots, they fall to 2-2 and will go on the road to play the Nazareth Blue Eagles.