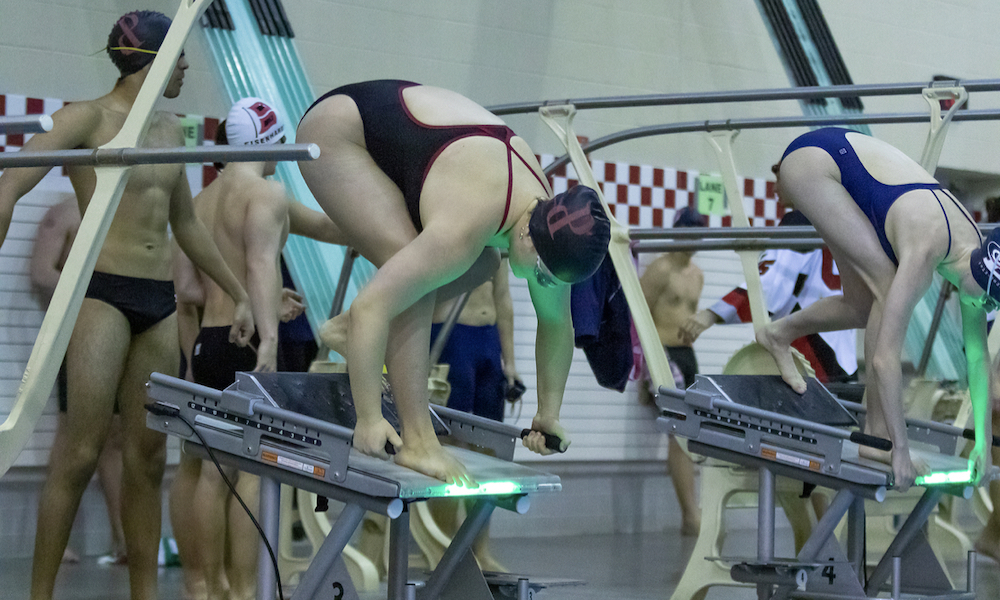 Parkland's senior night on Tuesday, January 31st marked the tenth and final dual meet of the Trojan's dual meet season. The Lady Trojans climbed to 10-0 to claim the EPC Dual Meet Championship with a resounding win over Liberty 130-49. The Parkland Men's Team beat the Hurricanes 103-81 to finish their dual meet season 8-2. We would like to congratulate our Parkland seniors: Ryan Beltrame, Blaine Christ, Anshul Dadayyapally, Natasha Goldman, Simone Lin, Marcus Moreef, Sydney Platt, Ashley Settle, and Ava Smith on their terrific swimming careers and wish them the best of luck in their bright futures.
The Lady Trojans kicked off the meet by winning the 200-yard medley relay in a time of 1:55.74. The relay consisted of sophomore Emma Kushner, freshmen Kelsey McPeek and Milla Hahn, and junior Madison Roseman. Senior Simone Lin won both of her individual events, the 200 and 500 free. Hahn also took gold in both of her individuals, the 200 IM and 100 fly. Junior Madison Roseman won the 50 free, and as for the 100 free senior Ashley Settle placed first. Kushner won the 100 backstroke followed by McPeek winning the 100 breaststroke to end out the individual events of the meet for the Trojans. The meet concluded with the senior 400 free relay taking gold to officially end their high school dual meet careers. On this relay was, Natasha Goldman, Ava Smith, Lin, and Settle.
On the boys side, the medley relay earned second in a time of 1:48.12 which consisted of sophomore Gabe Krizel, senior Blaine Christ, sophomore Colton Chung, and senior Anshul Dadayyapally. In the 200 free, there was a second and third place finish by sophomores Eric Friday and Pedro Teran. This was followed by another 2-3 finish in the 200 IM led by Krizel and then Chung. In the next event, the 50 free, there was yet another second and third place finish! Senior Marcus Moreef took second and Dadayyapally third. In diving, senior Ryan Beltrame scored a 186.80 to lead the way and take first, sophomores Bradley Kunz and Harry Epstein earned second and third. After diving was the 100 fly, where Chung claimed gold. The common theme of the 2-3 finishes continued on into the rest of the events. In the 100 freestyle, sophomore Dannik Khais and Moreef finished second and third. In the 500 free, sophomore Michael Toth and Teran took 2-3. Krizel and Khais kept this going in the 100 back, and Christ and junior Juan Arias Alzate in the 100 breast.
The dual meet season has come to a close and both teams should be pleased with their records and efforts. Up next, the Trojans compete in a full day prelim/final event known as the Cedar Crest Classic at home on February 4th. Their eyes are now getting set on the postseason with Districts and States being held in March. Good luck teams!
Photo Credits: Colin Sheridan