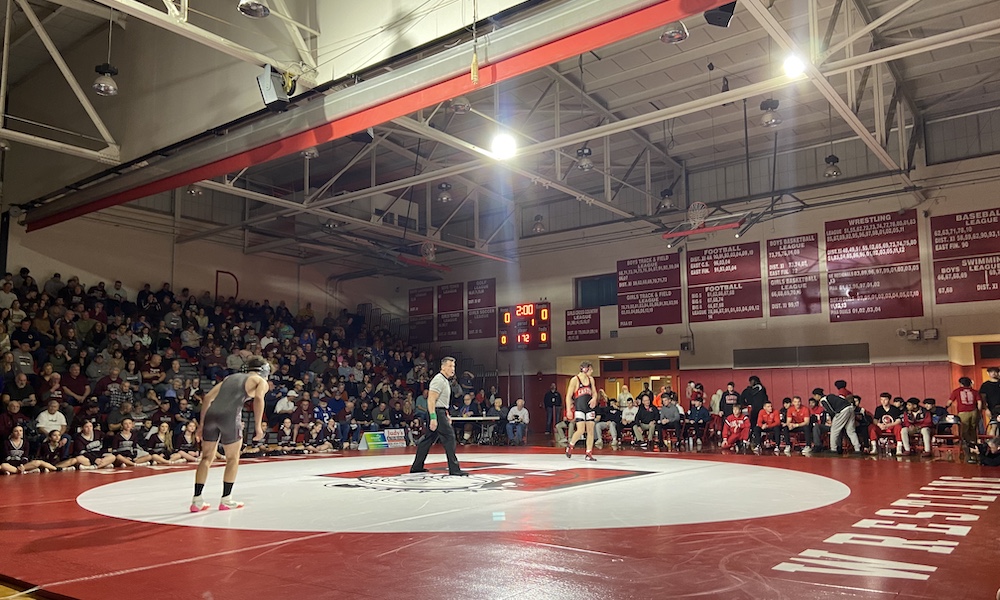 Lots of action from the Phillipsburg wrestling team in the past month. Starting from the big match against Warren Hills, Pburg came up on top 32-22. After that, they got an easy win 77-3 against Franklin.
Next up was the Hunterdon/Warren/Sussex tournament. It was a close team tournament but Pburg come up on top to win with 217.5 points, while Deleware Valley and Warren Hills came in second with 177.5 points. This was very important for the Stateliners and a big milestone this season.
Phillipsburg faced its biggest challenge yet in Southern. They are currently 15-1 with there only loss coming from Delbarton. Southern is easily one of the best teams in New Jersey and a threat to lots of people. They seemed like they were on point against Pburg and beat them 42-12 giving the Stateliners there first loss of the season. Our only wins were Kyle Beendars, Connor Hille, Caleb Rivera, and John Wargo.
Pburg's next match was against their across-the-rivals, the Easton Red Rovers. The Stateliners were definitely aggravated by their first loss of the season and wanted to take the anger out on their rivals. Certain wrestlers showed some impressive performances like sophomore Luke Geleta getting a pin in the second round against one of Easton's bestwrestlers, Oliver Fairchild. Some other successes were John Wargo and Gavin Hawk getting a pin in ttheir respective matches. Pburg ended up winning 33-23.
The Stateliners returned back to the "Pit" at Phillipsburg Middle School to face off against Hanover Park. The atmosphere in that building is like no other with so many people in a very small space. Hanover Park was going to have a problem. Pburg fed off that energy and facilitated this match. Pburg wrestlers like Jonathon Roth, Hunter Cleaver, and Gavin Geleta all getting pins contributed to the win. Pburg won 51-14 at the "Pit".
Phillipsburg traveled to a tough opponent with North Hunterdon. Going into this match, it was definitely one to watch because these are definitely two of the best teams in the area. It was a close match in the beginning with back-and-forth pins from both teams. Phillipsburg did end up having a stretch of amazing wins and got them the win 42-21. This win will look very good on Pburg's record for this season.
The team then traveled to Deleware valley facing up against another great team in the state. Pburg seemed a bit off during the match in the early rounds, which gave Deleware Valley an early lead. The Stateliners found it difficult to come back from this lead which gave Deleware Valley the win at the end 33-27. Even thought Pburg were the favorites going into this match, they have come off of a very difficult schedule against some very tough opponents, so this loss is just a minor setback.
Pburg ended their tough stretch of opponents with Watchung Hills. The Stateliners were very aggravated by their loss from Deleware Valley. So, they definitely showed u and controlled this match. They ended up winning 50-20 with many pins from the team.
The Stateliners sit at 11-2 and have received the first seed in the NJSIAA team tournament. They will be going against Elizabeth in the first round. The second seed is Bridgewater, who we have already beat early in the season. Further down the line, we may have to face off against Southern again, where we will have to be aggressive and try and get an upset.
Overall, Pburg has had an extremely impressive regular season, winning the Hunterdon/Warren/Sussex tournament, getting some impressive wins, and having some electrifying moments. This team will be going far in the state playoffs.