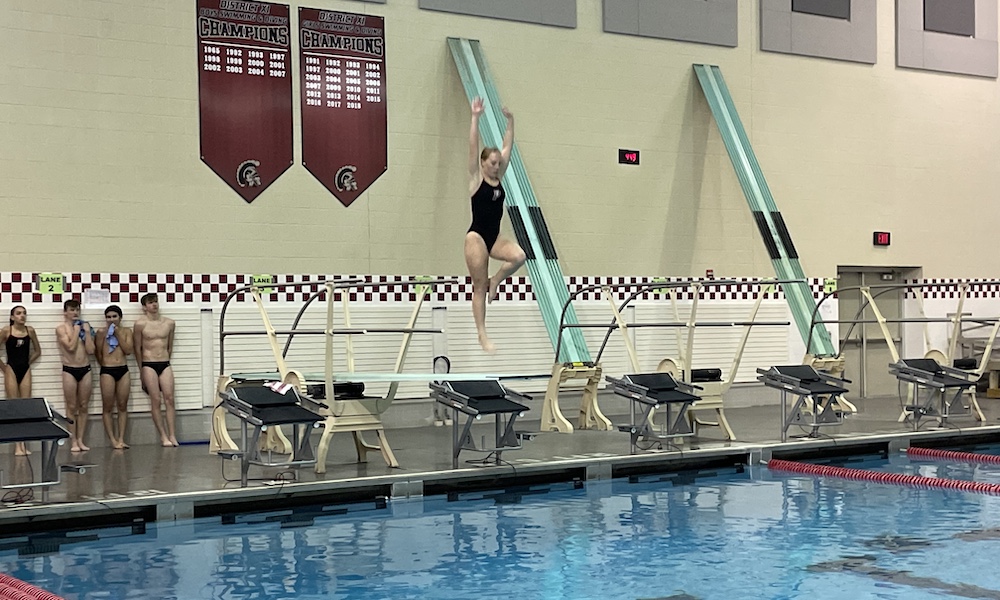 With an early season swimming match up with Emmaus next on the calendar for the Trojans, both girls and boys teams looked sharp in their meet against the Whitehall Zephyrs on Tuesday night. The team trained hard over the past week in preparation for their two-meet week. The Lady Trojans took down the Zephyrs 148-25 and the Parkland Men's team won 131-51.
The meet started off with both of the Parkland girls and boys medley relays winning the event. The girls relay consisted of: Emma Kushner (So.), Kelsey McPeek (Fr.), Milla Hahn (Fr.), and Simone Lin (Sr.). On the boys relay was, Dannik Khais (Jr.), Blaine Christ (Sr.), Eric Friday (So.), and Anshul Dadayyapally (Sr.).
To kick off the individual events, Senior Ashley Settle took gold in the 200 free. The 200 IM then followed, where McPeek finished first for the girls and sophomore Gabe Krizel won it for the boys. In the 50 free, junior Maddie Roseman and senior Marcus Moreef both had fast finishes to secure themselves first place.
Between the 50 free and 100 fly, the Parkland divers put on a great performance. On the girls side, both of the first and second place winners were freshman. Johanna Cook in first and Elle Newcombe in second. As for the boys, senior Ryan Beltrame earned first, followed by sophomores Harry Epstein, and Bradley Kunz.
The meet continued on a good note when senior Natasha Goldman and freshman Thomas Price both claimed gold in the 100 fly. Settle then earned her second win of the night in the 100 freestyle. After that event was the 500 freestyle, where Lin took on the long race to claim her first individual win and then followed it up with her second win of the night in the 100 backstroke. Khais also had a strong finish in the 100 backstroke to win it for the boys. In the 100 breaststroke, Hahn finished out the individual events strong for the Trojans by finishing first.
Both teams entered the Emmaus meet at 3-0 with high expectations and enthusiasm. The EPC showdown is a 4 PM start. With the holiday break right around the corner, you can expect a large, loud crowd to witness a great meet at Emmaus High School on Thursday, December 23rd. Good luck teams.