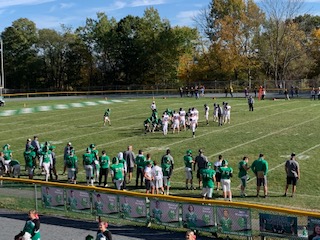 Palisades came to Pen Argyl on Saturday for a Colonial League matchup. Both teams were 2-6 on the season, needing momentum for next week's rivalry week. Pen Argyl used their rushing attack to their advantage, with three rushing touchdowns, all by Antoino Reto. Antoino finished with 21 carries for 125 yards. Pen Argyl was up 14-3 kicking off the ball, and Palisades Benjamin Haubert returned a kickoff to bring the game 14-9. The Knights got the ball back, ending in a touchdown before halftime to make it 20-9.
After halftime, there was one more touchdown scored by each team. The score was 28-15. Palisades had the ball with five minutes to go in the fourth quarter. Palisades had a very good second half going and was working up a comeback. The ball was thrown up near the end zone, and Collin Mckeauge intercepted the ball to seal the win for Pen Argyl.
Conor Fehr went 2-2 throwing the ball for 25 yards. Gavin Amerman had 87 yards and a touchdown pass to Collin Mckeauge.
Pen Argyl now looks ahead to the biggest game of the year. The Rivalry game against Bangor. This win gives the team a lot of confidence and momentum to finish the season with a win.