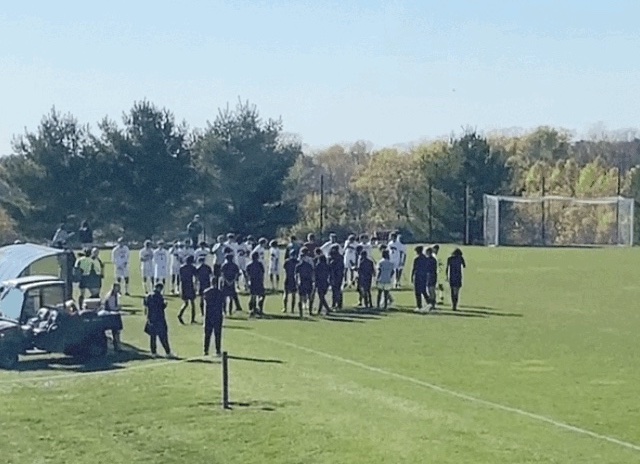 It was another across the bridge rivalry match between Easton and Phillipsburg when both girls and boys soccer teams went head to head. This year it was hosted at the Phillipsburg Athletic Complex.
The girls started it off and Easton senior and Lehigh commit Aminah Baruwa stole the show this game. Baruwa scored 2 goals in the first, and 1 in the third getting her a hat trick this game. Easton definitely showed their chemistry and commitment this game. Along with Baruwa was Junior Kendall Popp and the both of them did amazing offensively. These two earned their spot on the EPC all star list with Baruwa winning MVP.
Although the Rovers played extremely well, Phillipsburg Junior Sarah Boronico kept this team alive at certain points of the game. She is very quick and physical when it comes to this game. She even defended Baruwa extremely well in the second half.
Easton ended up winning this game 3-0. Phillipsburg has a young and developing program, so it is not surprising that they did not perform well against the very tough and developed Easton Red Rovers.
Next up was the boys playing and it was a very different outcome. Phillipsburg has had a turn around season losing 8 out of there first nine games, to then beating an extremely good Gill St. Bernard's team. They then go on and win 5 out of their last 7. Easton on the other hand has had a well rounded season and a record of 8-6-1.
Early in the first half of the game, Senior Shane Aufschlag scores for Pburg and makes the score 1-0. Senior Colby Brown played great and kept Pburg's defense alive. Easton was scoreless in the first half.
The second half started uneventful because of the great defensive performance from Phillipsburg. A penalty by the Red Rovers caused Shane Aufschlag to shoot a penalty kick. He made the score 2-0 halfway in the second half. Easton remained scoreless and Phillipsburg won the game 2-0.
Phillipsburg's experience throughout the field definitely showed in this game with seniors like Shane Aufschlag, Colby Brown, and goalie Nate Wilde who had an impeccable game. In celebration of Pburg beating their across the bridge rivals, Head Coach Evan Weller shaved his head completely which raised the spirits even more. Overall Phillipsburg played great.
Final scores:
Girls: Easton 3 – Phillipsburg 0
Boys: Easton 0 – Phillipsburg 2