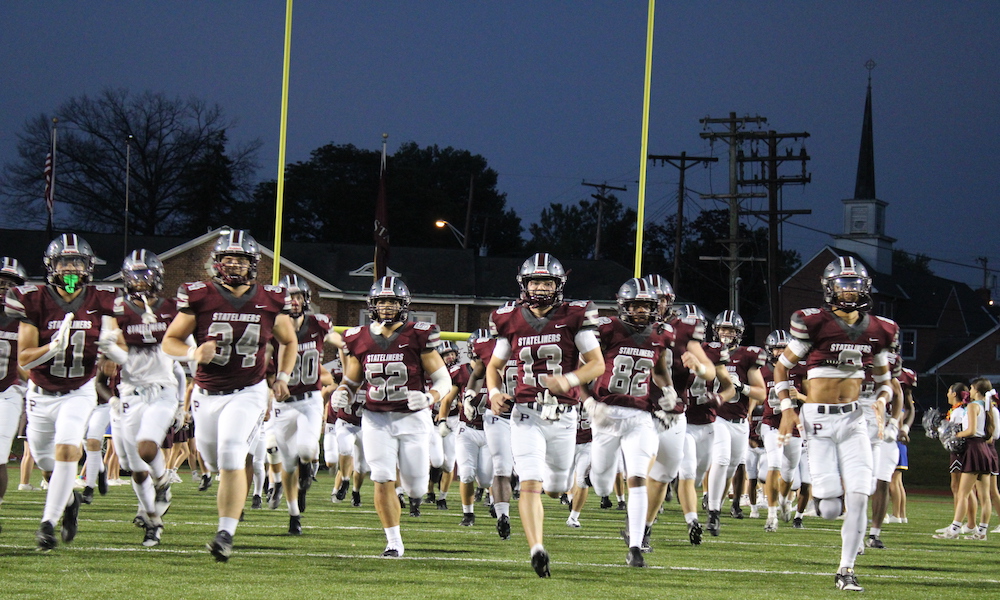 It was a wet one yesterday on Bellis field at Maloney stadium as the Stateliners took on the Red Devils of Ridge. Both teams came into this match 1-0 with Phillipsburg winning a huge game against Sayreville last week.
The game was pushed back around 45 minutes due to storms, so both teams had to adapt to the conditions of the field. Pre-game, both coaches recognized this and told the guys to be ready for anything on the field tonight.
Ridge Head Coach Andy West said he wanted to take it as it came and see what the Liners were gonna give him. He said, "It is always a close game whenever they play us and the Liners do not let up easily." Phillipsburg head coach Frank Duffy said whoever can handle these disruptions will be victorious. Also, he recognized that Ridge had tall and athletic players, and his team would adapt to that circumstance.
The first quarter was underway after the big delay. It was back and forth momentum-wise in the first but ended up being scoreless.
The second quarter went very differently with Phillipsburg coming out with a bang and scoring a touchdown. Jett Genovese threw it up to Matthew Scerbo Jr. Ridge tried to answer but could not succeed. Shortly after, Pburg made their way down the field. John Wargo punched it into the endzone to make the score 14-0 in the middle of the second.
Ridge came back. Ryan Olivo had a ten-yard run into the endzone to make it a close game. Just when everyone thought the half was over, Phillipsburg decided to run a trick play. Jett Genovese threw it to Matthew Scerbo Jr. who then pitched it to Kevin Burgess. This led to a touchdown to end the second half, 21-7.
Headed into the second half, the Liners felt the confidence that they needed. The Red Devils still had their dedication. Ryan Olivo ran it into the endzone to make it a one-score game 21-14. This put a little bit of pressure on the Stateliners.
Phillipsburg held their ground and played amazing defense in the fourth to make it a scoreless fourth quarter. The game ended with a score of 21-14.
Jett Genovese was the D11Sports player of the game. After the game he said, "A 2-0 start is not anything we are happy about, gotta keep going." Jett and the Liners seem like they have lots of dedication this season because of the way last season ended in the playoffs. It will be a great time to see what direction this team will go once we get later in the season.
The next game will be away against North Hunterdon (0-3).
Final Score: Phillipsburg 21 – Ridge 14