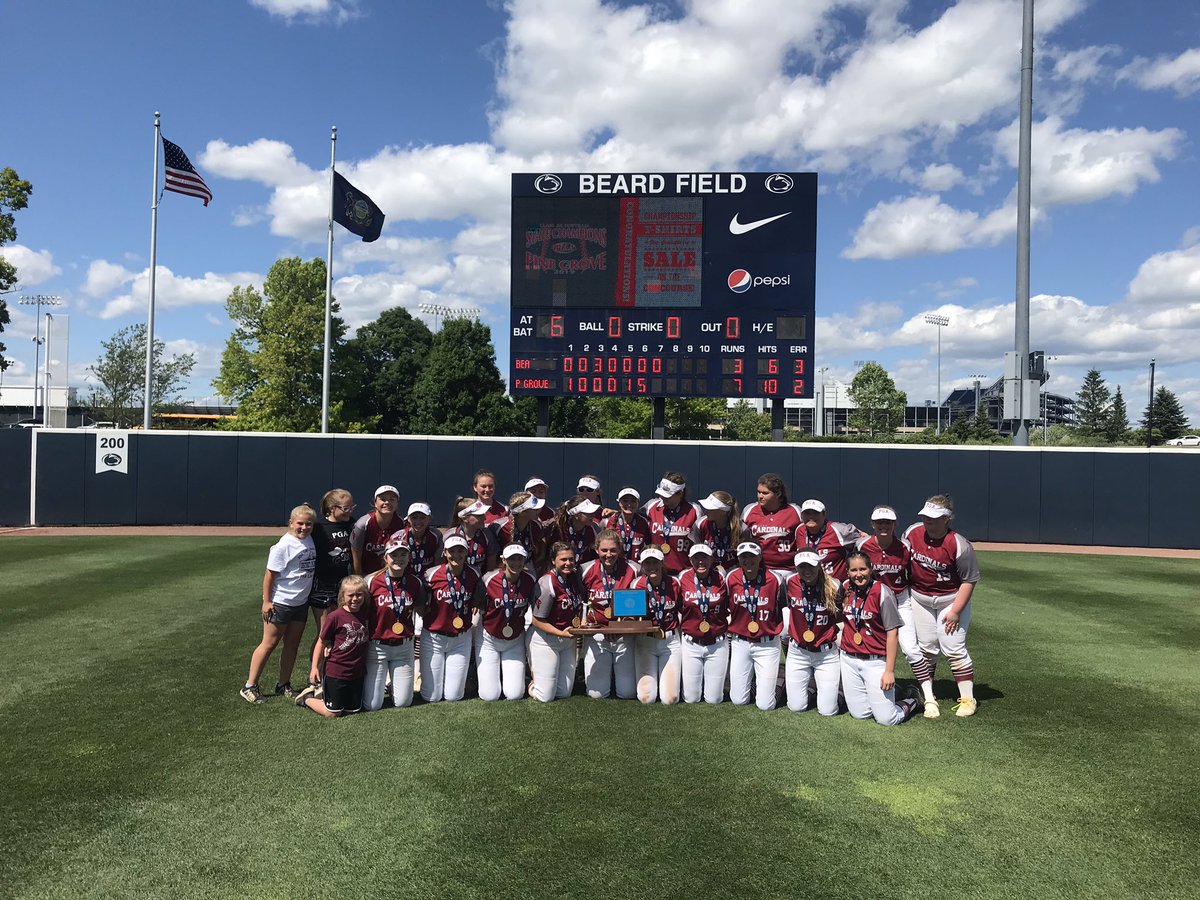 The third time was the charm for the Pine Grove softball team as they captured the 3A state championship, capping off an undefeated season with their 28th straight win. This year was Pine Grove Area's second trip to the state championship in the last three years. Pine Grove ended their season by defeating Bald Eagle Area High School 7-3 in the state championship game to stay undefeated with a 28-0 record.
Katelyn Rittenbaugh had an impressive first inning in the box and on the bases. Rittenbaugh had a leadoff double down the left field line, stole third, and was able to walk into home after an overthrow to third from the catcher.
The Bald Area Eagles rallied in the top of the third pull ahead of the Cardinals, 3-1.
Pine Grove made a pitching change in the top of the fifth to Megan Wolfe to truy and contain the Eagle bats. Wolfe did just that and didn't allow any hits for the rest of the game.
Down by two going into the top of the sixth, the Pine Grove offense was resilient, strung five hits together and scored five runs on one B.E.A error.
Olivia Lehman had an impressive outing at the plate going two for four with two RBIs. Casey Kershner went two for three. Katelyn Rittenbaugh went two for four along with a clean defensive performance at shortstop.
The Cardinals stay the only undefeated high school softball team in the state after fighting back in the bottom of the sixth to win a well-earned 3A state championship. Finally leaving State College with first place hardware in hand.
Pine Groe keeps their 1-0 lead in the bottom of the second as the Eagles leave a runner in scoring position stranded. @D11Sports @PIAADistrictXI pic.twitter.com/KAqdxVn6R0

— Dani Fey (@danifey_6) June 14, 2019
Pine Grove makes a pitching change to Megan Wolfe. With runners on 2nd and 3rd, Wolfe and Kopinetz make a huge play to keep the Eagles from scoring. Wolfe gets the third out with a ground ball out back to herself. 3-1 B.E.A, bottom of 5 @PIAADistrictXI @D11Sports pic.twitter.com/Z7bibmA646

— Dani Fey (@danifey_6) June 14, 2019
Luhman with the RBI single to right field to send Rittenbaugh home to score! 3-2, B.E.A with the tying run on third @D11Sports @PIAADistrictXI pic.twitter.com/wv8nHPftiL

— Dani Fey (@danifey_6) June 14, 2019
After a crazy offense inning for the Cardinals, Megan Wolfe gets an RBI Triple to make the score 7-4, Pine Grove. Going into the 7th all they need are three outs to become State Champs! @D11Sports @PIAADistrictXI @PGA_Athletics pic.twitter.com/F9HTogKsGp

— Dani Fey (@danifey_6) June 14, 2019
Defense came out and took care of business. After a great comeback, Pine Grove Cardinals are 3A State Champs! @D11Sports @PIAADistrictXI @PGA_Athletics pic.twitter.com/RJUpvicyZP

— Dani Fey (@danifey_6) June 14, 2019