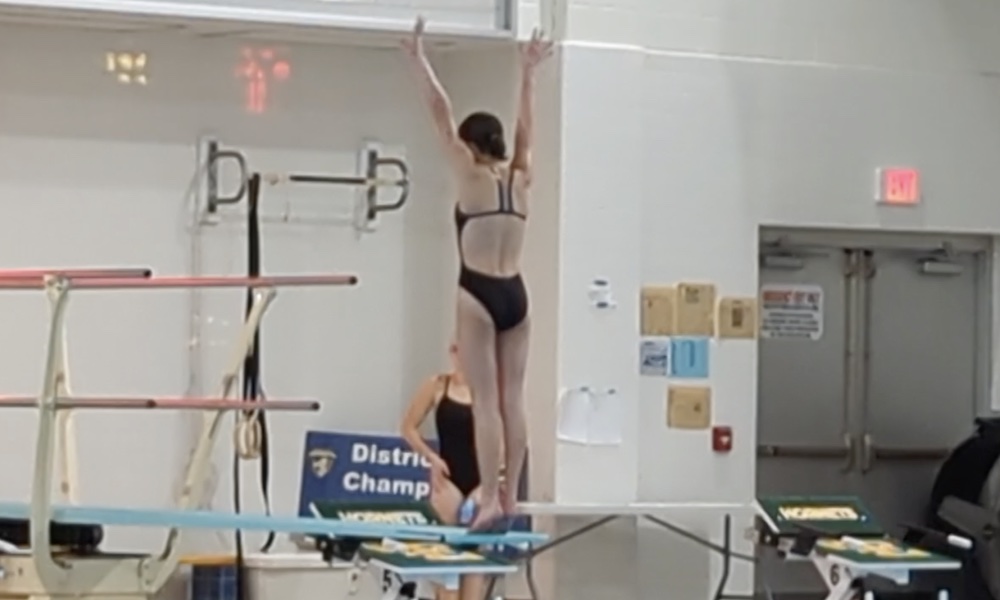 Liberty High School's Keller Pooley finished just 9.95 points away from gold at last year's District 11 Diving Championships. This season, she came in looking for something just a little shinier than the silver medal she collected a year ago and was able to fend off Easton's Madison Cunard to take the top spot in 3A diving.
Cunard nailed her first dive, a reverse pike, and took an early lead with a score of 36.55 compared to the opening tally of Pooley, who notched a 34.85 on a forward 1 1/2 somersault pike. On the second dive though, Pooley passed Cunard and went on to lead the competition the rest of the way.
After Pooley had opened up a 154.55 to 140.85 lead through four rounds, but ultimately, the competition came down to a back 1 1/2 somersault, 1 1/2 twist. Cunard performed hers in the fifth round and moved to just under 12 points of Pooley's total. Pooley had the dive last in her repertoire and picked up 43.10 points on her version to put her securely up on Cunard, who was three divers after Pooley. Cunard mustered a 39.75 to finish her performance, putting her firmly in the number-two spot.
Hayden Taylor (Freedom) finished third with a score of 190.05, while Bella Kish (Northampton) was fourth at 189.85 and Lucia Lombardo (Easton) finished in fifth with a final tally of 170.85.
In the 2A competition, it was a showdown between Anna Petke of Bethlehem Catholic, who won gold in the EPC Diving Championships and Schuylkill League champion Mia Jones of Tamaqua. Like Pooley, Petke finished in second last season at districts, while Jones placed sixth.
Petke, who trains with the Liberty High School team because Bethlehem Catholic does not have a swimming or diving team, left little doubt when she opened with a back dive pike and scored a 35.20, while no other diver crossed the 30-point mark with their opener. Jones found herself in third behind Petke and North Schuylkill's Joyce Burian after two dives but moved into second place for the rest of the meet after her third dive, a back somersault with 1/2 twist.
Petke finished with a final score of 219.85, while Jones placed second with a 166.50 total. Burian finished with the bronze medal and a score of 156.30, while Kamryn Moran (Blue Mountain) finished at 155.85, good enough for fourth place.
With the highest score among all of the female divers, Pooley won the Dennis A. McGinley Award as the meet's top diver.
The top two divers from each classification qualify for states at Bucknell University next month.
Madison Cunard (Easton) wins the @PIAADistrictXI 3A Diving Championship wth a score of 217.90. Here is her final dive.@D11Sports pic.twitter.com/WOtET6hlA0

— Chuck Hixson (@ChuckinSports) February 25, 2023
Bella Kish (Northampton) final dive of the day. Hoping to medal at D11 Diving Championships.@D11Sports pic.twitter.com/8E3wjNHGTU

— Chuck Hixson (@ChuckinSports) February 25, 2023
Anna Petke (Bethlehem Catholic) will repeat as the @PIAADistrictXI 2A Diving Champion. Here is her final dive. @D11Sports pic.twitter.com/m05mHjMCSV

— Chuck Hixson (@ChuckinSports) February 25, 2023
After four rounds, Keller Pooley (Liberty) leads the 3A district diving championship with a score of 154.55. Madison Cunard (Easton) is second at 140.85. Cunard's third dive…@D11Sports pic.twitter.com/Nk4VRCyuHa

— Chuck Hixson (@ChuckinSports) February 25, 2023
After four rounds, Anna Petke (Bethlehem Catholic) leads the 2A district diving championships with a score of 146.55. Mia Jones (Tamaqua) is second with a 110.35 total. Petke's third dive…@D11Sports pic.twitter.com/imIWkRPF7A

— Chuck Hixson (@ChuckinSports) February 25, 2023