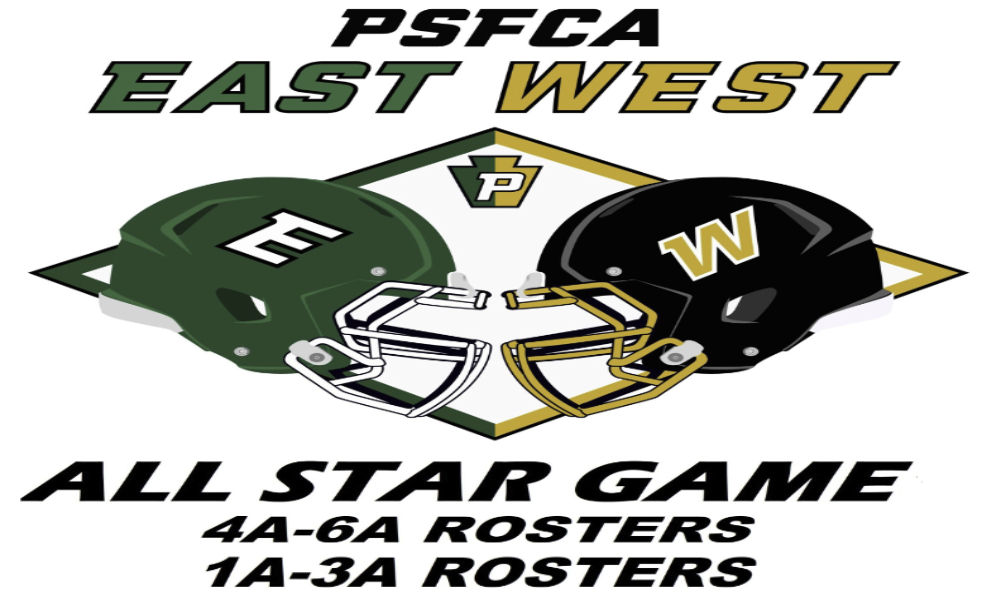 The rosters were released Saturday morning for the Pennsylvania Scholastic Football Coaches Association East-West, All-Star games.
This year the games will be held on Sunday, May 21 at Bishop McDevitt's Rocco Ortenzio Stadium in Dauphin County. Kickoff for the 1-3A game is noon, and the kickoff for the 4-6A game is 5 p.m.
District 11 is well represented. We break down by position all the District 11 players who made the Big-Small Teams.
QUARTERBACK:
We start with Nick Frame from Northern Lehigh. He led his team to two consecutive District 11 titles and advanced to the PIAA 1A quarterfinals, losing a heartbreaker to eventual 1A State Champions, Steelton-Highspire. Frame passed for 1,243 yards and 12 touchdowns. He rushed for 1,105 yards and 11 touchdowns.
Jake Fotta led Emmaus with 2,098 yards passing and 34 touchdowns.
ATHLETE:
Izaiah Ramos of Northern Lehigh was a versatile player that played different positions through the year.
WIDE RECEIVER:
A key piece to Northwestern Lehigh's success is Cade Christopher. Listed as a receiver in the East-West game, Cade rushed for 1,886 yards and 27 touchdowns. He threw for 799 yards and 11 scores. He also had three kickoff return touchdowns and one punt return touchdown.
Daniel Lucykanish of Palmerton Area caught 53 passes for 893 yards and 11 touchdowns.
OFFENSIVE LINE:
A pair of lineman from Notre Dame of Green Pond were selected to play in this year's East-West Small School game. They are
Kendrick Eure and Evan Strand (2nd team all-league OL) who helped anchor Notre Dame's offensive line.
Steven Davis of North Schuylkill a two-way lineman, had 70 tackles, 18 tackles for loss and five sacks from defensive end position for District 11 runners-up. He was one of the top lineman in Schuylkill county. He also had a long interception return for a touchdown in the win over Northern Lehigh.
Justis Troutman of Tri-Valley is a big, physical offensive lineman (center). He directed the Dawgs' rushing attack from his center position. He also had 56 tackles from the defensive tackle position.
Sean Wilson of Easton Area was named 1st team defensive line EPC All-League.
DEFENSIVE LINE:
The defensive line is stacked with District 11 player. A pair of players from Mahanoy Area and Northern Lehigh lead the way. David Sanchez of Mahanoy Area was named 1st team OL Schuylkill League North and offensive lineman of the year. He had 21 total tackles and on defense.
Louis Frye of Mahanoy Area had 60 total tackles, five tackles for loss and three sacks.
AJ Jimenez and Jayden Krempasky were a force for the Northern Lehigh Bulldogs. Jimenez led the Bulldogs in tackles, tackles for loss and sacks. He finished the season with 89 tackles, ten sacks and 23 tackles for loss.
Ezi Hite of Williams Valley was named Schuylkill League North 1st team at defensive end. He had 46 total tackles, 15 tackles for loss, and three sacks.
LINEBACKERS:
Ethan Karpowich of Northern Lehigh was the leader of the Bulldogs defense. Karpowich finished the season with 77 tackles, three sacks, four tackles for loss, one interception and one defensive touchdown.
DEFENSIVE BACKS:
Brock Polinsky of Minersville led his team with 113 (48 solo) tackles from his safety spot while leading the area in interceptions with eight. He also had eight pass breakups and three caused fumbles.
Nick Frame of Northern Lehigh could see some action on the defensive side also.
Jalen Fletcher of Freedom was first-team all-league selection on offense, Fletcher ran for 1,422 yards and 22 touchdowns. He led Freedom back to the District 11 championship game, where the team finished with a 10-3 record.
Alexie Sangster Jr. of Freedom had 75 total tackles.
Nakhi Bullock of Parkland had 29 total tackles, one tackle for loss, and two interceptions.
SPECIAL TEAMS:
Gryffin Mitstifer of Parkland was one of the top kickers in Eastern Pennsylvania. He kicked nine of ten, with a 43-yard longest kick. He had 82 scoring points and 24 touchbacks. He was 55 of 56 on extra points.
COACHES:
Small School:
Andy Cerco of Salisbury
Paul Babinsky, Mahanoy Area
Big School:
Matt Senneca of Whitehall/Easton Area
Shawn Daignault of Liberty
2023 PSFCA Small School East Team
Position
First Name
Last Name
High School
District
QB
Xander
Menapace
Hamburg Area
3
QB
Nick
Frame
Northern Lehigh
11
RB
Ty-Brown
Stauffer
Danville
4
RB
Pierce
Mason
Hamburg
3
ATH
Izaiah
Ramos
Northern Lehigh
11
ATH
Matthew
Scicchitano
Mount Carmel Area
4
WR
Carson
Persing
Danville
4
WR
Garrett
Varano
Mount Carmel Area
4
WR
Cade
Christopher
Northwestern Lehigh
11
WR
Daniel
Lucykanish
Palmerton Area
11
OL
Chris
Treshock
Southern Columbia
4
OL
Declan
Aikens
Danville
4
OL
Kendrick
Eure
Notre Dame Green Pond
11
OL
Steven
Davis
North Schuylkill
11
OL
Justis
Troutman
Tri-Valley
11
OL
Nicholas
Nestico
Mount Carmel
4
OL
Evan
Strand
Notre Dame Green Pond
11
DT
David
Sanchez
Mahanoy Area
11
DT
Louis
Frye
Mahanoy Area
11
DT
Jayden
Krempasky
Northern Lehigh
11
DE
Charles
Sheppard
Hamburg Area
3
DE
AJ
Jimenez
Northern Lehigh
11
DE
Eziriah
Hite
Williams Valley
11
ILB
Samuel
Hobbs
Neumann Gorretti
12
ILB
Mason
Raup
Danville
4
OLB
Ethan
Karpowich
Northern Lehigh
11
OLB
Wes
Barnes
Southern Columbia
4
DB
Daquan
McGraw
Steel-High
3
DB
Appleby
Bam Appleby
Steel-High
3
DB
Brock
Polinsky
Minersville Area
11
RB/DB
Josiah
Jordan
Berks Catholic
3
SAF
Nick
Frame
Northern Lehigh
11
SAF
Michael
Farronato
Mount Carmel
4
K/P
Ian
Levering
Wyomissing
3
K/P
Andrew
Kurtas
Berks Catholic
3
LS
Brock
Kistler
Wyomissing
3
2023 Small East Coaching Staff
School – District
Head Coach
Matt Gingrich
Annville-Cleona
3
Assistant
Stan Yanoski
Mid Valley
2
Assistant
Matt Hoffert
Hamburg
3
Assistant
Andy Cerco
Sailsbury
11
Assistant
Paul Babinsky
Mahanoy
11
Assistant
Mike Kogut
Bloomsburg
4
2023 PSFCA Big School East Team
Position
First Name
Last Name
High School
District
QB
Jake
Fotta
Emmaus
11
QB
Harrison
Susi
Coatesville
1
RB
Ethan
Shine
Central Bucks East
1
RB
Andre
Weidman
Ephrata
3
WR
Connor
Shamany
Hazleton Area
2
WR
Asir
Moore
Imhotep Charter
12
WR
Shaun
Purvy
Souderton Area
1
WR
Braden
Cummings
Elizabethtown
3
ATH
Matthew
Cusatis
Hazleton Area
2
ATH
Nico
Bossi
Abington Heights
2
OL
Anthony
Caccese
Exeter Township
3
OL
Liam
Powers
Central Bucks East
1
OL
Ethan
Speece
Wyoming Area
2
OL
John
Jones
Crestwood
2
OL
Luke
Zlogar
Central Dauphin
3
OL
Sean
Wilson
Easton Area
11
OL
Brian
Cherry
Cheltenham
1
DT
Kyree
Butler
Upper Dublin
1
DT
Jabree
Davis
Chester
1
DT
David
Nguyen
Frankford
12
DE
Kion
Wright
Cheltenham
1
DE
Chuckie
Drain
Cocalico
3
DE
Riley
Hackett
Upper Dublin
1
ILB
Rocco
Daugherty
Manheim Central
3
ILB
Kade
Werner
Bishop McDevitt
3
OLB
Zach
Zollers
Spring-Ford
1
OLB
Razay
Bowles
Susquehanna Township
2
CB
Jalen
Fletcher
Freedom
11
CB
Ian
Amegatcher
Central Dauphin East
3
CB
Nakhi
Bullock
Parkland
11
CB
Corey
Wright-Downing
Imhotep Charter
12
S
Daimon
Jacobs
West Chester Rustin
1
S
Alexie
Sangster Jr.
Freedom
11
K/P
Ty
Quintois
Souderton Area
1
K/P
Gryffin
Mitstifer
Parkland
11
LS
Chris
Smolenak
Crestwood
2
2023 Big East Coaching Staff
School – District
Head Coach
Matt Ortega
Coatesville
1
Assistant
Tom Hetrick
CB South
1
Assistant
John Lorchak
Muhlenberg
3
Assistant
Matt Senneca
Whitehall
11
Assistant
Shawn Daignault
Beth. Liberty
11
Assistant
Paul Russick
Honesdale
2