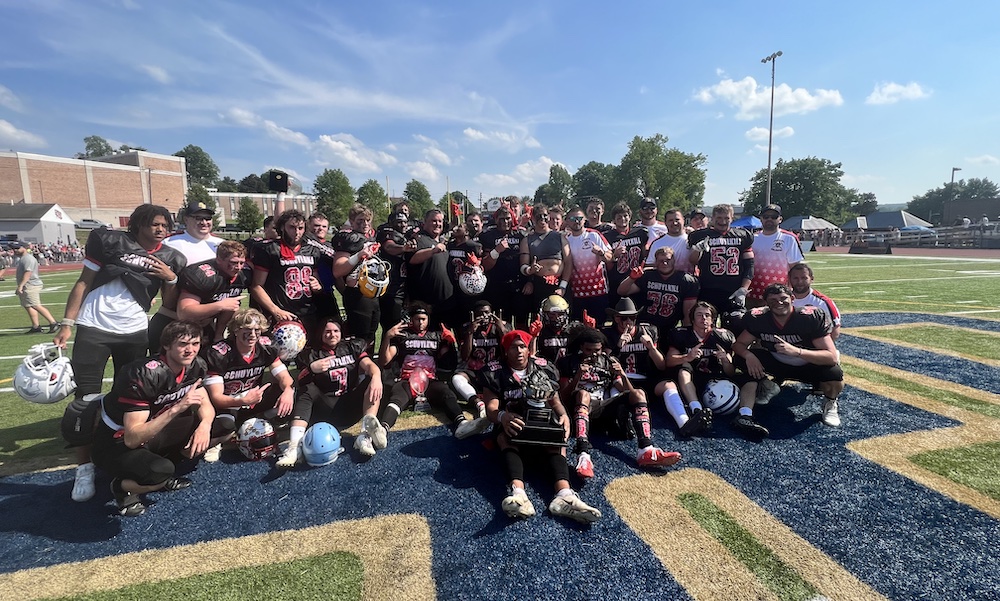 SCHUYLKILL HAVEN – Feeling hot, hot, hot. Temperature's soared above 90 today and that wasn't the only thing hot at the game. Pottsville's Quarterback Jazce Carabello-Snowell was on fire, passing for one touchdown and rushing for three in a 28-6 win.  
"You want your best football player to have the ball in his hands on every play," said Schuylkill Haven Head Coach Mike Farr. "This whole offense is designed around his ability to throw, throw on the run, be in the pocket and run a power game and it was designed around him."
Carabello-Snowell passed for 119 yards and rushed for 106 yards in the inaugural Famous Reading Outdoors Schuylkill-Colonial All-Star game at Schuylkill Haven Rotary Field.
"Jazce is very explosive and smooth out there," said Farr. "When you have a player like him running your offense it makes your life a lot easier."
The Schuylkill All-Stars took the opening kickoff and went 80 yards in nine plays for the score. Carabello-Snowell hit Pine Grove's Brennan Stanton for the 21-yard touchdown pass. Minersville's Jason Cullen kick was good and the Schuylkill All-Stars led 7-0.
"In that play, he was rolling to his right, it's a waggle play, and Stanton did a good job finding an open spot and Jazce made the throw," said Farr.
The Colonial All-Stars answered right back. 
Palmerton's Lucas Heydt weaved through the defense for a 31-yard touchdown run. Notre Dame GP Nick Garrido's kick was no good. With 4:12 left in the first quarter, Schuylkill All-Stars lead 7-6.
On the first play of the second quarter, Carabello-Snowell went in from 13 yards for the score. The score was 14-6 Schuylkill All-Stars.
The offensive was led by Blue Mountain's Ross and Jake Bobbin, Lehighton's Brendan Zimmerman and David Wiley, Nativity BVM's Liam Reiley, North Schuylkill's Carey Wahalec, and Schuylkill Haven's Josh Jenan.
We knew we were going to have a really good offensive line," said Farr.  "The line did a great job blocking today"
Defense, Defense, Defense.
Schuylkill Haven's Kevin Fitzpatrick intercepted the ball setting up another score. This time Carabello-Snowell went in from seven yards out to extend their lead to 21-6 with 4:16 remaining in the first half. 
"We knew we had a fast defense," said Farr. "Fitzpatrick is one of my guys. He is a real good athlete and makes plays."
At halftime, the Schuylkill All-Stars led the Colonial All-Stars 21-6.
Williams Valley's Jackson Yoder intercepted the ball setting up another rushing touchdown by Carabello-Snowell. He went in from 12 yards out for his third rushing touchdown of the game. 
At the end of the third quarter, the Schuylkill All-Stars led 28-6.
The Schuylkill All-Stars' defense shut them down after giving up an early touchdown. They held the Colonial All-Stars to 82 yards rushing and 55 yards passing. 
Lucas Heydt led the Colonial team with 48 yards passing, 54 yards rushing, and one score. 
Blue Mountain grad Gavin Bartholomew was the honorary captain for the Schuylkill All-Stars. He is a tight end at the University of Pittsburgh.
"I think the first year everyone did a great job putting the event together," said Schuylkill Haven Head Coach Mike Farr. "Huge shoutout to our sponsors Famous Reading Outdoors, Titans Threadz, The Funding Zone, Garland Communication services, St. Lukes's University Health Network, DBR Industrial Services, and Losch Services. None of this would have been possible if we didn't have these guys." 
Next year's Schuylkill-Colonial All-Star Game is slated to be held at Palmerton High School.