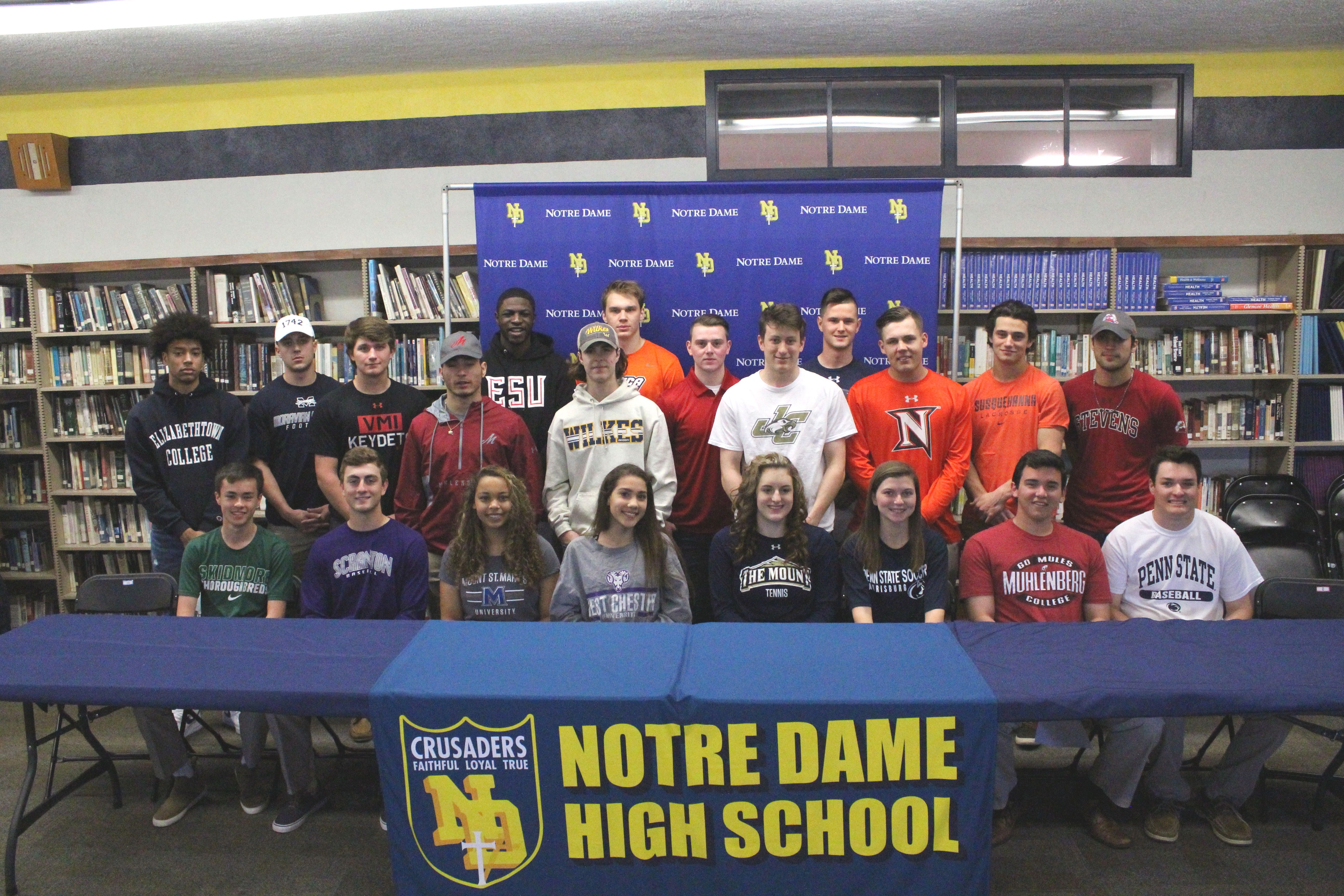 More than twenty student-athletes came together on Wednesday morning at Notre Dame Green Pond High School for Signing Day. The students being honored represented eight different sports: Football, Boys and Girls Soccer, Volleyball, Girls Tennis, Boys Basketball, Baseball, and Boys Lacrosse.
Football led the way with seven athletes making their college choice known, followed by Baseball with four and Boys Lacrosse with three.
Below is a list of all the athletes that signed, where they will be going and for what sport.
Notre Dame Green Pond Athletics
Senior Athlete Commitments – 2019
Signing Day –
Football:
Ethen Aquino – Moravian College
Cole DeFranco – Sacred Heart University
Isaiah DeJesus – Muhlenberg College
Anthony DeMasi – Saint Anselm College
Alex Garrido – Muhlenberg College
Jake Gillen – Wilkes University
David Sanders, Jr. – East Stroudsburg University
Boys Soccer:
Connor Aitken – Skidmore College
Girls Soccer:
Mikayla Bates – Mount St. Mary's University
Rachel Miller – Penn State University – Harrisburg
Volleyball:
Chiara Mowrey – West Chester University
Girls Tennis
Logan Lencheski – Mount St. Mary's University
Boys Basketball:
Filippo Baldo – Juniata College
Jaden Cunningham – Elizabethtown College
Baseball:
Kyle Duplaga – Northampton Community College
Ryan Gibki – University of Scranton
Steven Luke – Virginia Military Institute
Richard Mueller – Penn State University – Berks
Boys Lacrosse
Joseph Cerar – Stevens Institute of Technology
Jozef Korpics – Utica College
Victor Simone – Susquehanna University
** PHOTO CREDIT: NORM STEINRUCK