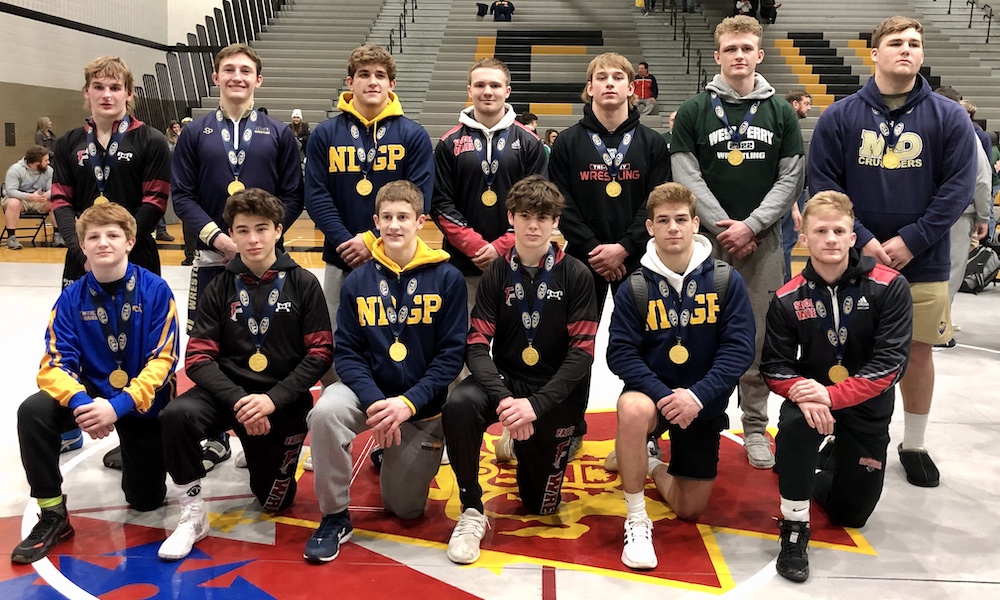 Survive and advance.
District 11 wrestlers did that and then some at the Southeast Regional Tournament. The last stop on the Road to Hershey ended with plenty of hardware and highlight reel moments.
Notre Dame Green Pond led the way with three individual champions. Adam Schweitzer (120), Brandon Chletsos (132) and Holden Garcia (160) all left with gold Saturday. It is the third regional title for Chletsos, who was second at states a year ago. It's the second regional crown for Garcia, who was sixth at states last season. Schweitzer was a regional runner-up last year, when he placed seventh at states.
The Crusaders also claimed the team title with 216.5 points, and will be sending 11 wrestlers to states.
Saucon Valley crowned two champions, with Ryan Crookham (138) winning his third and Jake Jones (172) capturing his second. "It feels great," said Jones. "It's a very special day for me."
The Panthers were second in the team standings 181.5 points, and will send nine wrestlers to states. Jones, a runner-up a year ago, prevailed with a 6-2 decision over Notre Dame Green Pond's Garrett Tettemer."I'm just definitely working on different moves in neutral," Jones said. "In the past years, I kind of relied on one move, which was probably the underhook to something. But it's been three years now, they kind of know it's coming, so you kind of have to get different setups for it. "I've pretty much just been working on different moves from neutral, and different defenses and things like that. It's definitely helped a lot."
Jones has evolved as a wrestler. "I think I'm becoming very solid all around," said Jones. " I'm definitely working on my bottom a little bit more, escaping a lot more. I remember freshman year I couldn't get up from bottom. It was very rare. So it feels good that I'm definitely working a little bit more on it. And even on top. I used to always cut kids last year, and this year, I'm getting some turns, holding kids down and riding them." The junior appears primed for a deep run in Hershey, where he was fourth a year ago."I'm just going to have fun and let it fly," said Jones. "That's really all you can do."
Tri-Valley's Jacob Scheib, who won his first regional title with a 13-0 major decision over Saucon's Ty Csencsits. Jacob's brother, Dan Scheib, was a three-time district champion, two-time regional champ, and won a state title as a senior. "It's a big steppingstone in my career," said Scheib. "I have big shoes to fill with my older brother, so that definitely gives me some confidence going into next week.
"I wouldn't say that I put pressure on myself, but they are big shoes to fill, and I think it helps me a lot to have someone to look up to like that."
Csencsits posted a 5-3 decision over Jacob in last week's district final. "I knew what I had to do to win the match," Scheib said. "I was already going to Hershey, so it was all about just having fun and winning."
The top six wrestlers in each weight class at the SE Regional qualified for states.
Results are listed below.
CHAMPIONSHIP FINALS
106 – Aaron Seidel (Northern Lebanon) DEC Ayden Smith (Notre Dame GP), 4-2
113 – Gauge Botero (Faith Christian Academy) DEC Deven Jackson (West Perry), 4-0
120 – Adam Schweitzer (Notre Dame GP) DEC Sean O'toole (Archbishop Ryan), 9-6
126 – Chase Hontz (Faith Christian Academy) DEC Charlie Robson (Conwell-Egan), 4-0
132 – Brandan Chletsos (Notre Dame GP) DEC Max Stein (Faith Christian Academy), 3-2
138 – Ryan Crookham (Saucon Valley) MD Kobin Karper (Boiling Springs), 10-1
145 – Eric Alderfer (Faith Christian Academy) DEC Evan Maag (Notre Dame GP), 1-0
152 – Andrew Christie (Bishop McDevitt) DEC Michael Duggan (Boiling Springs), 1-0
160 – Holden Garcia (Notre Dame GP) DEC Ganon Smith (Newport), 4-0
172 – Jake Jones (Saucon Valley) DEC Garrett Tettemer (Notre Dame GP), 6-2
189 – Jacob Scheib (Tri Valley) MD Ty Csencsits (Saucon Valley), 13-0
215 – Brad Morrison (West Perry) DEC Brody Kline (Berks Catholic), 6-1
285 – Riley Robel (Bishop McDevitt) F Leo Muzika (Faith Christian Academy), 1:54
THIRD-PLACE
106 – Cole Hubert (Saucon Valley) DEC Major Lewis (Trinity), 2-0
113 – Aiden Grogg (Saucon Valley) DEC Mason Mclendon (Susquenita), 4-2
120 – Eric Howe (Lancaster Catholic) DEC Jackson Rush (West Perry), 2-1
126 – Dillon Reinert (Brandywine Heights) DEC Eli Bounds (Boiling Springs), 6-5
132 – Christian Doi (Camp Hill) F Dominic Caldwell (Susquenita), 5:34
138 – Bryson Vaughn (Notre Dame GP) F Gavin Fehr (Catasauqua), 3:16
145 – Jakob Gilfoil (Bishop McDevitt) F Cael Markle (Saucon Valley), 2:00
152 – Justice Hockenberry-folk (West Perry) F Liam Scrivanich (Saucon Valley), 2:30
160 – Caden Droege (Lancaster Catholic) DEC Anthony Glessner (Bishop McDevitt), 9-3
172 – Daniel Haubert (Palisades) DEC Gabriel Davis (Berks Catholic), 7-5
189 – Kade Werner (Bishop McDevitt) DEC Tucker Paytner (Trinity), 8-2 TB2
215 – Dante Mahaffey (Saucon Valley) DEC Jared Blobe (Notre Dame GP), 7-5
285 – Tyler Pfizenmayer (Saucon Valley) DEC Charles Sheppard (Hamburg), 5-4
FIFTH-PLACE
106 – Brayden Hartranft (Berks Catholic) DEC Kale Quigley (Susquenita), 7-3
113 – Aidan Gruber (Lehighton) DEC Cooper Feltman (Notre Dame GP), 4-0
120 – Jacob Deysher (Brandywine Heights) DEC Marcus Colson (Camp Hill), 1-0
126 – Cameron Mingee (Littlestown) DEC Noah Doi (Camp Hill), 4-3
132 – Marvin Armistead (Berks Catholic) DEC Blain Puchalsky (West Perry), 4-2
138 – Cody Wagner (Faith Christian Academy) DEC Carmine Lenzi (Berks Catholic), 3-1 SV
145 – Hayden Mann (Conwell-Egan) DEC Ean Wilson (Boiling Springs), 8-5
152 – Keegan Ramsay (Notre Dame GP) MD Dalton Clymer (Northwestern), 12-2
160 – Luke Sugalski (Faith Christian Academy) FOR Alan Alexander (Pope John Paul II)
172 – Lucas Lawler (Bishop McDevitt) F Lucas Miller (Northwestern), 2:17
189 – Joseph Lapenna (Notre Dame GP) MD Collin Neal (Boiling Springs), 12-1
215 – Matthew Frame (No Lehigh) DEC Michael Gontis (Bishop McDevitt), 7-1
285 – Caleb Brewer (Wyomissing) F Mason Iswalt (Berks Catholic), 2:01