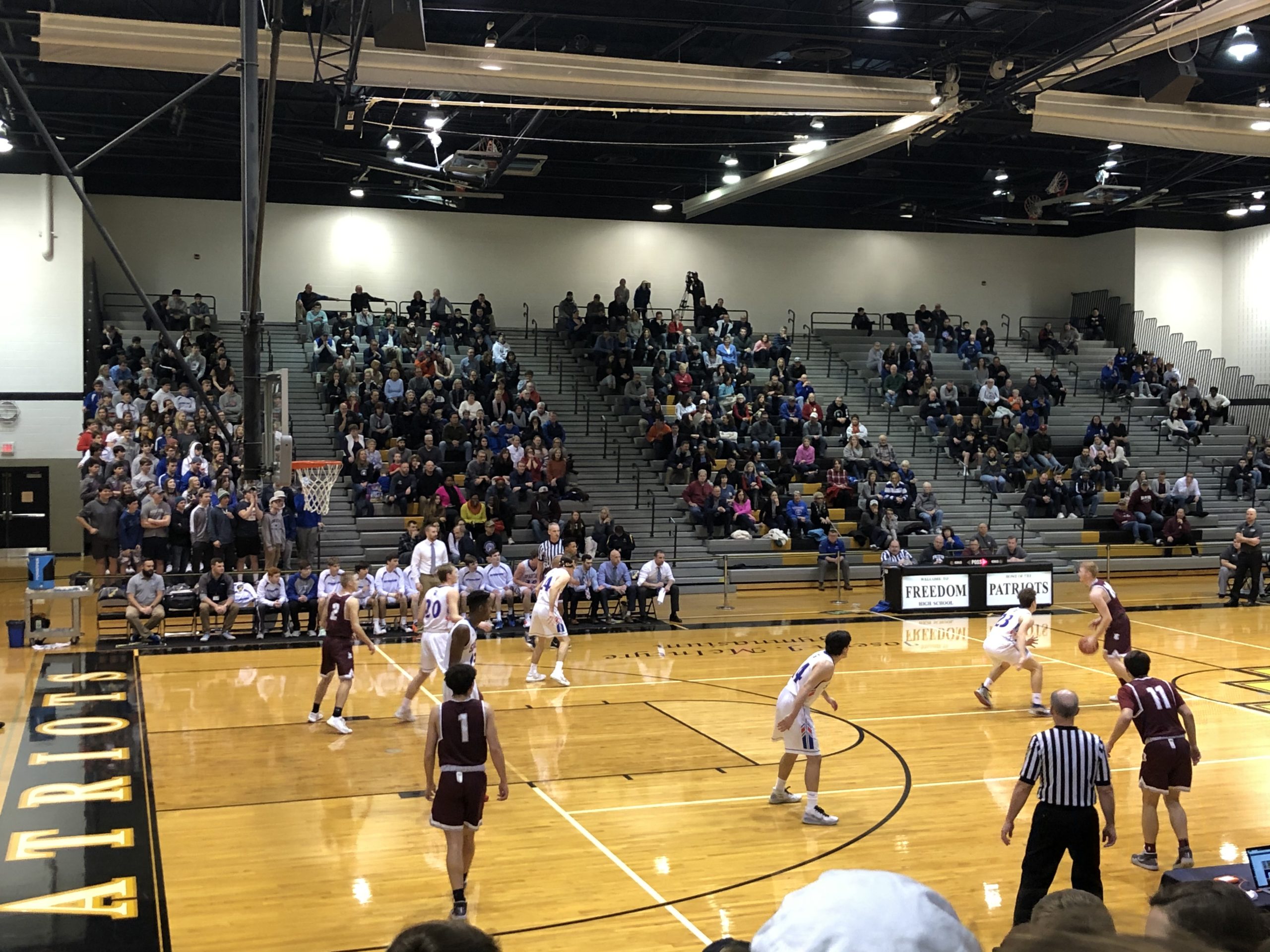 On Friday, February 14th 2020, Freedom High School hosted the 2020 Colonial League Championship for boys and girls basketball. Notre Dame had just beaten Moravian Academy in the girls Colonial League Championship 49 to 46. This increased the energy levels in the entire building heading into the boys championships. Bangor faced off against Southern Lehigh for the title of Colonial League Champion.
Both teams jumped out of the blocks with a great level of intensity throughout their warmups and the start of the first quarter. The crowd was full of supporters from both teams, as well as both sets of student sections, which were all decked out in their respective colors.
During the first quarter, the Spartans took a quick jump to leave the Slaters in the dust. However, they did not lose hope. With points scored from Bangor's Carlos Colon, Ethan Saxe, Gabe Zieba, and Nate Owens, they were able to pull the score to 20 -15 with Southern Lehigh leading.
The Spartans had a powerhouse first half of the game with their all star of the game, Daryl Coleman, putting 25 points up on the board. This was in addition to points scored by Southern Lehigh's Chris Andrews, Liam Gaughan, and Kyle Goff. This brought the first half to a close as the Slaters still trailed the Spartans with a score of 45-27.
In the start of the third quarter, the Slaters kick-started their game again and hit the ground running. Points scored for the Slaters by Carlos Colon, Ethan Saxe, CJ Miles, and Gabe Zieba were no match for the points scored by the Spartans. The score advanced to Southern Lehigh leading the Slaters 55 to 42, however it was starting to look like the Slaters may be making a comeback in the game.
By the end of the second half and the conclusion of the game, Southern Lehigh defeated Bangor with a final score of 70-51 for the title of 2020 Colonial League Champions. It was a tough fought battle from both teams. It was a much deserved win for the Spartans. Both teams had great runs in the 2019-2020 season.
Congratulations to Southern Lehigh in winning the boys CL Championship. Final score: SoLehi 70 Bangor 51 @SlaterAthletics @SlaterHoops @D11Sports @SLSpartanNation pic.twitter.com/We4aOL49LZ

— Alex Carson (@bangorsports_Al) February 15, 2020
the energy is here tonight. let's go boys!!!?⚒♥️ @D11Sports @SlaterHoops @SlaterAthletics pic.twitter.com/uYIF3JMea6

— Alex Carson (@bangorsports_Al) February 15, 2020