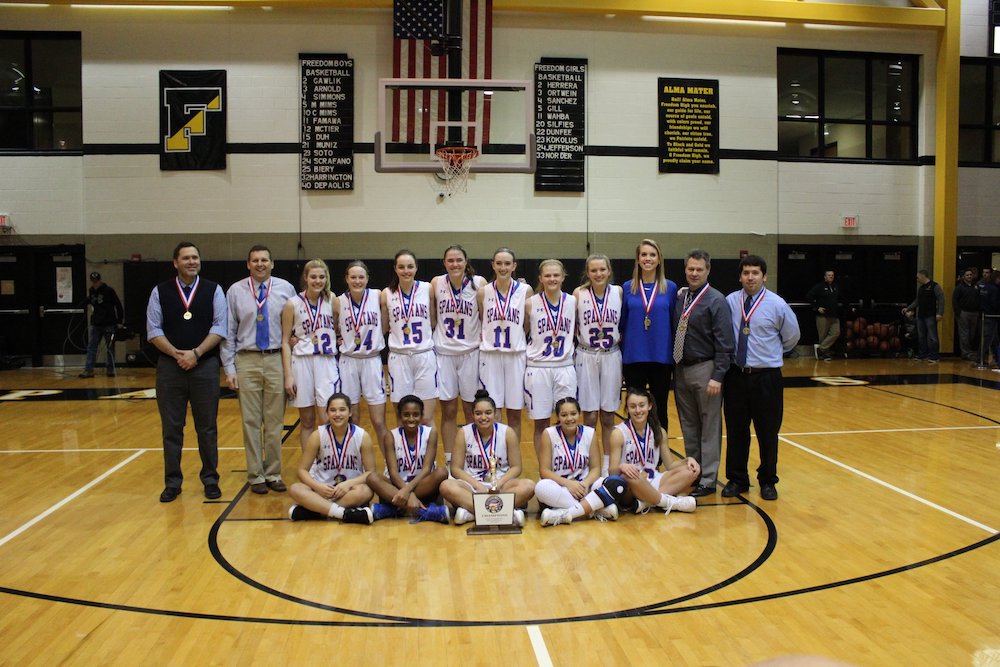 After losing to Notre Dame 50-45 on December 18, 2014, the Southern Lehigh Girls Basketball team ran off 69 straight regular season league wins before that streak was snapped by the Crusaders four years later in 2018.
Amanda Mobley and Olivia Snyder reached the 1000-point mark during their career and took part in multiple league and District Championships, while also making a run in the PIAA state tournament.
And the success kept coming, game after game and year after year, for the Spartans. But, after Southern Lehigh closed out the regular season on Tuesday night with a convincing 46-19 win over Saucon Valley, Head Coach Matt Cooper told his team that he would be stepping down. After a 5-6 abbreviated regular season because of the Covid-19 Pandemic, the Spartans will now prepare for Districts before Cooper closes out his reign as Head Coach. "My life is heading in a new and amazing direction, he said."
Through seven seasons, Cooper went 145-33, winning four District XI Championships from 2016-2019, to go along with four Colonial league titles. While there are many memories to look back on, a couple really stand out. Cooper said, "Winning our first District Championship by defeating both Central Catholic and Bethlehem Catholic and making it to the semi-finals of states two years in a row and seeing the stands full of fans and community members supporting our girls and our team."
Southern Lehigh Athletic Director Marc Zimmerman said, "Head Girls Basketball Coach Matt Cooper has announced that he's resigning at the end of this basketball season. Coach Cooper and his staff led our girls' basketball program through some of the most successful times in the program's history. Our girls' basketball program has had several deep runs into the PIAA playoffs, and we've been fortunate to see several graduates go on to play at the collegiate level. I am very grateful for the opportunity to work with Coach Cooper and his staff and wish them all well moving forward."
As for Cooper, the accolades through his tenure have been beyond successful. He became the fastest coach in the area to capture 100 wins, going 100-10. He was voted Coach of the Year by both Lehigh Valley Live and The Morning Call, while helping the Spartans win their first ever District XI Championship in 2016.
Off the court, Cooper organized charity outreach activities to cultivate positive relations with players, families and local community members. Cooper had some very talented Student-Athletes at Southern Lehigh, including Olivia Snyder, who helped guide the Spartans to success and in the process pass Erin Owens as the schools' all-time leading scorer with 2,077 points.
And while he still hopes to close out his career at Southern Lehigh with a few more wins, Cooper said, "It's hard to say goodbye to something you love, and I have absolutely loved my coaching experience at Southern Lehigh. I am proud of what the program has achieved in the past seven years, but I am most proud of the family and selfless atmosphere the coaching staff created at Southern Lehigh and the memories and bonds that we have created and shared with so many amazing athletes. I am very thankful to the support of the families, boosters, and school over the years."