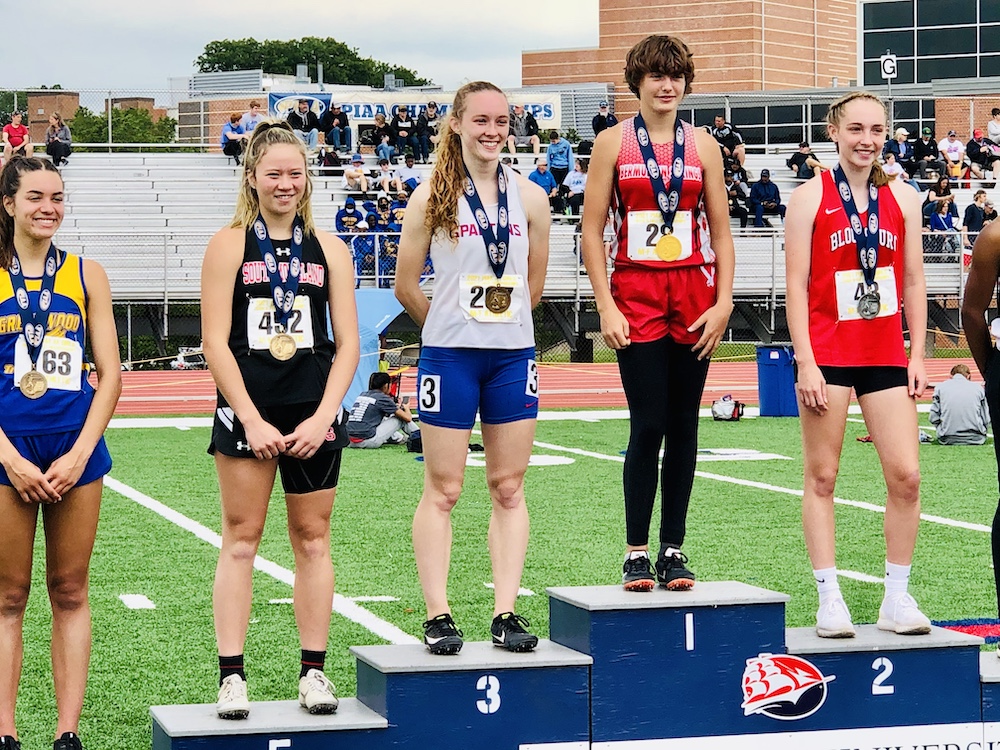 SHIPPENSBURG – Sarah Wagner was just hoping for a good day. The North Schuylkill senior got so much more than that. Wagner left the PIAA Track and Field Championships Friday as a state champion and with with three medals on what was a banner day for the Spartans program in the Class 2A event.
"It's probably one of the best days of my life, honestly," said Wagner.
Wagner placed first in the long jump with a mark of 17-9 after having already placed third in the triple jump with a leap of 37-0.5.
She finished the day with a sixth-place finish in the 200, running a time of 25.63 in the finals. She was seeded ninth in the 200 and fourth in the triple jump.
"After I won long jump, the one person told me, 'Your team is in first place,'" said Wagner. "And I just thought, 'Oh my goodness. It can't get any better than this.'"
North Schuylkill tied Schuylkill Valley for the girls team title with 39 points.
"I just ran my last ever race as a Spartan, and I took this whole day and gave it all I had," Wagner said. "It was just amazing."
Wagner won the long jump ahead of St. Basil Academy's Sasha Lee (17-6.75).
"It was nerve-racking because I was pretty close with the other girl were pretty close," said Wagner. "So when I pulled ahead I was just hoping that she wouldn't get any higher on the last one."
Her time in the 200 of 25.38 also established a school record.
Cori McCormick also collected three medals on Friday for North Schuylkill.
The senior was second in both the 3200 (10:45.14) and 800 (2:15.94)
Jolena Quarzo of Brownsville Area won the 3200 in 10:30.93, but had McCormick with her for much of the first six laps.
"It means a lot because I've only gotten third my 10th grade year so to move up a place and get a different color medal it feels pretty good that all my work paid off," said McCormick. "The first lap it was just the energy from the start so it was like, 'Oh my God, I don't know what I'm doing. But then as laps went on I was pretty comfortable. Listening to her breathing it sounded like she was kind of out of breath but she stayed strong.
"I just tried to stay with her when she passed me because I knew she would push me to a good time.
"It's very satisfying because in cross country I wasn't able to finish so that was really disappointing so I just took all of those emotions and saw what could happen and tried to get a medal."
McCormick won her heat in the 800 and waited to see how her time held up.
"I just gave everything I could because it was my last race in high school," McCormick said. "I just wanted to make it memorable and it was amazing.
"When I was warming up, I was like, 'I am so sore.' But when I started I felt so good and I just gave it everything I could.
I'm so happy. I didn't have to save anything."
Kailey Roberts, Katie McCormick, Ryley Schwalm and Cori McCormick run 9:49.03 to place fifth in 3200 relay.
"It's pretty amazing since two years ago we came in but got 11th, so we all wanted to come back, and with Kailey, and get a medal this year," said Cori McCormick.
Katie and Cori McCormick, along with Schwalm, were all on the 11th place team.
"When Ryley handed off to me, I knew we were seventh, so I knew I had to keep that place or even go higher. A girl came up on me and I was like, 'No. I'm going,'" said Cori. "At the 200, I gave it all I had and ended up passing two people, so that meant a lot.
When Schwalm got the baton, she passed three girls. To move the team into medal position.
Marian's Michael Fellin ran to second place finish in the Class 2A 100 to claim his first state medal and cap an incredible season on the track.
"This is my first, technically second year, in track," said Fellin. "Going to the state championships is nuts for me. I never thought I would be here. I said before it would be a dream come true and I was hoping to get first but Braedon Wisloski from Southern Columbia is a role model for me. And I'm going to come back for next year, he's a sophomore and I'm a junior, and it's just amazing to be here. I'm so blessed and thankful to be here.
"I am happy about that because it's improvement every time I'm on the track. But if it's not the best, then I have to keep going. I have to be the best. I have to keep pushing. Gotta be the best, and I'll get there one day."
Fellin placed second in the 100 with a time of 10.85. The junior ran a 10.95 in the prelims and was a district champion in the event last week.
Wisloski won in 10.81.
It wasn't the only medal of the day for Fellin, who teamed up with Jacob Fenstermaker, Ean Chelak and Johnny Malarkey to place seventh in the 400 relay with a time of 43.90 a week after winning the district title in the event.
"We were really confident pretty much all season especially when Mike came out this year and was running the times he was," said Fenstermaker. "We instantly put it together and we were saying we're going to states because this is one hell of a team we got this year, and we made it happen."
The group combined its experiences and abilities to make it work.
"Mike was a sprinter and Jacob was a sprinter, me and Ean weren't hardcore sprinters," said Malarkey. "So we kind of just put it together and it worked out and we kept progressing."
MEDALISITS … A number of other area athletes also collected hardware on the first day of the state meet.
Palisades' Trinity Williams (5-2) tied for fourth in the high jump, while Paige Casrerline (5-2) placed seventh. Williams was first, Casterline second at districts.
Pen Argyl's Zach Morro was sixth in the javelin with a throw of 174-5. Josh Deremer grabbed an eight-place finish in the 800, crossing the line in 1:59.08.
Salisbury's Hunter Bleam cleared 6-2 to finish sixth in the high jump.
And a pair of relay teams ended the day on the podium.
Notre Dame Green Pond's Sarah Sidoro, Grace Medei, Lauren Bower and Laura Dainauski ran a 4:09.83 to finish eighth in the 1600 relay.
The Palisades team of Thomas Smigo, Mason Smeland, Bryce Guthier and Marcus Yearwood clocked in at 3:31.35 to also place eighth in the boys 1600 relay.
BACK AGAIN … Action resumes tomorrow with Class 3A competition at 9 a.m.