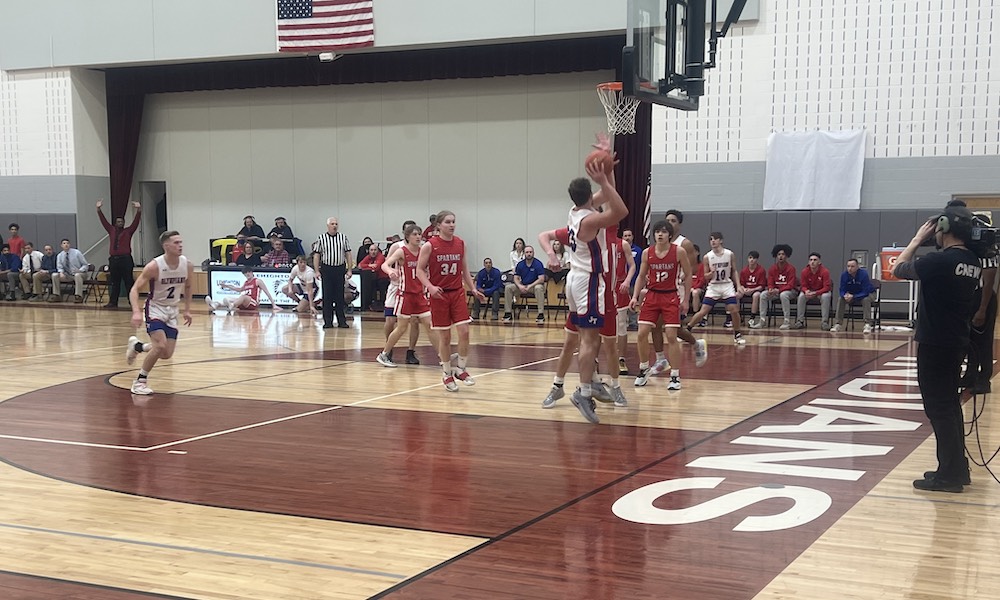 The North Schuylkill Spartans faced off against the Jim Thorpe Olympians on Friday, February 25th at Lehighton for the District XI 4A Boys' Basketball Quarterfinals. Jim Thorpe entered the event with a record of 16-8, while North Schuylkill entered the event with an overall record of 12-10.
North Schuylkill jumped out to a 14-3 lead at the end of the first thanks to Adam Scott who scored six points in the first quarter. North Schuylkill held the lead over Jim Thorpe at the half 26-15. Jim Thorpe went on a 10-2 run in the third quarter thanks to Derryl Fisher who scored six points and Kaiden Herron who scored four. This allowed Jim Thorpe to close the gap 28-25 heading to the fourth quarter. North Schuylkill held the lead over Jim Thorpe 33-30 with 3:45 left to play. North Schuylkill then jumped out to a seven-point lead, but the Olympians rallied back on a layup by David Richards and a three-point splash by Colby McHugh brought the score to 41-37, North Schuylkill, with 1:35 remaining. The Spartans would close out the game by a score of 45-38.
"It was a good game," said North Schuylkill guard Jack Keiter. "They played well, we played well. It was a hard-fought close game. But I think we had the mental toughness to pull it out."
Jim Thorpe ends the season with an overall record of 16-9.
North Schuylkill, now 13-10, will advance to the district semifinals against the Wilson Warriors on Tuesday, March 1st at Catasauqua High School with a start time of 7:30 PM.
TOP SCORERS: Keiter led North Schuylkill with 17 points. Zane Zulkowski and Adam Scott finished with nine. Fisher led Jim Thorpe with 14 points. Herron chipped in 11.