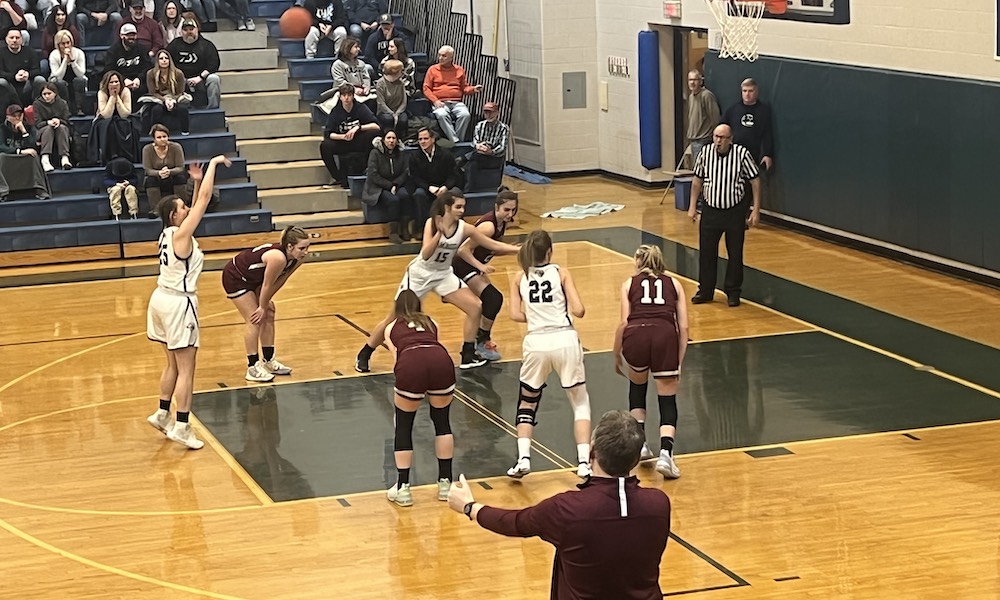 Game #1: Girls
The Tamaqua Blue Raiders' Girls Basketball team welcomed the Lehighton Indians for the D11Sports Game of the Week on Friday, January 28th which was live-streamed on YouTube. Lehighton entered the event with a record of 7-8, while Tamaqua entered with a record of 6-9.
Tamaqua held the lead at the end of the first quarter, 18-15, over Lehighton. Lehighton trailed Tamaqua 20-19 with 4:00 minutes remaining in the half until Hailey Miller stole the ball and scored the layup putting her over 1,000 points in her high school career. This gave Lehighton the 21-20 lead with 3:40 remaining in the half. The game was halted to celebrate Miller's milestone.
"It feels awesome", said Miller. It's something that I've been working for. I had my team behind me the whole time. It all comes down to a team game and it was just an awesome experience."
Lehighton held the lead over Tamaqua at the half by a score of 29-24. Tamaqua retook the lead 38-34 at the end of the first quarter. The Raiders extended their lead to 42-36 with six minutes left in the game. Lehighton rallied back on two three-point shots by Miller and the other by Katie Wojton to tie the game at 42 apiece.
Tamaqua regained the lead with buckets from Trenyce Wingler and Lorelei Plasha. Another three by Wojton and multiple successful free-throw attempts by Alliyah Fisher, Lehighton took back the lead 47-46 with under two minutes to play. Charli Mchugh sealed the game for Lehighton scoring six points leading to a 53-48 lead with 41 seconds remaining. Lehighton won by a score of 54-50. Tamaqua is now 6-10 on the year.
"The girls deserve all the credit", said Lehighton head coach Joe Berezwick. "They got down early and fought back. We never gave up. Our girls never went away and made big shots when we needed to."
TOP SCORERS: Miller led Lehighton with 20 points, along with 16 from Mchugh. Serena Jones led Tamaqua with 17 points. Wingler chipped in 14.
Tamaqua played Pine Grove the following day and ultimately fell 64-56 giving them a 6-11 record on the year. Tamaqua will now travel to North Schuylkill to take on the Spartans on Monday, January 31st at 7:00 PM. Lehighton improves to 8-8 and will look to continue their winning streak as they travel to Blue Mountain on Monday, January 31st. The game is scheduled to tip-off at 7:00 PM.
Game #2: Boys
The Lehighton Indians' Boys Basketball team faced off against the Tamaqua Blue Raiders on Friday, January 28th for the D11Sports Game of the Week which was live-streamed on YouTube. Lehighton entered the event with a record of 4-13 while Tamaqua entered the event with an overall record of 6-11.
Lehighton controlled the pace taking the 9-8 lead over Tamaqua after the first quarter. Tamaqua took the lead 24-21 from Lehighton at halftime. Tamaqua extended their lead after the third quarter by a score of 45-33. The Raiders closed out the game by a score of 60-46 earning the victory over Lehighton, improving to 7-11 overall. Lehighton is now 4-14 on the year.
"It was a good win for us," said Tamaqua head coach Jim Barron. "We haven't had a win lately so it's nice. I thought we could have opened up a little more in the fourth quarter, we weren't great at foul shooting, but we did enough to win."
TOP SCORERS: Connor Dillon led Tamaqua with 22 points. Nathan Gregoire finished with 16. Lucas Milot added 11. Jack Lorenz, Brayden Lutz, and Tyler Rehrig all led Lehighton with nine points each.
"We came out and knew we had to get this win," said Dillon. "It feels great (to be Player of the Game), but I want to thank my teammates, they did most of the rebounding, it was just a team effort."
Tamaqua's next game is home against North Schuylkill on Tuesday, February 1st at 7:00 PM. Lehighton will return home on Tuesday, February 1st, and play Blue Mountain at 7:00 PM.