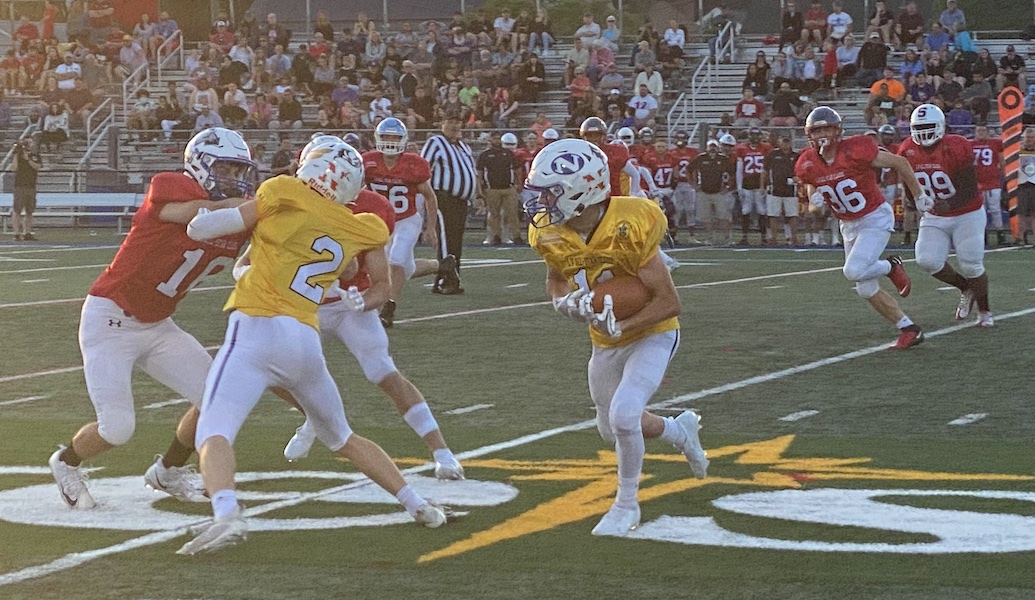 NAZARETH – For most teams in 2020, COVID-19 had an impact. One of those teams was East Stroudsburg South, who went 4-0 and out scored their opponents 248-7. The Cavaliers didn't get a chance to play in the PIAA District 11 Class 5A playoffs, however.
This game was their second chance….
East Stroudsburg South quarterback Will Fish led the Red Team (Lehigh, Carbon and Monroe counties) throwing for 193 yards and completing 13 of 21 passes. The Red Team triumphed in a 42-24 win over the Gold Team (Northampton, Phillipsburg and Palisades players) in the 50th edition of the McDonald's Lehigh Valley All-Star Football Classic at Nazareth's, Andrew S. Leh Stadium.
Fish's teammates also had big games. Christian Sapp, a Villanova commit, caught six passes for 87 yards and three touchdowns. Evan Roche had 103 yards receiving and one touchdown.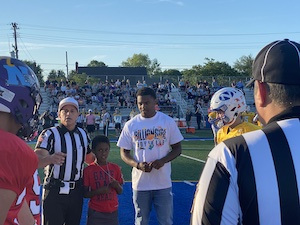 Before the game, former Nazareth and current Penn State Football player Jahan Dotson took part in the coin toss for the 50th Annual McDonald's Lehigh Valley All-Star Football Classic.
The Gold Team won the toss and went three-and-out. The Red Team got on the board first behind the hard running of Emmaus' Brandon Camire. He plowed in from one-yard out to give the Red Team a 7-0 lead with 8:01 left in first.
Fish's fist touchdown pass of the night was to Sapp for seven yards and a 14-0 lead. The Gold Team ended the quarter with a 27-yard field goal by Freedom's George Ferrey.
Phillipsburg's quarterback Matt Garatty, led the Gold Team throwing for 406 yards and three touchdowns. Two of them went to Pen Argyl's receiver Collin McKeague. He caught four passes for 137 yards including back-to-back touchdown catches of 46 and 35 in the second quarter.
The Gold Team led for the first time 17-14 with 7:48 left in the fist half. Fish threw his second touchdown of the first half, hitting teammate Roche for a 43-yard pass. The Red Team led 21-17. That score would hold up at halftime.
It didn't take long for the Red Team to strike again. It took two plays for Fish to hit Sapp in stride for a 27-yard touchdown pass. They added a two-yard touchdown run by Parkland's Isaiah Rico with 6:03 left in the third and led 35-17.
In the fourth, Fish and Garatty each threw a touchdown pass. Fish hit Sapp for a nine-yard TD pass and his third touchdown catch of the night. Garatty found Nazareth's Jaiden Cabrera from three yards out. The final score was 42 for the Red Team and 24 for the Gold Team.
The 50th Annual McDonald's All-Star Football Classic
| | | | | | |
| --- | --- | --- | --- | --- | --- |
| Final | 1st | 2nd | 3rd | 4th | Final |
| Red | 14 | 7 | 7 | 14 | 42 |
| Gold | 3 | 14 | 0 | 7 | 24 |
First quarter
Red: Brandon Camire 1 yard run (Kevin Duffy kick) 8:01
Red: Will Fish 7 yard pass to Christian Sapp (Kevin Duffy kick) 5:18
Gold: George Ferrey FG 27-yard 0:38
Second quarter
Gold: Matt Garatty 46 yard pass to Collin McKeague (George Ferrey kick) 9:46
Gold: Matt Garatty 35 yard pass to McKeague (Ferrey kick) 7:48
Red: Will Fish 43 yard pass to Evan Roche (Kevin Duffy kick) 6:05
Third quarter
Red: Will Fish 27 yard pass to Christian Sapp (Kevin Duffy kick) 11:37
Red: Isaiah Rico 2 yard run 6:03
Fourth quarter
Red: Will Fish 9 yard pass to Christian Sapp (Kevin Duffy kick) 8:40
Gold: Matt Garatty 3 yard pass to Jaiden Cabrera (Ferrey kick) 3:45
VIDEO HIGHLGHTS
Emmaus Brandon Camire goes in from 1-yard out. 7-0 Red Team @EmmausFootball @EPAFootball @mystlukes @HSFBamerica 8:01 1st pic.twitter.com/ez503YbJtu

— D11Sports (@D11Sports) June 17, 2021
EAST STROUDSBURG SOUTH….Will Fish to Christian Sapp Touchdown!!! 5:01 1st 14-0 Red Team @ESSCavalierFB @mystlukes @HSFBamerica @EPAFootball pic.twitter.com/4udu6l9Nnt

— D11Sports (@D11Sports) June 17, 2021
Freedom's George Ferrey's 27-yard FG. Gold Team on the board. Red team leads 14-3 with 38 seconds left in 1st quarter. @fhssportsBASD @mystlukes @EPAFootball @HSFBamerica pic.twitter.com/VWPv6EyGN6

— D11Sports (@D11Sports) June 18, 2021
TOUCHDOWN GOLD TEAM!! P'Burg's Matt Garatty to Pen Argyl's Collin McKeague for the 46-yard TD pass. Red Team leads 14-10 9:46 2nd @PAGreenKnights @LinersFootball @EPAFootball @mystlukes @HSFBamerica pic.twitter.com/VT09EB5DvF

— D11Sports (@D11Sports) June 18, 2021
TOUCHDOWN DUO!!! TOUCHDOWN GOLD TEAM!! P'Burg's Matt Garatty to Pen Argyl's Collin McKeague for the 35-yard TD pass. Gold Team leads 16-14 7:48 2nd @PAGreenKnights @LinersFootball @EPAFootball @mystlukes @HSFBamerica pic.twitter.com/ttmnpHs4Zx

— D11Sports (@D11Sports) June 18, 2021
WOW!! Fish to Sapp 26-yard TD pass. Red team leads 28-17 11:37 left in 3rd @EPAFootball @HSFBamerica @mystlukes @ESSCavalierFB @LVASFC @Will_fish08 @cloutedsapp pic.twitter.com/sgJBlc9gmz

— D11Sports (@D11Sports) June 18, 2021
Northern Lehigh's Joseph Abidelli with other Interception. Red Team takes over. @EPAFootball @HSFBamerica @LVASFC @mystlukes @NorthernLehigh pic.twitter.com/iaCU6s5uEC

— D11Sports (@D11Sports) June 18, 2021
TOUCHDOWN RED TEAM!! Parkland'a Isiah Rico goes in from 2-yards out. 35-17 Red Team 3rd 6:03 @EPAFootball @HSFBamerica @mystlukes @LVASFC @ParklandAthlet1 @IsiahRico pic.twitter.com/WSD9jG6BMo

— D11Sports (@D11Sports) June 18, 2021
BIG HIT by Northern Lehigh's Joseph Abidelli @EPAFootball @HSFBamerica @LVASFC @mystlukes @NorthernLehigh pic.twitter.com/1Gnp7iTvyR

— D11Sports (@D11Sports) June 18, 2021
CATCH OF THE GAME!!! Fish and Sapp TD pass. Sapp with the amazing TD grab. Red up 42-17 8:40 left to play. @ESSCavalierFB @cloutedsapp @mystlukes @EPAFootball @Will_fish08 @HSFBamerica @espn @LVASFC pic.twitter.com/YV6nt9PYql

— D11Sports (@D11Sports) June 18, 2021
TOUCHDOWN GOLD TEAM!! Garatty hits Nazareth's Jaiden Cabrera on a 3-yard TD pass. Red Team leads 42-24 with 3:45 left. @LinersFootball @NAHSBlueEagles @mystlukes @EPAFootball @LVASFC @HSFBamerica @NAHSBlueEagles @NazHSPrincipal pic.twitter.com/hn6cAV2WgE

— D11Sports (@D11Sports) June 18, 2021