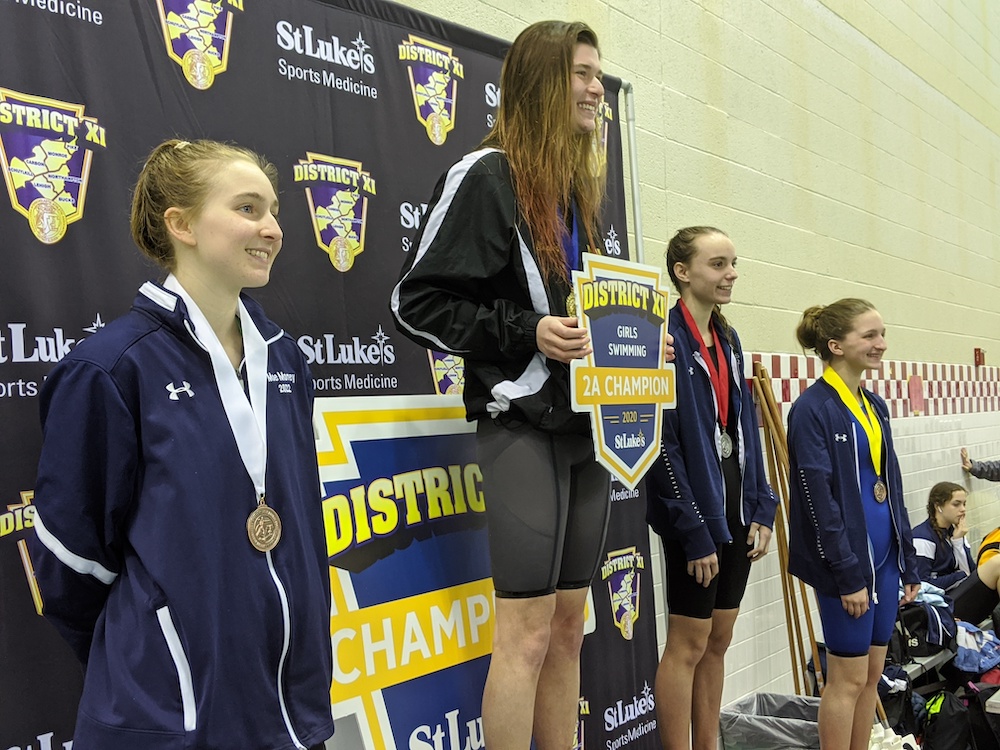 AA
Moravian Academy's Pepper Ritchey took home the Dennis A. McGinley Award as the top female swimmer, while Bangor's Brenek Strawn grabbed the award on the boys side. After winning gold and setting a new district record in the 100-yard butterfly on Friday, Ritchey was back on the podium with another gold medal around her neck following her win in the 500-yard freestyle event. In all, the junior swimmer garnered four gold medals as she took home gold as part of Moravian Academy's 200-yard medley relay team and their 400-yard freestyle team.
"This is amazing," said Ritchey of her award. "I was aware of it because a friend of mine won it last year, but I was so in the moment of all that was going on that I didn't even think anything about it during the meet."
As for Strawn, he also captured his second gold medal of the meet with a win in the 100-yard backstroke, setting a new District 11 record with a time of50.87 seconds in the process. The win came on the heels of his win in the 100-yard butterfly event on Friday. Thanks to his district record in the 100-yard butterfly at last year's meet, Strawn now holds two district records as he ends his high school career.
Notre Dame – Green Pond senior Gianna Farina won her fourth gold in the 200-yard IM on Friday and picked up more gold jewelry Saturday when she won the 100-yard breaststroke by almost a full second over Panther Valley's Emily Newton. In all, Farina has eight gold medals at the district level as she prepares for a final trip to states next month.
"I really wanted to win this one. I wanted one final district gold medal," admitted Farina of her win in the breaststroke. "Going to states, I feel really confident. My training has brought me this far and I'm ready for states and am looking forward to getting out there."
Notre Dame – Green Pond had brothers battling for the top two spots in the boys 100-yard breaststroke. Francesco D'Avella took gold in the 200-yard IM Friday and was looking to beat out his twin brother for another gold. This time though it was Fulvio D'Avella who grabbed gold by the thinnest of margins when he edged his sibling by just .14 seconds to give him gold.
"He has always helped push me past my limits," said Fulvio of his brother. "I knew we were going to be close and I really had to push down the stretch and I'm sure that he was doing the same."
Anna Shoudt of Moravian Academy also locked up a trip to states with a gold in the 100-yard freestyle on Saturday. For the boys, R.J. Farina (Notre Dame – Green Pond) took gold in the 500-yard freestyle and Zaidian Van Orden locked up a trip to states with gold in the 100-yard freestyle. Van Orden has been to states twice before, but said the trip never gets easier.
"No, it's still just as nerve wracking as it was my freshman year," admitted the Pottsville junior swimmer. "I was nervous today and I'll be especially nervous out at states even though it's my third trip."
Speaking of nerves, Maddie Dando of Marian Catholic is another swimmer who has to battle nerves but may have somewhat conquered them coming into districts. "Usually I puke before my event, but today I didn't puke, so that's good." Dando took gold in the 100-yard backstroke on Saturday.
AAA
The battle between Emmaus and Parkland continued, with one school or the other winning every event through the first 18 events until Liberty's Samantha Taylor broke the streak by taking gold in the 100-yard backstroke. The two teams renewed their battle over the final five events of the day. The two teams split the team championships with Emmaus winning the boys competition and Parkland taking the girls competition.
Taylor was unaware of the string of Emmaus and Parkland wins until she was told in a media interview. What she did know coming into the backstroke was that her team needed a win.
"I was thinking before my swim that I really wanted to win because I knew we didn't have any gold medals, so I was really excited," Taylor, who competed in relay events at states in the past, but will make her first trip in an individual event, explained. "It's my senior year and I really wanted to extend my season by two weeks, so going to states does that for me. I'm glad that I'm not done yet."
The rivalry was also evident in the points tallied for the Dennis A. McGinley Award, which is given to the best swimmer in both the boys and girls categories. Emmaus' Nick Soares won the boys award, but the girls award was a lot more complicated. Emmaus and Parkland swimmers tied for first, third and fifth place in points. Emmaus' Lauren Sharp and Parkland's Annie Walls were named co-winners of the award.
"I was super excited, and I wasn't expecting to win that award to be honest, but it was really nice to be on the podium with my friend Annie Walls, so I really liked it," said Sharp. "There's a lot of rivalry, but we're all really close and we're all really good friends."
Walls and Sharp both picked up two individual gold medals in the two-day event and also added a gold and silver medal each in relays. Parkland's Kayla Johnson left her final meet in her home pool with a total of four gold medals. She placed first in both the 100 and 200 freestyle events individually and then helped Parkland relay teams to first in the 200 and 400 freestyle relays.
Last year, Parkland's Gavin Webb didn't win gold in the 500-freestyle, but he did have a fast-enough time to get a bid to swim in states. This season he won't have to wait to find out if he's going to states after he bumped his speed up and took gold in this year's 500-yard freestyle.
"I feel a lot more confident going this year than I did last year having gotten gold," Webb said. "I just feel more comfortable in the pool and more comfortable with what I'm able to do, so I can really look forward to states this year."
Emmaus and Parkland dominated the gold medals, but other swimmers had strong performances as well. Brendan Alvino of Nazareth took home three silver medals with an individual silver in the 50-yard freestyle and silver medals as part of the Nazareth relay teams in the 200 and 400-yard relays. Alvino's teammates Gabe Laslo and A.J. West were also on both of the Nazareth relay teams that took home silver medals.
FINAL TEAM STANDINGS
2A GIRLS
Blue Mountain – 325
Moravian Academy – 286.5
Central Catholic – 258.5
Pottsville – 220.5
Saucon Valley – 186
Salisbury – 151
Tamaqua – 150
Mahanoy – 142
North Schuylkill – 60
East Stroudsburg North – 50
Schuylkill Haven – 38.5
2A BOYS
Blue Mountain – 389
Central Catholic – 263
Saucon Valley – 245
Pottsville – 214
Moravian Academy – 204
North Schuylkill – 142
Schuylkill Haven – 82
Tamaqua – 65
Salisbury – 58
Mahanoy – 14
3A GIRLS
Parkland – 598
Emmaus – 382
Southern Lehigh – 219
Liberty – 203
Easton – 164
Nazareth – 158
Northampton – 121
Stroudsburg – 102
Freedom – 91
Pocono Mountain East / East Stroudsburg South – 63
Whitehall – 61
Pocono Mountain West – 32
Allen – 24
Dieruff – 20
3A BOYS
Emmaus – 547.5
Parkland – 339
Nazareth – 208.5
Liberty – 183
Southern Lehigh – 169
Easton – 136
Northampton – 116
East Stroudsburg South – 100 / Stroudsburg – 100
Freedom – 79
Pocono Mountain West / Pocono Mountain East – 64
Dieruff – 59
Whitehall – 47
East Stroudsburg North – 29
Pleasant Valley – 25
Allen – 16
Girls 100 Freestyle (L to R) Morgan Yuengling (Blue Mt), Anna Shoudt (Moravian), Olivia Haas (Blue Mt), Hannah Magdeburg (Blue Mt)
Girls 500 Freestyle (L to R) Mimi Norris (CCHS), Pepper Ritchey (MA), Katherine Sarnes (BM), Erika Zimmerman (PV)
Girls 100 Breaststroke (L to R) Taleah Ruben (Pottsville), Gianna Farina (NDGP), Emily Newton (PV), Maggie Chi (Saucon Valley)