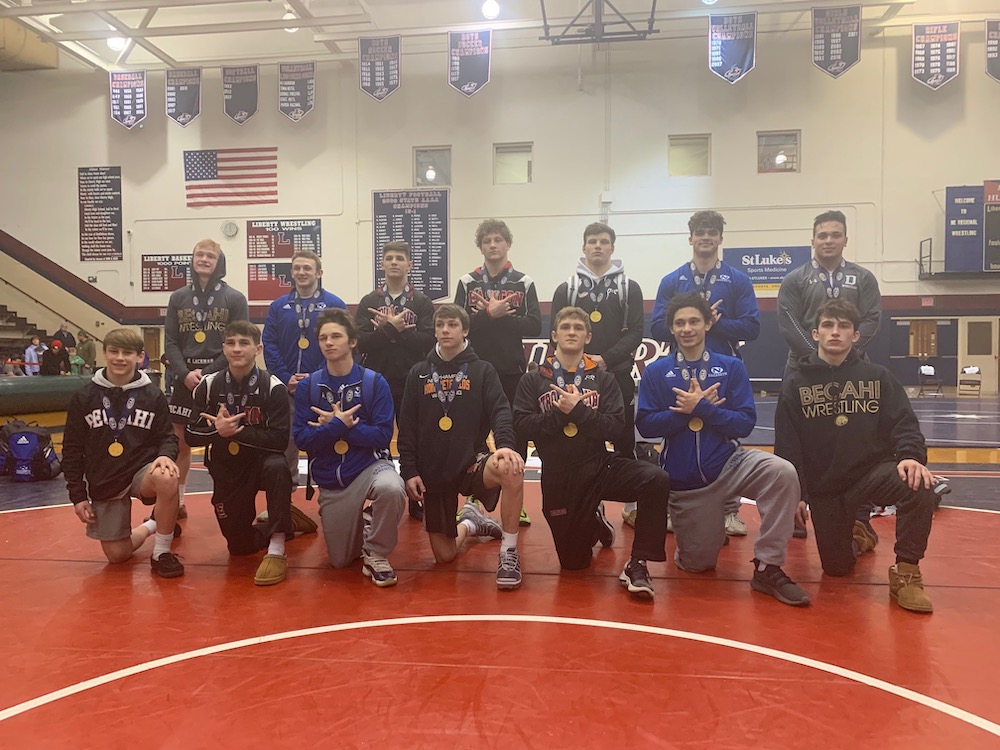 Nazareth clipped Bethlehem Catholic for the team title at Saturday's Northeast Regional wrestling meet at Liberty High by 18 points, 221.5 to 203.5 in a battle of titans.
In their three individual, head-to-head finals matches, Nazareth won two. At 120, Andrew Smith topped Becahi's Matt Mayer 9-3 to repeat the result from the District 11 championship. And at 138, Dashawn Farber outclassed the Golden Hawks' Evan Gleason, 5-3.
Bolstering Nazareth's cause was Stroudsburg's Patrick Noonan, who nosed Becahi's Kenny Hermann 1-0, toppling the nation's No. 3-ranked wrestler and earning Noonan a second-straight Most Outstanding Wrestler award at the match comprising the top grapplers from districts 2, 11 and 12.
"It feels good to get the award two years in a row," said Noonan, who improved to 27-5. "My semifinal 6-4 win (over Northampton's Ethan Szerencsits) was also a pretty tough match."
Noonan appeared at ease, an approach he adopted after losing two matches in the state tournament last year.
"Last year I was so stressed. You had to do this and you had to do that. Now I remember to have fun when I wrestle."
It doesn't hurt that Noonan's Stroudsburg teammate Lenny Pinto is also at practice every day. On Saturday Pinto won 12-6 at 170 lbs. to give the Mounties a second champion as well as a sounding board for Noonan.
Of the 14 champions crowned, only one came from outside of District 11.
Nazareth produced four individual champions, two runners-up, two third-place finishers and a fourth-place finisher, the last slot to advance to the state tournament in Hershey.
Becahi slotted three champions, four runners-up, a third and a fourth.
Northampton sent five wrestlers on to Hershey, Easton four. Delaware Valley placed fifth in the team scoring despite having just one wrestler qualify for states, 195 champion Jason Henderson, an all-state football linebacker who picked up his opponent and tackled him at chest-level multiple times.
106 lbs.
Becahi freshman Tyler Kasak (12-0) wants to set himself apart from his competition. Yes, he wants a state title after winning the Northeast Regional title Saturday with a 4-2 decision.
But the forward thinker's No. 1 goal is to win a national championship in college in his first year, when he gets there in four years.
"You have to be different," he said. "Everybody wants a state title, everybody wants a district title, but my main goal is a national title my freshman year."
In the summers Kasak trains at State College, so he wouldn't mind some day competing for Cael Sanderson's Nittany Lions, though he knows that's a long way off.
Kasak dominated Father Judge's Sean Logue 10-0 in the finals Saturday, scoring seven points in the second period. He entered the finals having won three matches by pin in a total of 6:01.
113
Easton sophomore Braxton Appello believes his match against Becahi's Dante Frinzi is the sixth match between the burgeoning rivals. Appello, if memory serves, has won four.
On Saturday Frinzi tried to tie him up early, more than in prior matches. A third-period reversal gave Appello the advantage in a 4-2 decision as the sophomore repeated as regional champion.
"I was never in panic mode," said Appello, who has eyes on four regional titles.
120
Nazareth's Smith had edged Becahi's Matt Mayer 7-6 for the District 11 title. On Saturday he made sure there wasn't as much suspense, winning 9-3.
Tied at 3, Smith scored the last six points as Mayer needed assistance for a bloody nose, staunching it with gauze.
Smith (16-3) focused on filling all six minutes with determined effort. "I just kept wrestling until the stopped it or until I heard the final buzzer. We bumped heads at the beginning of the match. I'm not sure if that's what caused the blood."
Mayer (22-6) battled through the bleeding without complaint. He'll try to improve upon his fourth-place finish at states last year.
126
Northampton freshman Dagen Condomitti (29-8) won a tight 3-1 decision over Pottsville senior Wiley Kahler (30-7).
Condomitti accepted his medal as older brother Jagger competed in the 145-lb. final.
"Wiley is really fast and really good on top," said Dagen. "He turned a bunch of kids with a tilt in other matches. He didn't lock me up with a tilt."
132
At 132, Stroudsburg's Patrick Noonan (27-5) scored an early escape for the only official point.
He led 1-0 with 1.8 seconds remaining. Becahi's Kenny Hermann (37-3) was down. With a quick start, Hermann maneuvered to escape and tie the score. He made it to his feet and spun to elude Noonan's grasp.
Referees gave him the equalizer as boos reigned down, but after consulting the table, referees determined the escape wasn't valid. To be fair, they put 2.0 seconds back on the clock, stationed Hermann back on the bottom, and all but dared Noonan to keep him down for the win, which he did.
A week ago Hermann outclassed Noonan 7-5 for the District 11 title. Scoring was limited this time around.
138
Nazareth's Dashawn Farber has become adept at the climatic comeback.
After winning state titles at Warner Robbins, Ga., for two years, he and his family moved back to Nazareth where he had started wrestling as early as elementary school.
Now Farber (29-8) has a pair of Northeast Regional titles to celebrate in his senior year. Farber defeated Becahi's Evan Gleason (32-10) 5-3 a week after Gleason pinned Farber for the District 11 title in the first period. Nobody else has pinned Farber this winter.
"I just made sure I stayed on top today," said the mustachioed veteran. "I stayed on the gas pedal and made sure I wrestled all seconds of the six minutes. I didn't let him work the top."
Gleason executed a reversal midway through the match for a. 3-2 lead, but Farber returned the favor to take the lead. Gleason's loss made it four Becahi defeats in the finals after Kasak's title at 106.
145
Cole Handlovic got the Golden Hawks back into the gold standard by topping Jagger Condomitti 8-4.
"My goal is really for next week," said Handlovic, referring to the state tournament. "This is my second regional title. But 100 percent, Condomitti is definitely one of the best kids I'll see at states."
Handlovic rebounded after losing to Condomitti 7-3 in the District 11 final.

152
Perhaps the surprise of the match, Becahi's Matt Lackman (21-5) caught Nazareth's Nate Stefanik (32-4) with 30 seconds left in the first period. For almost half a minute, like a fish in a hot pan, Stefanik shimmied to free a shoulder before finally succumbing just before the buzzer.
Fans had started shouting "five seconds", giving Lackman the impetus to finish off his pin of the reigning District 11 champion, who had beaten Lackman 6-4 one week ago. This time he finished the Princeton University commit off when the opportunity arose.
"I let go of one hand and put more weight on him," said Lackman.
160
Nazareth's Connor Herceg scored a technical fall over Hazleton's Bryce Molinaro (40-6) to repeat as regional champion. A second-period flurry pushed Herceg (37-4) to an 8-0 lead that never was threatened.
The Lehigh recruit coasted.
170
Stroudsburg followed Noonan's title with another by Lenny Pinto, 12-6 over Angel Garcia (27-3) of Mariana Bracetti Academy.
Pinto (38-3) established leads of 5-0 and 9-2 before easing into a six-point decision to repeat as regional champion. He'll try to top his third-place finish in the state tournament.
Riding the adrenaline of the moment, Pinto ignored the seven stitches in his hand from a recent collision with glass at a friend's house.
182
Easton's Isaiah Reinert (25-8) and Nazareth's Drew Clearie (34-7) turned in a classic third period in their match.
The boys alternated reversals four times with Reinert securing the final one with 20 seconds to go for a 7-6 decision that atoned for Clearie's victory by first-period pin in the District 11 championship.
"Clearie's the best wrestler I face," said Reinert. "Last week I was up 3-2 on him, but I went for a big move and got pinned."
195
Delaware Valley wrestler Jason Henderson showed off his football form as an all-state linebacker when he hoisted Pottsville's Shane Quick en route to takedowns in his 8-4 decision.
Quick (37-7) has already committed to Campbell University in North Carolina to wrestle.
Henderson, a burly, muscular sort, led 6-4 before closing the match with two more back points. So far he's receiving interest from mid-major football programs throughout the east, including some Ivy League programs.
Henderson's win was the lone non-District 11 championship.
220
Nazareth's Stephen Schott and Easton's Matthew Cruise were embroiled in a stiff match at 220 lbs. until Schott turned a 3-2 lead into a victory by fall when he secured the pin with 6.4 seconds remaining.
"I had him up in the air and then I had a shot at him," said Schott. "I wanted to hold the position. I just got on top and worked the pin."
285
In a battle of seniors, Dieruff's Karam Chakif (29-2) separated from Dallas's Taylor Bolesta (24-2) 5-2 in the heavyweight bout.
Bolesta scored an escape early in the third period to tie the match at 1. With 38 seconds remaining Chakif landed a takedown, which Bolesta followed with an escape. Chakif scored another takedown right before the buzzer to increase the margin.
POTTSVILLE EMERGENCE
Pottsville had never brought two wrestlers into the Northeast Regional championship round before this year. They placed three in the finals and consolations.
Shane Quick had won the District 11 title with a late victory over Sonny Sasso of Nazareth at 195. Sonny's brother Sammy is ranked first nationally at Ohio State University.
Pottsville's Wiley Kahler had survived the D11 final with a late overtime win over Northampton freshman Dagen Condomitti.
And Bryce Gonazelez reached the regional consolation match to earn a trip to the state meet. The three seniors all started with current head coach Gary Keener in middle school and are members of the 100-win club.