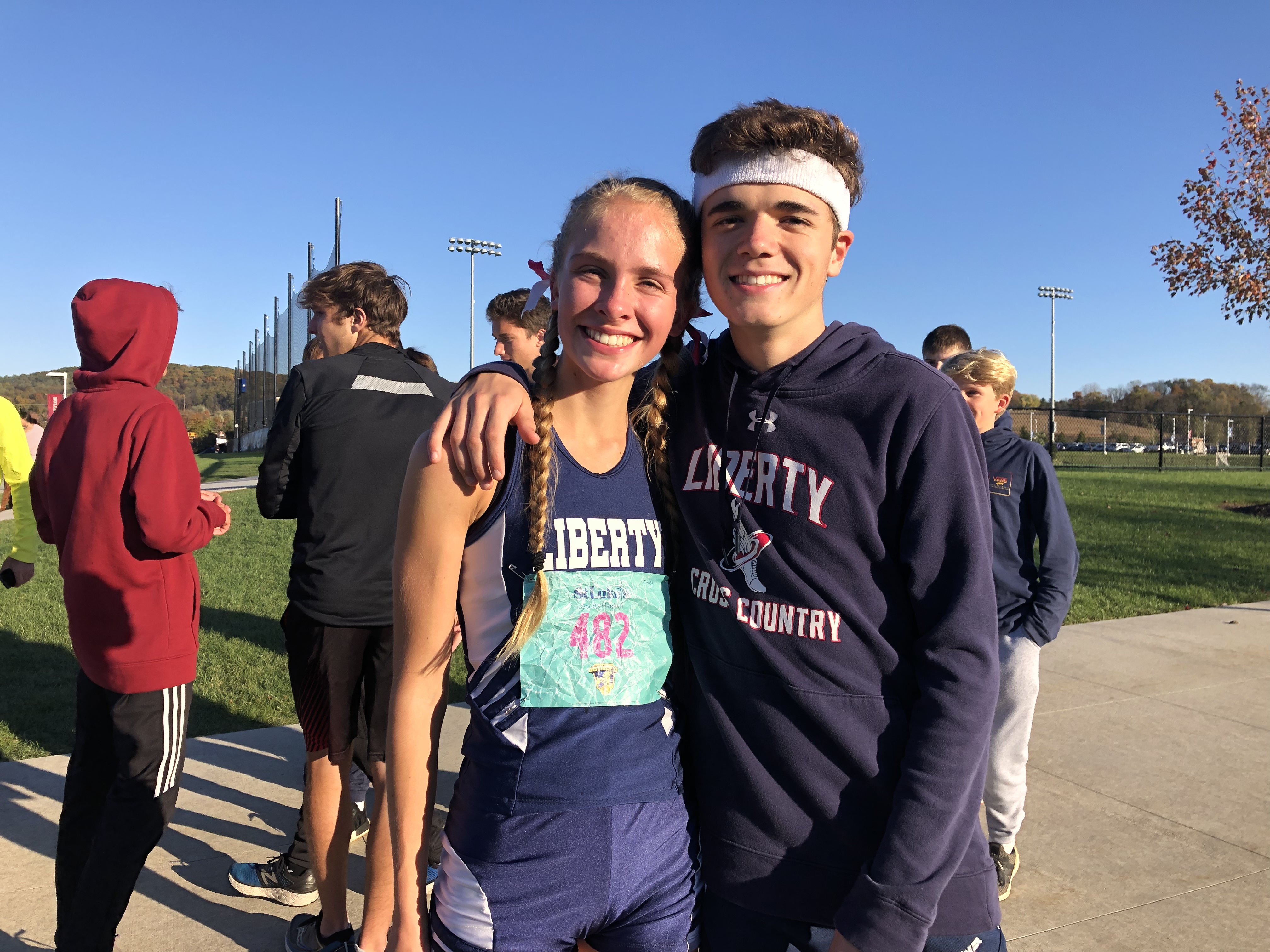 It was a full day of action at DeSales University on Wednesday with the running of all three classifications for the District XI Cross Country Championships.
The 1A class got things going with Scotty Zoscin of Weatherly taking first place on the Boys side with a time of 17:40, 20 seconds faster than Cole Streisel of Mahanoy Area who finished second. Moravian Academy won the team championship with four runners placing in the top ten. The Girls winner once again was Reagan Pender of Northern Lehigh. The senior is a repeat winner and crossed the line in 19:25, Grace Medei of Notre Dame was second with Samantha Masser of Tri-Valley coming in third. The Crusaders won the team title placing four runners in the top ten.
The 2A class belonged to Northwestern-Lehigh, with both the Boys and the Girls taking home the title. As far as individual champions, Thomas Smigo of Palisades, fresh off winning the Colonial League title last week, won the District Championship in a time of 16:28. The freshman was six seconds faster than Anthony Coppolella of Pen Argyl who finished second with Matthew Chaikowsky of Saucon Valley coming int third. The Girls 2A title went to Olivia Haas of Blue Mountain in a time of 18:18, with Cori McCormick of North Schuylkill coming in second and Grace Stegmerten of Tamaqua crossing the the line third.
Onto the 3A Championships which was dominated by LIberty when it came to individual honors. Cole Frank won on the Boys side in 16:20, followed by Marco Cardone of Easton at 16:35 and Alexander Kane of Southern Lehigh at 16:38. The Girls Champion was Emily Jobes of Liberty. The Junior joined teammate Frank as she captured the Gold in 19:17. She was followed by Keerstin Augustin of Emmaus and Isabella Lees, also from the Green Hornets. Emmaus would capture the team title on the Girls side with Nazareth walking away with the team championship on the Boys side.
Next up the PIAA Championships set for Hershey next weekend. See below tweets for recaps of each race. Here is a link to all of the results from the District XI Cross Country Championships:
Desales University hosting the @PIAADistrictXI Cross Country Championships. A full day of running on its way. Stay tuned. pic.twitter.com/z7dckbfVSG

— D11Sports (@D11Sports) October 23, 2019
Here is the start of the 1A Boys race at the @PIAADistrictXI Cross Country Championships at @DeSales. pic.twitter.com/uVg69jeVDn

— D11Sports (@D11Sports) October 23, 2019
Here is a great view of some of the @PIAADistrictXI 1A Boys runners as they make their way through the course at @DeSales on Championship Wednesday. pic.twitter.com/eAjexzluAR

— D11Sports (@D11Sports) October 23, 2019
Your winner of today's @PIAADistrictXI 1A Boys Cross Country Championship is Scotty Zoscin from @WASDWRECKERS in a time of 17:42 @mystlukes pic.twitter.com/oZPEbIXl9b

— D11Sports (@D11Sports) October 23, 2019
Here is the start of the 1A Girls race at the @PIAADistrictXI Cross Country Championships at @DeSales. pic.twitter.com/LfE1BFAgT0

— D11Sports (@D11Sports) October 23, 2019
Here is a great view of some of the @PIAADistrictXI 1A Girls runners as they make their way through the course at @DeSales on Championship Wednesday. pic.twitter.com/vI5Gq6uIYp

— D11Sports (@D11Sports) October 23, 2019
Your winner of today's @PIAADistrictXI 1A Girls Cross Country Championship is @reagan_shorty53 winner of from @AthleticsNlsd in a time of pic.twitter.com/1WnmUiskhF

— D11Sports (@D11Sports) October 23, 2019
Winning time of 19:25 for @reagan_shorty53 of @AthleticsNlsd as she captures the @PIAADistrictXI 1A Girls Championship. pic.twitter.com/NwyQNC563u

— D11Sports (@D11Sports) October 23, 2019
Here is the start of the 2A Boys race at the @PIAADistrictXI Cross Country Championships at @DeSales. pic.twitter.com/N0N9qqpmQc

— D11Sports (@D11Sports) October 23, 2019
Here is a great view of some of the @PIAADistrictXI 2A Boys runners as they make their way through the course at @DeSales on Championship Wednesday. pic.twitter.com/wEnxOE5jBt

— D11Sports (@D11Sports) October 23, 2019
Your winner of today's @PIAADistrictXI 2A Boys Cross Country Championship is Freshman Thomas Smigo of @PSDAthletics in a time of 16:29. pic.twitter.com/t4QRj8eBwt

— D11Sports (@D11Sports) October 23, 2019
Here is your @PIAADistrictXI 2A Boys Champion Thomas Smigo of @PSDAthletics. pic.twitter.com/ut4e2MArvT

— D11Sports (@D11Sports) October 23, 2019
Here is the start of the 2A Girls race at the @PIAADistrictXI Cross Country Championships at @DeSales. pic.twitter.com/vpwqyDA456

— D11Sports (@D11Sports) October 23, 2019
Here is a great view of some of the @PIAADistrictXI 2A Girls runners as they make their way through the course at @DeSales on Championship Wednesday. pic.twitter.com/9Tw1NhilFY

— D11Sports (@D11Sports) October 23, 2019
Your winner of today's @PIAADistrictXI 2A Girls Cross Country Championship is Olivia Haas of @BMSDAthletics in a time of 18:18. North Schuylkill's Cori McCormick comes in second. pic.twitter.com/f9Ps5ZI0gS

— D11Sports (@D11Sports) October 23, 2019
Here is the start of the 3A Boys race at the @PIAADistrictXI Cross Country Championships at @DeSales. pic.twitter.com/gvZ5h8ZViT

— D11Sports (@D11Sports) October 23, 2019
Here is a great view of some of the @PIAADistrictXI 3A Boys runners as they make their way through the course at @DeSales on Championship Wednesday. pic.twitter.com/sm3THIXC6c

— D11Sports (@D11Sports) October 23, 2019
Your winner of today's @PIAADistrictXI 3ABoys Cross Country Championship is @coleryanfrank0 of @LHSCanesXC in a time of 16:21 @LIBERTYATHCLUB pic.twitter.com/xJZGCBvgUG

— D11Sports (@D11Sports) October 23, 2019
Here is your @PIAADistrictXI 3A Boys Champion. @coleryanfrank0 of @LHSCanesXC pic.twitter.com/zQtgZ6wt63

— D11Sports (@D11Sports) October 23, 2019
Here is the start of the 3A Girls race at the @PIAADistrictXI Cross Country Championships at @DeSales. pic.twitter.com/b6J068E5ay

— D11Sports (@D11Sports) October 23, 2019
Here is a great view of some of the @PIAADistrictXI 3A Girls runners as they make their way through the course at @DeSales on Championship Wednesday. pic.twitter.com/KmBCLbNS4O

— D11Sports (@D11Sports) October 23, 2019
Your winner of today's @PIAADistrictXI 3A Girls Cross Country Championship is Emily Jobes of @LHSCanesXC in a time of 19:17. @LIBERTYATHCLUB @mystlukes pic.twitter.com/iNiDG76u2K

— D11Sports (@D11Sports) October 23, 2019
Here is your @PIAADistrictXI 3A Girls Champion, Emily Jobes of @LHSCanesXC. @LIBERTYATHCLUB pic.twitter.com/YuInulH9HI

— D11Sports (@D11Sports) October 23, 2019
Teammates Emily Jobes and @coleryanfrank0 of @LHSCanesXC win @PIAADistrictXI championships. pic.twitter.com/VIBg0sKhZJ

— D11Sports (@D11Sports) October 23, 2019
The @HornetsXC girls win the @PIAADistrictXI 3A team Championship. @_EHSAthletics pic.twitter.com/PJRRauKOlt

— D11Sports (@D11Sports) October 23, 2019
. @NAHSBlueEagles win the @PIAADistrictXI 3A Boys team title. pic.twitter.com/ZJamR213Nb

— D11Sports (@D11Sports) October 23, 2019
A double dose of Tigers as the @NW_GirlsXC join the Boys as both win the @PIAADistrictXI 2A team titles. Both will now get ready for the @PIAASports tournament. @nwlehighsd pic.twitter.com/KZQl3ULrAR

— D11Sports (@D11Sports) October 23, 2019
The Girls team Champions in the @PIAADistrictXI 1A class are @notredamegp. @crusaders_nd pic.twitter.com/a7DjtsEbPT

— D11Sports (@D11Sports) October 23, 2019
. @MoravianAcademy wins @PIAADistrictXI 1A team title. pic.twitter.com/eqqOWFqmoI

— D11Sports (@D11Sports) October 23, 2019
Congrats to @PIAADistrictXI for a great day of championships at @DeSales. Hope you enjoyed all our @D11Sports coverage and best of luck to everyone that has advanced to states. pic.twitter.com/uxIYxJD3Vk

— D11Sports (@D11Sports) October 23, 2019
A busy day for @D11Sports and a busy day for @mystlukes who had a tremendous staff on hand for the @PIAADistrictXI Cross Country Championships. pic.twitter.com/cZqgFICaHR

— D11Sports (@D11Sports) October 23, 2019
Photo montage from the @PIAADistrictXI Cross Country Championships. @WASDWRECKERS @reagan_shorty53 @notredamegp @MoravianAcademy @NW_GirlsXC @nwlehighsd @BMSDAthletics @PSDAthletics @LHSCanesXC @coleryanfrank0 @NAHSBlueEagles @HornetsXC @_EHSAthletics @mystlukes pic.twitter.com/R6IZ55ucrg

— D11Sports (@D11Sports) October 24, 2019