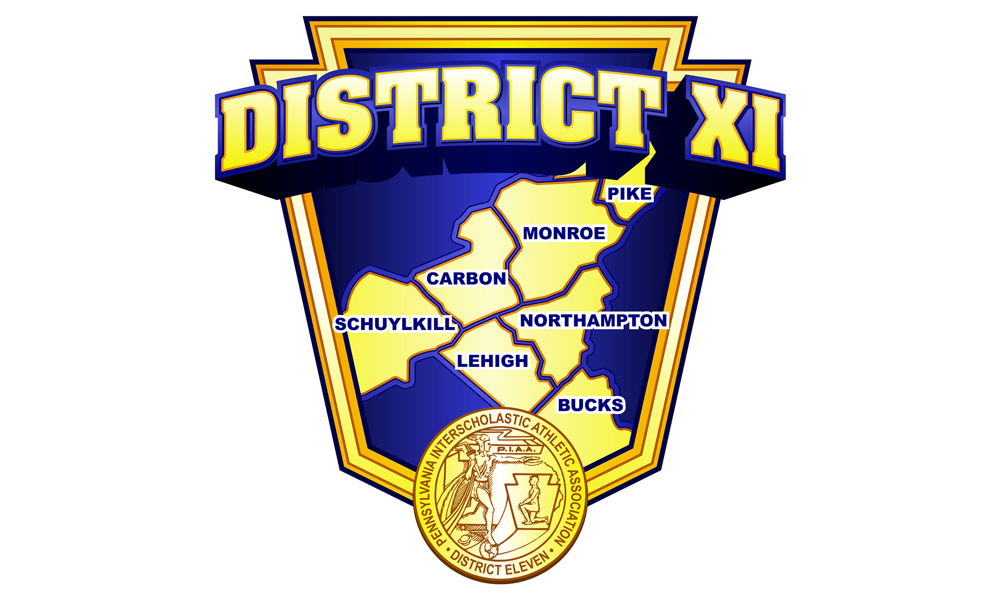 PIAA District XI is honored to announce its next class of the District XI Hall of Fame. Twelve inductees were selected as members of this class to the District XI Hall of Fame. Inductees were selected from nominations made by member schools, officials' chapters, and media membership. Nominees are selected by on their accomplishments on the high school level and are not inclusive of accomplishments outside of high school athletics. Constituencies may nominate additional athletes by completing the forms located on the District XI website, www.districtxi.com. The nomination deadline for each class is May 1 of each induction year.
Our first Hall of Fame Ceremony will take place on Sunday, October 18, 2020 at 4pm at the Holiday Inn Conference Center Lehigh Valley in Breinigsville. Dinner will precede our induction ceremony. Tickets for the event are $55 and can be purchased by contacting District XI Chairman Bob Hartman at hartmanb@whitehallcoplay.org. The deadline to purchase tickets is October 1.
The inductees of the Class of 2020 to the District XI Hall of Fame are:
Ray Barbosa
Scott Buffington
Mike Cerimele
Stan Dakosty
Joe Gerencser
Patti Heffner
Lafay Hope
Cindy Miller
Brad Pensyl
Arthur Perryman
Dick Tracy
John Walson
Ray Barbosa had an outstanding basketball career at William Allen High School, graduating in 2003. He was a four year starter and the leading scorer in the history of Allentown/William Allen High School. Barbosa was named to the All-State 3rd team in both his junior and senior seasons. Ray was named to the CAA All-Rookie team and scored over 1,000 points at James Madison before transferring to UMBC to win a conference championship. He also played professionally in the Puerto Rican Basketball League.
Scott Buffington made his mark as a Coach and Athletic Director at Schuylkill Haven High School. He has been the baseball coach at Haven since 1978 and now has over 600 career baseball wins. His baseball teams have won 11 Schuylkill League crowns and have won 5 District XI Championships. He has been the Athletic Director since 1999. He has also coached Wrestling and Football, while also serving as Athletic Trainer.
Allentown Central Catholic's Mike Cerimele had a distinguished football career playing for Coach Jim Morgans. For his career he averaged 10.2 yards per carry. He also played linebacker where he was received USA All-American recognition, All-State, Big 33. He was named All-EPC at linebacker and running back. He also excelled at powerlifting in high school. He was a captain while playing football at Penn State and had an NFL career that including stints with the Redskins, Lions, and Buccaneers.
Stan Dakosty's legacy at Marian Catholic is nothing short of distinguished. Coach Dakosty lead the Marian football program from 1977 to 2016, with a return in 2020. His team earned a PIAA Championship in 1990. They earned 7 District XI championships to go with another 6 championship appearances. During his career, Dakosty coached 46 playoff games. He has won 310 football games and has had a winning record in 35 seasons. In 1990 he was AP Coach of the Year and coached the Big 33 team in 1992
Joe Gerenscer was an outstanding football coach at both Parkland and Whitehall High Schools. Coach G coached at Parkland for 14 seasons, from 1962-1975 amassing 97 wins. He followed that up with an 11 stint at Whitehall, from 1975-1986, winning 87 more games. Gerencser shared or won 12 league championships and won a District XI championship in 1986 at Whitehall. Additionally, he was named the Head Coach of the Big 33 game. Joe was an outstanding athlete in his own right, at Northampton High School and Moravian College.
Patti (Sikorski) Heffner enjoyed gold medals. As a player at Dieruff High School, she earned two PIAA Championships. While coaching, she won a PIAA Championship as the Head Coach at Catasauqua in 1988 and a PIAA Championship as the Head Coach at Parkland in 2006. She was a 1,000 point scorer at both Dieruff High School and Rutgers University. She won 378 wins combined at Catasauqua and Parkland. She is a member of numerous athletic Halls of Fame.
Lafay Hope led the Lady Spartans of North Schuylkill High School, as their girls basketball Head Coach for 25 years. He was also the Head Track and Field coach for 8 seasons. He totaled 464 wins in his coaching career. In 1992 the Lady Spartans earned the PIAA Championship. He coached 10 Schuylkill League Championship teams and 5 District XI Championship teams. The Lady Spartans were also PIAA Runners-up in 1995 and 1997. As an athlete, Hope was a District XI Cross Country and Track and Field Champion.
Blue Raider Cindy Miller from Tamaqua High School was a phenom on the basketball court. She scored 2,155 points, had 378 steals and 467 assists in her career. As far as single game highs go, Miller had a single game high of 42 points. She had 32 rebounds in a single game and 17 assists in a single game. She was 1st Team UPI/AP All-State in 1979 and 2nd Team UPI/AP in 1978 and 1980, in addition to being a 3-time All-Schuylkill League performer. She went on to play basketball at the University of North Carolina.
Monroe County legend Brad Pensyl was the Head Boys' Basketball Coach in the Pocono Mountain School District for 28 years. In those 28 years, his teams never missed the District XI Tournament. For 13 seasons, he was the Head Coach at Pocono Mountain, winning 224 games. With the opening of the West High School, Pensyl became the Athletic Director and Head Basketball Coach for 15 seasons. He amassed 300 wins at West, to total 524 wins. His teams won over 20 games 16 times in his career, winning District XI Championships in 2012 and 2017.
East Stroudsburg's Arthur Perryman was a stand-out on the basketball court for the Cavaliers. Perryman started all 105 games of his high school career, scoring 1,735 points, which is the career record at East Stroudsburg. In his senior season in 1994, Perryman led the Cavs to a District XI title and the PIAA "Elite Eight". He was a three-time, Cavalier basketball MVP, 1st Team All-Centennial League, and 1st Team Pocono Record. He earned 3rd team All-State in 1994.
Richard "Dick" Tracy was best known for his accomplishments as the Head Basketball Coach at Whitehall High School, leading the 1982 team to the school's only PIAA Championship. Coach Tracy began his head coaching career at Dieruff High School, and after two stints at Whitehall, finished his career at Bethlehem Catholic. He won 205 games at Whitehall and won 3 consecutive East Penn Conference and District XI Championships in the early 80s. He went on to become Athletic Director at Whitehall and later spent time in the broadcast booth for RCN.
John Walson can be credited with the production of live high school sports in the area. Mr. Walson and his company, Service Electric, have always been incredible supporters of local high school sports. Mr. Walson helped to create the EPC Challenge Series in the 90s. He was the Executive Producer for Service Electric TV2 Sports and Creator of Lehigh Valley Sports Scene. Mr. Walson's philanthropy and dedication to high school sports of District XI Sports is evident across the television landscape today.