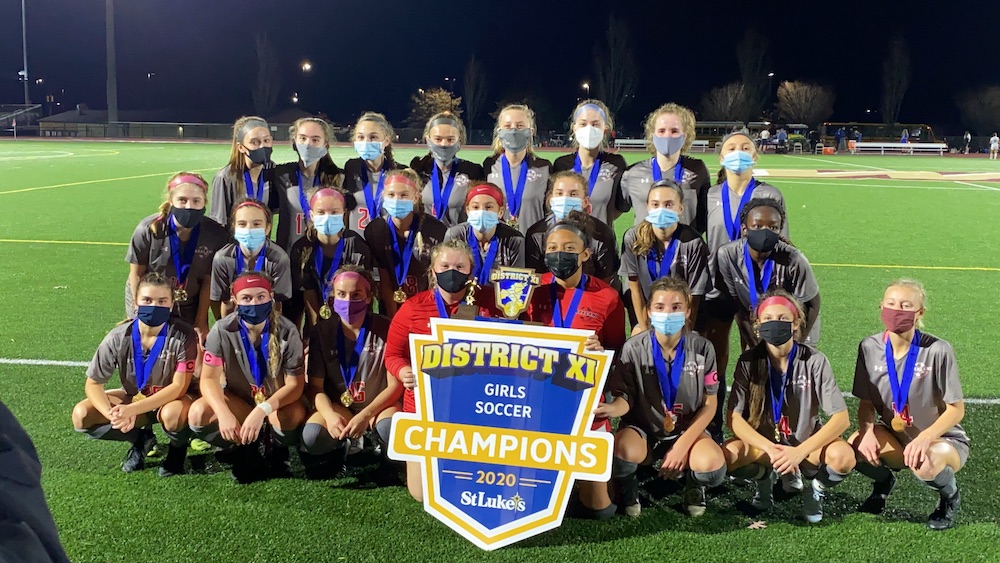 On Thursday night at Whitehall High School, the two top teams in the East Penn Conference went head to head for the District XI 4A Girls Soccer Championship. Number 2 seed Nazareth at 13-0 battled top seed Parkland, who checked in a perfect 12-0.
Since the EPC didn't hold a championship game this year because of the Covid-19 pandemic, this game was extra special. The Trojans jumped on top with less than 15 minutes remaining in the first half on a goal by senior forward Emma Shock, and maintained that lead 1-0 at the break.
The second half saw more end to end action with both teams utilizing great passing, but it was the Trojans that once again found the back of the net. Senior midfielder Alex Marsteller put the game out of reach with a goal early in the second half and the Trojans captured the title for the 5th time in the last 6 years and 14th overall.
It is also the 7th under Head Coach Al Haddad, who was not able to be with his team on the sidelines, missing the last four games because Covid-19 but he will be back on the sidelines for the state tournament. He said, "The girls promised to win Districts so I could return." Assistant coach Jim Bus has been running the show during Haddad's absence.
Haddad added, "No championship is ever better than a prior one. Always a new group of players, new chemistry and new motivations. This one is special for what we faced throughout the season Being sidelined for Covid has been very difficult. The girls have been remarkable to say the least."
Kelly Leszcynski made eight saves for the Blue Eagles who end the season at 13-1 while Teresa Gonzalez made two saves for the Trojans, who head into states at 13-0. This year only the Champion qualifies for the State tournament. Parkland will open up PIAA play on Saturday versus District 4 Champion Williamsport.