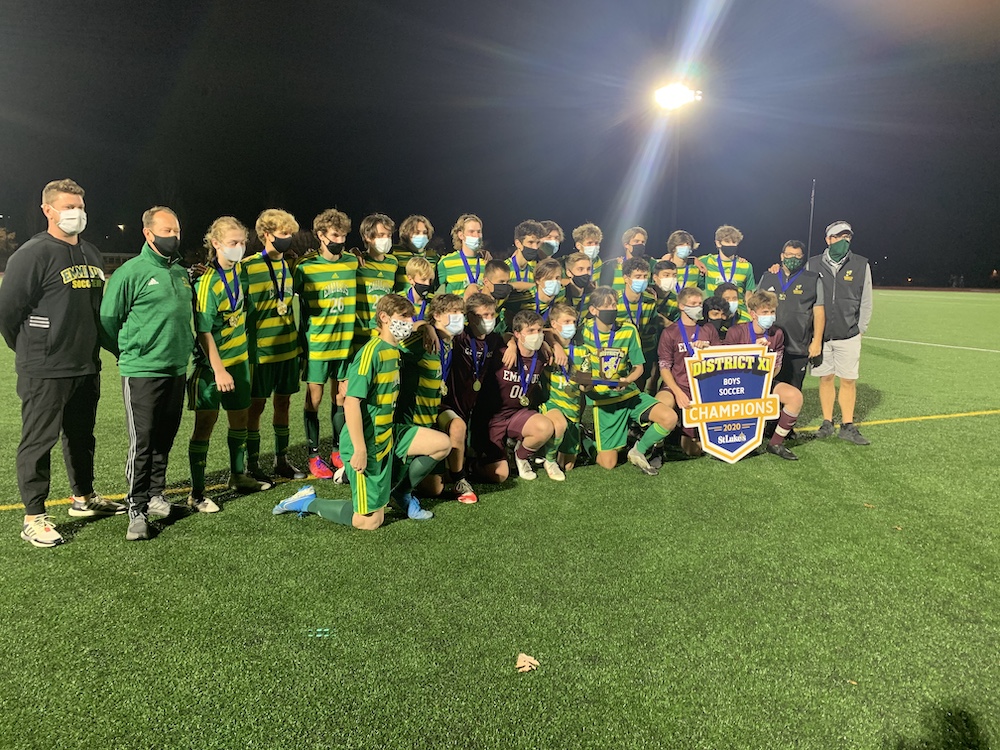 The Emmaus boys soccer team were awarded the title district champions on Saturday afternoon, but on Sunday afternoon were told they had to give the title back. Nazareth High School, who were their opponents had to shut sports down due to covid related issues. Nazareth athletic director Ray Ramella however found a way to allow sports to continue and now Nazareth football and soccer are playing in the district championship.
On Tuesday night, Emmaus faced Nazareth in the boys soccer district championship game. Emmaus had the chance to win back to back titles if they could secure a win. Nazareth, who were given a chance to play, were not going to go down without a fight. Emmaus boys soccer coach, John Cari said, "It was hard to be given a trophy and have to give it back, but we are happy to be playing the game." Cari, recently became the winningest soccer coach at Emmaus, was looking to add a 17th district title to his record.
Emmaus and Nazareth played a hard fought first half. Both teams were able to create offensive chances but the defenses kept it 0-0 at the half. In the second half, more of the same, some good offensive chances for both teams but the defenses stood their ground. The score would remain 0-0 after 80 minutes and the game went to OT.
In the first OT, both teams were focused on attacking the net. First to score wins, yet again it was the defenses coming out on top. In the second overtime that would change. Emmaus had a corner kick four minutes into the second OT and Patrick Walsh served the corner into the box. Nazareth cleared the corner. However, the clearance fell directly to Emmaus senior, Hudson Peck who smashed a one time shot which deflected off teammate Nate Romig and into the net causing the Hornet bench to erupt in jubilation.
Romig was credited with the goal and Emmaus won 1-0 in two overtimes. They secured their second straight district title and 17th overall. Romig said after the game, "I was ecstatic when I saw the ball go in the back of the net and I was happy to score the winner." Coach Cari also spoke highly of the senior's performance saying, "Nate was a starter early on in the season but lost his spot midway through the season but his response to that was fantastic. He worked so hard today and earned this moment. It's something he will remember forever and I'm super proud of him."
Up next for the Hornets is the first round of the state playoffs. Emmaus will host La Salle College High School on Saturday at 3 PM. Emmaus lost last year in states to Lower Merion 1-0 in the final seconds of the game, they will hope to get states started this year with a win on Saturday.