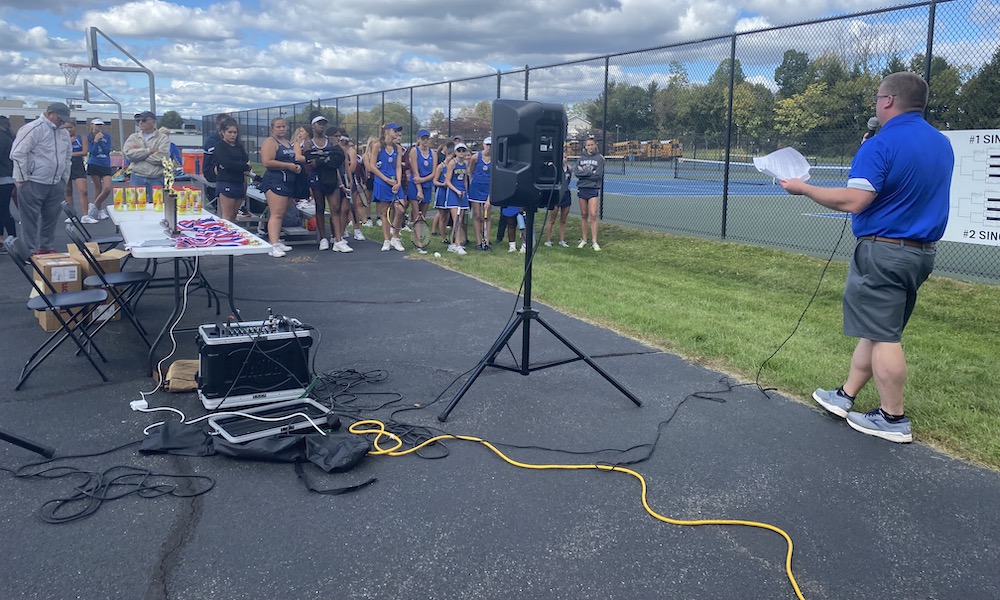 I arrived at Saucon Valley High School around 11:15 to begin warm-ups. It wasn't just any normal match, but the Colonial League Tournament. There was beautiful weather and the air was cool enough to be refreshing. My team walked onto the court and we began to hit back and forth. We felt comfortable representing Palisades even though we were such a small team of eight. After we served a little bit it was time for the tournament to start.
Due to my record of 10-2, I knew walking over to the brackets that my seed was going to be pretty high. I play third Singles for Palisades and I was seeded third, which shocked me a bit. I didn't expect that, but I was happy to not have to play a play-in round.
My first match was a good one. I was paired with Lohr from Saucon Valley, who was the sixth seed. I liked this matchup because I had just previously played Lohr two days prior, when Palisades traveled to Saucon Valley for our regular season match. We warmed up together on court six and began to play. It was different from playing a regular match because we only played an eight-game pro-set. Our match had some good rallying and I came up with the win, 8-3.
After waiting an hour for my next matchup, I was ready to go. I was playing the second seed, Howie from Southern Lehigh. I was a little bit nervous for this matchup because I had never played her before.
Everyone else I had played in the regular season, but Howie played second Singles when we played Southern Lehigh a few weeks before due to a missing player. Our matchup was difficult and I ended up losing 3-8, but Howie had some of the best sportsmanship that I have ever encountered on the court.
Though I lost, I wasn't officially out of the tournament yet. Howie advanced to the finals while I continued to the third medal matchup. I would be playing Lencheski from Notre Dame Green Pond, who was the fifth seed. Though I wasn't the underdog, I felt like it. I remembered how our match during the regular season went and I knew I would have to bring my A-game. Lencheski is also a D11-Sports reporter and so we have a special bond. Though I ended my tournament play by losing 0-8, Lencheski was well-deserving of third place and I know she is going to continue being amazing on the court in college.
Even though I ended up fourth in the third Singles bracket and disappointed, I left with a different feeling as well. I had just played on the same courts where two years ago I won the JV first Singles bracket. I had also just played on the same courts that as a senior, I would never play on again.
My time playing tennis has been an experience I will never forget. I still have one more match to play which is against Quakertown on Friday, but that is it. Palisades has a chance to make team districts as well, but either way, my experience is coming to a close. I will never forget this sport that has had so many ups and downs for me as well as the sport that I didn't even start playing until my sophomore year.
If nothing else, the Colonial League Tournament made me realize that having a medal to commemorate your success is the goal, but the most important outcome is the memories made along the way.